20 Reviews
Location:

Cape Town, South Africa

Duration:

2 days

(approx.)
Go wild in the Western Cape on an overnight safari trip from Cape Town! With an expert game-ranger guide at your side, set out on a game drive to see Africa's Big Five in the Klein Karoo, and then tour a working ostrich farm. After staying overnight at your choice of budget, 3- or 4-star accommodation in Oudtshoorn, visit an African elephant reserve and tour Cango Wildlife Ranch – home to some of the world's most endangered animals.
Highlights
2-day Western Cape safari tour from Cape Town

Travel along the scenic Route 62 road to the Klein Karoo region
Spot Africa's Big Five on a game drive, riding in a 4x4 vehicle
Overnight 3- or 4- Star quality accommodation with daily breakfast included or budget accommodation
Recent Photos of This Tour
2-Day Western Cape Safari from Cape Town: Big Five Game Drive and Cango Wildlife Ranch
What You Can Expect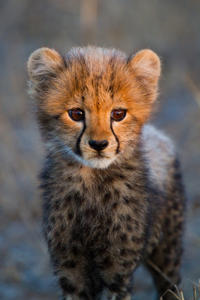 Day 1: Cape Town – Klein Karoo
Leave the bright lights of Cape Town behind and travel to the Western Cape by luxury minibus, enjoying dramatic scenery along Route 62 to the Klein Karoo -- a desert-like region in the heart of South Africa. The journey takes between five and six hours, so there will be plenty of stops en route at roadside restaurants and cafés. After your journey through the landscape of rugged plains and towering cliffs, reach Oudtshoorn – the region's principle town.

Your day continues to the Cango Wildlife Ranch on the outskirts of Oudtshoorn to see some of the world's most endangered animals, such as Bengal tigers and white lions. Internationally recognized as the Western Cape's most prestigious zoological park, the ranch is also home to big cats, snakes, crocodiles and more. After a tour, you'll have roughly two hours to spend at your leisure. At your own expense, you can arrange to stroke a cheetah. There's even a Nile crocodile cage diving experience for the fearless!

Leaving the ranch, your tour continues to a working ostrich farm. Learn about these flightless birds – the tallest and heaviest in the world.

Your evening is spent at leisure back in Oudtshoorn, so either relax at your accommodation or head into town to discover the nightlife and local restaurants on your own.

Overnight: 3-star Cul de Sac Guest House in Oudtshoorn or 4- star Hlangana Guest Lodge in Oudtshoorn or budget Backpackers Paradise Lodge or similar accommodation types

Day 2: Klein Karoo – Cape Town (B)
After an early breakfast at your accommodation, meet your guide and set off to meet the African elephants at a nearby game reserve. Under the watchful eye of your guide, get up close to these huge yet lovable creatures – easily the largest animals walking the earth today (own expense).

Then head straight into the action on a 2-hour game drive to tick off Africa's famous Big Five: African elephants, Cape buffalos, lions, leopards and rhinos. The term 'Big Five' was coined by big game hunters who used it to refer to the most difficult animals to hunt on foot; today, it represents some of the most elusive and exciting animals to see on safari. With your experienced and knowledgeable game-ranger guide, hop aboard your 4x4 vehicle to see these beautiful creatures in their natural habitats on a private game reserve. In addition to the animals that make up the Big Five, you'll also see giraffes, kudus, zebras and wildebeests, to name a few!

You'll then be driven back to Cape Town, where your tour ends.
Itinerary
Day 1: Cape Town — Klein Karoo
Begin your two-day adventure in the Western Cape with a drive from Cape Town in a luxury minibus. Travel on one of the area's most scenic drives, Route 62, to end up in the relatively arid region of the Klein Karoo and the town of Oudtshoorn. The drive takes roughly 5-6 hours, during which there are numerous stops to stretch, snap photos and get something to eat.
Not far from Oudtshoorn, stop at the Cango Wildlife Ranch to see some extremely endangered animals, including white lions and Bengal tigers. This highly-regarded zoo is home to crocodiles, big cats, snakes and much more. Add to your experience with optional activities like Nile crocodile cage diving or petting a cheetah (own expense).
Next, visit a working ostrich farm to learn about the big birds. Then enjoy an evening of free time in Oudtshoorn, where you can relax in your accommodation or explore the town's dining and nightlife options.
Overnight: 3-star Cul de Sac Guest House in Oudtshoorn or 4- star Hlangana Guest Lodge in Oudtshoorn or budget Backpackers Paradise Lodge or similar types of accommodation
Day 2: Klein Karoo — Cape Town
Fuel up with an early breakfast at your accommodation, then join your guide for a visit to a game reserve to see African elephants. Enjoy a unique opportunity to get up close to these gentle giants, while your guide looks on (own expense).
Next, hop in a 4x4 vehicle for a 2-hour safari drive to seek out Africa's 'Big Five' — lions, leopards, rhinos, Cape buffaloes and African elephants. While the phrase 'Big Five' originally referred to animals hunters decided were hardest to hunt on foot, today it represents some of the most exciting animals to see on a game drive. Your expert guide and ranger will help spot wildlife, and in addition to the 'Big Five' you may see zebras, wildebeests, giraffes and much more.
At the conclusion of the game drive, you'll be driven back to Cape Town, where the tour ends.
September 2015
Well what can I say - this tour was the best thing I have ever done.
I visited South Africa for five days with work and decided to spend the three nights i had to myself in Cape Town. First of all - the most amazing city I have ever visited !
I was picked up on time and after picking up the other people, we set off along the beautifully scenic garden route stopping off to do a 4x4 safari for a couple of hours and then do a lion walk. The lion walk was the highlight of the tour. Walking with the kings of the jungle is just something I will never forget.
An overnight stop in Oudtshoorn pronounced 'oates-urgh-in' in a comfortable family run b and b was done then the ostrich farm, elephant ride amazing also and then the wildlife ranch followed before arriving back at my hotel for 6.30pm.
Everything mentioned in the itinary was done and for the price, is something i would recommend to everyone. Truly unforgettable and a great way to see the sights outside of the city which are breath taking.
Finally, a special mention to the tour guide Andrew. A top bloke who made sure everyone was ok. Didn't intervene and allowed people to get on with what they wanted to do. I was on my own and he made me feel very welcome. Deserved the big tip I gave him. If you read this mate, again, it was awesome to meet you.
June 2015
tour guide was good. got to see soooooo many animals. rode an elephant, walked with lions and touched cheetahs. best part of my trip!
June 2015
Had an amazing time the tour guide was really good. Loved it
June 2015
This 2 Day Safari was amazing.Our tour guide,Andrew, was so well informed and did everything to make our voyage interesting and informative.While the safari and visit to the Wildlife Park were amazing and we got to see quite a number of different species of animals,the lion walk and elephant ride were the highlight of the trip.Thanks Viator and to Andrew for such an amazing time.
May 2015
Great safari. Well thought of scheduling. Thank you.
March 2015
I HAD THE BEST TOUR GUIDE EVERRRR! I hope that I remain life long friends with Isaac, he was so funny, knowledgeable and great to be around. The tour was amazing and something you must do if you come to Cape Town, I got a chance to face my fears and walk with lions, I also got to ride an elephant and feed ostriches. If I could give this 10 stars I would.
October 2014
It was an amazing 2 days. Our Guide Isaac was also amazing and made us feel important as we were on our honeymoon. We saw and achieved a lot in those 2 days. Worth every penny.
The only downside was the Optional extra of the Lion Walk which we found to be too staged.
The highlight of our trip was the Elephant walk which my husband was so looking forward to. The guides on the different activities were excellent and made sure everyone enjoyed myself.
But going back to Isaac, he was so professional, patient and also made sure we were all well looked after. Great sense of humour and very acknowledgeable. Please tell him we say Hi, and we will remember him.
We will certainly use Viator again, as you get value for money and a good service. Many thanks for the memories.
October 2014
This was a fantastic tour and you really get a lot for your money. Our guide Andrew was amazing and helped make it a memorable experience. The drive is a little long, but there are fun stops along the way and the scenery is beautiful. I enjoyed all of the activities and it is hard to pick a favorite because each experience is so unique. I can tell you that nothing we did was disappointing. There were 5 of us in our group ranging from mid 20s to mid 30s in age and we chose the budget accommodation Back Packer's paradise. The staff was friendly and the rooms were basic, but well kept. This place has a great atmosphere and fun little bar on the premises. If you don't mind a communal bathroom for one evening pick this place! They have meals on site that are not included, but very affordable. They cook over a wood fire and make fresh bread in house too. Pick this Safari and I guarantee you won't regret it.
October 2014
The tour was fantastic. Definitely got our money's worth for everything we did. Probably one of the best choices we did during our vacation in Cape Town. Andrew, our tour guide, was probably one of the best tour guides we had for any tour we did during our stay. There were 5 of us in our group and we all loved him. He absolutely went above and beyond to make sure that we were comfortable and content with the tour. Both the 2 day tour and Andrew were amazing.
August 2014
Amazing 2 days. The optional extras are definitely worth doing (lion walk and the close encounters) Fully recommend it.
Advertisement
Advertisement