Can you handle being face to face with one of the world's most frightening predators? Find out with a great white shark cage diving experience near Cape Town. Head into the ocean off the coast of Gansbaai for a full-day tour, including learning about great white sharks from the marine biologist on the boat, seeing the sharks swim around the boat and then jumping into the water with them. Breakfast and snacks are included, and you can upgrade to include round-trip transport between your hotel in Cape Town and Gansbaai.
Highlights
Shark diving tour from Cape Town
Journey into the open ocean from Gansbaai, a fishing village known for its dense population of great white sharks
Enjoy breakfast at the Great White House before heading off for your adventure
Learn about the sharks in their natural habitat from an onboard marine biologist and expert guides
Jump into the cage and prepare for the experience of a lifetime as you 'swim' with great white sharks
Purchase an optional professional video of your shark-divinge experience so you can show off to friends back home!
Upgrade to enjoy comfortable round-trip transport between your Cape Town hotel and Gansbaai
Recent Photos of This Tour
Cage Diving with Great White Sharks from Cape Town
What You Can Expect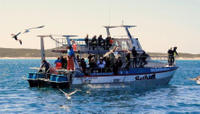 This exciting shark experience begins in the fishing town of Gansbaai, roughly two hours from Cape Town. You can choose to get there on your own or upgrade to include round-trip transport from your central Cape Town hotel.
Start at the Great White House, Gansbaai's shark diving center, where you'll eat breakfast (or lunch, if the tour has been delayed due to inclement weather) and meet your guides for the day. After eating, get fitted into the appropriate diving gear.
Climb into the specialized diving boat, complete with a shark diving cage, for the 20-minute trip into the ocean. Your captain will head for Dyer Island, choosing an ideal place to stop for the dive, and then the team of experts on the boat will use bait to lure great white sharks closer to the boat. This way, you'll have an opportunity to get great views of the sharks before you even get into the cage.
The cage is secured to the side of the boat, and during the cage dives it stays a few feet (meters) below the surface of the water. This means it's easy for you to get out of the water at any point. If you decide not to get into the cage, you'll still enjoy excellent views of the sharks swimming around the boat — not to mention the other members of the so-called 'Marine Big Five:' penguins, dolphins, whales and seals.
The boat will stay anchored in this diving spot for roughly two hours, depending on shark activity. During that time, there are drinks and snacks for you aboard the boat. After the boat returns to Gansbaai, enjoy light refreshments back at the Great White House. You can choose to buy a professional video of your shark cage diving experience.
The experience finishes inside the Great White House, or — if you have chosen the upgrade with round-trip transport — with the return trip to your Cape Town hotel.
June 2016
Excellent trip! Pick up was 5 am. Over 2 hour drive from Cape Town. Breakfast, briefing, sharks dive, sea lions on the way back, dinner, and return to cape town. I was back shortly after 4pm
Pros
- Breakfast: potatoes, eggs, bacon, bread. Lunch: light sandwich, hot coco, salt and vinegar chips. Dinner: soup and buttered bread
- Nice boat specific for shark dives. Steady less sea sickness. Boat ride out about 20 min and back a little more as you go through shark alley to see sea lions
- Staff is excellent. Kind and always willing to answer questions
- Guaranteed a marine biologist on board to answer questions and give some background
- Provided a dry clean wet suit, sturdy rain jacket to cut the cold wind on the boat ride, and a towel when you climb out
- Sharks were amazing! We saw 14 different sharks, the biggest about 14-15 feet. Each person saw 2-3 while in the cage, but they would pass by many times
- I had over an hour in the cage! Each person gets about 30 min. They don't time it, but instead try to give everyone a similar experience. If there is time at the end they will let you go again if you ask
- The record a video available for purchase 150 rand
- They take pictures that are posted on the website free of charge
- The water was very still and the extremely clear! We lucked out. Go in the cage 1st, the water gets murky from the bait and chum as the day goes on
Cons
- There were 34 people on board 32 of which were diving. The boat was big enough, but this meant less time in the water and harder to take pictures from the boat everyone wanted the side with the cage
- Just enough food, but no seconds
- They record a video, but the editing in minimal. They basically stick the clips together. There was no underwater shots on the video, but they had an underwater go-pro running most of the time. They don't give you a disc, but a download code, so maybe the final product has more editing/underwater shots?
Best spot in the cage: end toward back of boat!

June 2016
one word....AWESOME! you can NOT miss this tour. book it now!! this group does so much more than tours...they do research and conservation efforts so every dollar you spend helps further the study and conservation of these magnificent animals. we saw at least 8 sharks on our half day. be warned though....your hotel pickup time may be anywhere from 2am - 4am depending on where your hotel is at. the drive is 2.5 hours from cape town so bring something to keep you busy!
June 2016
well, point one - take sea sickness pills or patches - even if you've never had a problem! I have been in water my whole life and never got ill - this was a shock! outside of that, awesome! you don't have to go underwater in the cage if you don't want to which was a plus as I thought I had to snorkel. better pics from on the boat vs in the cage for me - it was too fast in the water. we saw about 10 sharks that day with the last one being the biggest! long drive to get there from Camps Bay but well worth it!
April 2016
INCREDIBLE EXPERIENCE ALL ROUND! So much food, great video, lovely staff, lots of time in the cage!
April 2016
From the driver to the crew...AMAZING!!!! So well WORTH IT! great deal.
March 2016
Real Bucket List experience! Thank you so much, thoroughly enjoyed it.
February 2016
It was a great experience.
November 2015
Marine Dynamics is an excellent company to do this tour with - Viator is the third party that you book through. The Marine Dynamics team were very knowledgable and I felt completely safe during the entire trip. If you're going to do this, remember that there are days where the water will be very choppy and there will be a lot of movement around the boat. Make sure you can handle this! I had a wonderful time on this excursion and would definitely recommend it! Cheers
October 2015
Amazing!!! We saw 5 sharks! The service of the crew was excellent, I strongly recomend it!!!
September 2015
Awesome experience..professionally run and extremely safe. Do it if you get the chance!!!
Advertisement
Advertisement