Can you handle being face to face with one of the world's most frightening predators? Find out with a great white shark cage diving experience near Cape Town. Head into the ocean off the coast of Gansbaai for a full-day tour, including learning about great white sharks from the marine biologist on the boat, seeing the sharks swim around the boat and then jumping into the water with them. Breakfast and snacks are included, and you can upgrade to include round-trip transport between your hotel in Cape Town and Gansbaai.
Highlights
Shark diving tour from Cape Town
Journey into the open ocean from Gansbaai, a fishing village known for its dense population of great white sharks
Enjoy breakfast at the Great White House before heading off for your adventure
Learn about the sharks in their natural habitat from an onboard marine biologist and expert guides
Jump into the cage and prepare for the experience of a lifetime as you 'swim' with great white sharks
Purchase an optional professional video of your shark-divinge experience so you can show off to friends back home!
Upgrade to enjoy comfortable round-trip transport between your Cape Town hotel and Gansbaai
Recent Photos of This Tour
Cage Diving with Great White Sharks from Cape Town
What You Can Expect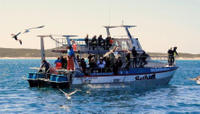 This exciting shark experience begins in the fishing town of Gansbaai, roughly two hours from Cape Town. You can choose to get there on your own or upgrade to include round-trip transport from your central Cape Town hotel.
Start at the Great White House, Gansbaai's shark diving center, where you'll eat breakfast (or lunch, if the tour has been delayed due to inclement weather) and meet your guides for the day. After eating, get fitted into the appropriate diving gear.
Climb into the specialized diving boat, complete with a shark diving cage, for the 20-minute trip into the ocean. Your captain will head for Dyer Island, choosing an ideal place to stop for the dive, and then the team of experts on the boat will use bait to lure great white sharks closer to the boat. This way, you'll have an opportunity to get great views of the sharks before you even get into the cage.
The cage is secured to the side of the boat, and during the cage dives it stays a few feet (meters) below the surface of the water. This means it's easy for you to get out of the water at any point. If you decide not to get into the cage, you'll still enjoy excellent views of the sharks swimming around the boat — not to mention the other members of the so-called 'Marine Big Five:' penguins, dolphins, whales and seals.
The boat will stay anchored in this diving spot for roughly two hours, depending on shark activity. During that time, there are drinks and snacks for you aboard the boat. After the boat returns to Gansbaai, enjoy light refreshments back at the Great White House. You can choose to buy a professional video of your shark cage diving experience.
The experience finishes inside the Great White House, or — if you have chosen the upgrade with round-trip transport — with the return trip to your Cape Town hotel.
April 2016
INCREDIBLE EXPERIENCE ALL ROUND! So much food, great video, lovely staff, lots of time in the cage!
April 2016
From the driver to the crew...AMAZING!!!! So well WORTH IT! great deal.
March 2016
Real Bucket List experience! Thank you so much, thoroughly enjoyed it.
February 2016
It was a great experience.
November 2015
Marine Dynamics is an excellent company to do this tour with - Viator is the third party that you book through. The Marine Dynamics team were very knowledgable and I felt completely safe during the entire trip. If you're going to do this, remember that there are days where the water will be very choppy and there will be a lot of movement around the boat. Make sure you can handle this! I had a wonderful time on this excursion and would definitely recommend it! Cheers
October 2015
Amazing!!! We saw 5 sharks! The service of the crew was excellent, I strongly recomend it!!!
September 2015
Awesome experience..professionally run and extremely safe. Do it if you get the chance!!!
September 2015
Amazing experience. Unfortunately it was a rough sea day as well as extremely cold - obviously nothing that could be done and not tour's fault! Neither my husband or I went into the water but it didn't limit the thrill of the experience for us. Fantastic to see such amazing creatures so close up. Worth noting that since it is a 2 hr drive from Cape Town, pick up in the city can start very early.4am for us and we were the second couple in the van. Would not stop me from doing it again though.
June 2015
Go on this tour, guides are great just one of those bucket list must haves!! Saw over twenty sharks!! Awesome experience of a lifetime
May 2015
We got picked up from our hotel very early then driven to where the boats set off from. Awesome experience and I would say that I would even go again it was that much fun.
Advertisement
Advertisement