Take a fascinating trip through South Africa's difficult past with a tour of Cape Town and Robben Island, where Nelson Mandela spent 18 of his 27 years in prison. Visit the District Six Museum to get an in-depth look at the troubling history of apartheid in South Africa, and see how that system still impacts modern life in townships like Khayelitsha, Langa and Gugulethu. See how residents of these townships work to improve their lives and communities. Take a ferry to UNESCO-listed Robben Island for a tour of the former prison for political prisoners.
Highlights
Full-day guided tour of Cape Town and Robben Island

Visit District Six Museum and learn about apartheid history
Travel to nearby townships, including Langa and Khayelitsha, and meet their inhabitants
Ferry to Robben Island and visit Nelson Mandela's cell
Small group limited to 12 people to ensure a unique and intimate experience
Recent Photos of This Tour
What You Can Expect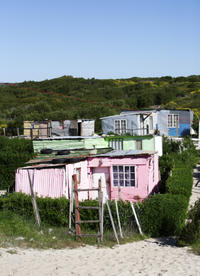 After getting picked up at your hotel, your first stop is the District Six Museum. This museum gives you an excellent look at the history of apartheid in this area, how it began in 1950 with the enforced eviction of more than 60,000 black South Africans from the district in order to make it an all-white neighborhood.
With this history in mind, your next stop is the township of Langa, the oldest township in Cape Town. Townships first sprang up under apartheid as places for non-whites to live. They were always in unsavory areas, and were essentially cut off from city infrastructure. In Langa with your guide, stop into a shebeen (tavern), go to a local market and visit a traditional healer. Next, visit Guga S'thebe Arts & Culture Centre to see the work being done to improve the lives of the Langa community, most of whom are Xhosa.
Next, head for the township of Khayelitsha. This is, by some estimates, the largest and fastest-growing township in the country. See both sturdy buildings made with bricks and mortar as well as hovels made with whatever is handy. This is a township with a budding infrastructure — including clinics and shopping malls.
Head back toward Cape Town for the last township visit, Gugulethu. This township was originally built specifically for migrant workers from the Transkei region of the Eastern Cape. Here, again, there are signs of both progress and poverty — shacks alongside restaurants and night clubs.
Back in Cape Town, enjoy some free time in the afternoon at the Victoria & Alfred Waterfront where you can get lunch (own expense) before getting into a ferry to ride across Table Bay to Robben Island. The island was once a prison, where Nelson Mandela spent 18 of his 27 years in prison. Today, it's a UNESCO World Heritage Site where former political prisoners give tours.
See Mandela's cell in the prison — it's roughly seven square feet (0.6 square meters) — and hear what life was like for him and the other prisoners there, including how he was made to dig in a quarry when officials found out he was acting as a leader during a prisoner rebellion.
Contemplate the distance Mandela traveled from these prison gates to the presidential office as you ride the ferry back to Cape Town. The tour ends with a drop-off at your Cape Town hotel.

June 2016
June 2016
Fantastic tour, Titus was our guide and did a great job informing us and keeping us safe. It was an eye opener to see the contrast between the rich and the poor of the townships in modern day, South Africa. The people of the townships were so welcoming and the children were so happy to see us.
June 2016
Excellent guide, but rushed because of late pickup
April 2016
This tour is a must if visiting Cape Town, very sobering but unmissable at the same time. The guides were fantastic and couldn and #39;t fault the tour in anyway!
awbs United Kingdom
April 2016
This is a once in a lifetime experience. Visits to a township - in our case Langa - make you feel a bit of a voyeur!! Such poverty as we can't imagine. Homes which are just corrugated huts, and hundreds of them. No running water or toilets.
Later, we went to Robben Island, where Nelsen Mandella was incarcerated for some 18 years. The visit to the cells is overseen by a former prisoner, Tom Morris in our case. This is a once in a lifetime visit, and something we should all strive to do. Very emotional and humbling.
Terry United States of ...
April 2016
Outstanding tour! Historical facts, District 6, and the Township tour was wonderful. The tour guide was outstanding with very much insight! The Robben Island tour was equally outstanding. My wife, children and Grand Children were overwhelmed!
March 2016
I highly recommend this tour to understand the history of South Africa.
March 2016
Excellent guided tour by Richard and the team in Robben Island. Very informative and very sympathetically presented.
March 2016
The Township tour was well very informative with the guide taking time to explain the historical as well as the current political situation.
March 2016
This tour is very educational. The township tour was enlightening and gave me hope that things will get better even though it's going to take a very long time. I took people's advice and took Dramamine to combat potential seasickness on the ferry to Robbens Island. The ride coming from the island was rocky. The tour of the island gave us knowledge of what it was like during those times. The guides took their time, so we weren't rushed. The views of Cape Town from Robbens Island are spectacular. Viator provided an excellent guide for the township which made the overall experience worth the price. This tour is a must-do if visiting South Africa.
Advertisement
Advertisement