Visit some of Cape Town's most important and oldest settlements during this cultural tour of the Mother City. Tour Bo-Kaap, the colorful Malay Quarter; Langa, the oldest township in the city; and Khayelitsha, the biggest settlement. Stop at a shebeen (tavern) for a drink (own expense) and to meet some of the locals.
Highlights
3.5-hour culture and township tour from Cape Town, led by a professional guide
See the brightly colored houses and Cape Malay architecture in Bo-Kaap
Visit Langa, the city's oldest and largest township, and learn about Xhosa culture
Watch local craftspeople and artists at work in Gugulethu

Explore Khayalitsha, South Africa's largest township, on a walking tour led by a local



What You Can Expect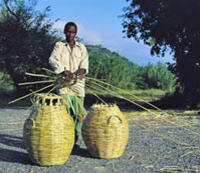 Begin your tour with a trip to the Bo-Kaap neighborhood in Cape Town. This area, also called the Malay Quarter, is easily recognizable because of its colorful houses. Residents are largely descended from slaves from Malaysia, India and Sri Lanka who were brought over by the Dutch colonists in the 17th and 18th centuries.
Next, visit Langa, Cape Town's oldest formal township, established in 1927. Continue to the Gugulethu township, where you'll have an opportunity to watch local artists at work.
Finally, make for Khayelitsha, the biggest township in all of South Africa, as well as the fastest-growing. The population in 2011 was listed at over 390,000 people. Here, you'll pay a visit to a shebeen (tavern) where you can have a drink (own expense) and meet some of the locals.
After roughly 3.5 hours, you tour concludes with a drop-off at your hotel in Cape Town.
Please note: A minimum of two people per booking is required.
March 2016
Great tour excellent guide
February 2016
The trip was an excellent idea. Meeting inhabitants of the two townships, especially Khayelitsha opens up your eyes to the conditions in which the majority of the county lives. A solo visit to those areas would be difficult if not impossible. Our guide Dustin spoke excellent Englidh and was fun to interact with. The background related to the colorful Malay part of town at the beginning of the tour was also interesting although our hotel Hilton was actually on the same street so we could easily spend more time there later
February 2016
Excellent tour! Our guide was knowledgable and offered many personal insights. He even arranged for our group to have a walking tour of one of the townships with a local resident. Ended the tour with a deeper appreciation for South Africa's history and a sense of optimism for its future. Highly recommend this tour for all visitors to Cape Town.
March 2015
Enjoyed the cultural tour, particularly the trip to a shanty town, where we learnt of the great progress being made to replace the shanty towns with brick building accommodation.
August 2014
A fascinating tour. Packed more into a half day than we ever expected, though we never felt rushed. The tour was enhanced by our driver/guide who clearly cares passionately about his country, he was a mine of relevant and interesting information from beginning to end.
January 2014
Our guide Norman was wonderful. The township tour exceeded our expectations, we had a chance to meet the residents and learn about their lives, hear the children's choir sing and visit one of the shanties, The resident's resilience and spirit was remarkable and awe inspiring considering the harsh conditions in which they live and the cruel treatment they suffered under apartheid. Everyone should know their stories and I know I am glad I did.
December 2013
Very knowledgeable guide. This was a great experience!
AKU Germany
February 2013
This tour should be a must für all interested visitors. I've learned a lot about the history of apartheid and the townships. Dustin was a wonderful guide and his explanations
helped me to understand this wonderful country a little bit better.
David H USA
November 2011
Outstanding tour! It's great to see the positive things happening in the South African townships. Some of the friendliest people I've met. The tour guide was great in sharing his personal experiences with apartheid, too. Overall A+ tour.
Bruce G USA
June 2010
A little more depth could be added. ie local store, bar, and local home.
Advertisement
Advertisement