Enjoy a 2-hour boat trip from Gansbaai to see great white sharks, whales, Cape fur seals, penguins and more. Visit the ominously-named Shark Alley to see if there are any great whites feeding on seals. Head to other parts of the ocean to look for whales and African penguins, as well as seabirds on Geyser Rock and Dyer Island. With experts on hand, you won't miss any of the majestic marine wildlife on display.
Highlights
8-hour tour to Gansbaai for whale- and shark-watching boat cruise, from Cape Town
Cruise around Seal Island where Africa's largest island-bound seal colony lives
Ride on a custom-built boat with two decks and a spacious interior for excellent viewing
Learn from experienced marine biologist guides who share their in-depth knowledge of the whales, sharks, seals and seabirds
Look for great white sharks in Shark Alley between Dyer Island and Geyser Rock

See a variety of seabirds as they hunt for fish during the annual sardine run
Munch on a light lunch after your boat cruise at the Great White House
What You Can Expect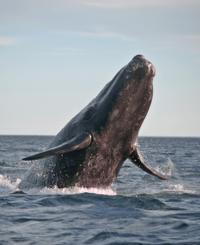 Depart from Cape Town after early morning pickup at your hotel. Travel in a comfortable air-conditioned minivan about 2.5 hours along a spectacularly scenic route to Gansbaai.

Upon arrival in Gansbaai, meet your guide for a safety briefing and review of what to expect during your cruise. Then get fitted with life jackets and waterproof gear before you head to the custom-built boat.

Out on the water, your boat heads to Dyer Island, located about five miles (8 km) offshore. Designated an Important Bird Area (IBA), the island hosts many resident bird species, including African penguins. As your boat cruises around, your guide shares informative commentary about the birds you see.

Next, note the Cape fur seals barking and splashing on nearby Geyser Rock. About 60,000 seals make their home here year-round, and they attract the attention of all sorts of sharks, including great whites, who regard the seals as a tasty meal. Look for the toothsome predators as your boat cruises through 'Shark Alley,' a narrow channel of water that runs between Dyer Island and Geyser Rock. Cage-diving boats operate here but you don't need to be in the water to see the action. The sharks swim just under the surface of the water and often come right up to the boat.

After a spin through Shark Alley, your captain continues to hotspots for whale sightings. In the summer months, Bryde's whales and dolphins are often spotted. As it is also the season for the sardine run, seabirds flock to the area to munch on the sardines, who migrate here to mate.

When you return to shore after about two hours, have a light lunch at the Great White House before making the journey back to Cape Town.
Itinerary
Get an early start with a pickup at your central Cape Town hotel, and travel roughly 2.5 hours to Gansbaai in an air-conditioned minivan. The fun starts right away with glorious views from the minivan windows along the scenic route.
Meet your guide in Gansbaai for a safety briefing and an overview of what you can expect during your 2-hour cruise. Don the necessary waterproof gear and life jackets and you're ready to climb into the custom-built boat.
Visit Dyer Island, roughly 5 miles (8 km) away from Gansbaai, to see the many birds that live on the island — including African penguins — while your guide tells you about the wildlife in the area.
Then head for nearby Geyser Rock, home of roughly 60,000 Cape fur seals. The seals are interesting to watch, but they also draw the attention of sharks — including great white sharks. Keep an eye out for sharks as you pass through Shark Alley, a channel between Geyser Rock and Dyer Island that can sometimes be teeming with sharks looking for a seal meal. This is where many cage-diving boats go, but you can definitely see sharks without getting in the water — sometimes they even come right up to the boat.
Continue to another place to look for whales, depending on the season, as well as dolphins. In the summer, when sardines are running, multitudes of seabirds are also attracted to the moving buffet.
After a 2-hour marine cruise, head back to shore and eat a light lunch at the Great White House (included). Then climb back into the minivan and travel back to Cape Town in comfort.
April 2016
Excellent experience and lived up to our expectations
The staff could not have been more helpful and informative
December 2014
The trip was very good. We saw whales, dolphins, seals, and penguins. However, we did not see any sharks.
The arrangements to pick up and drop were comfortable. The time of the trip was changed to full day. I.e. 9 am to 6 pm. And lunch was not included.
Advertisement
Advertisement