Take a different look at Cape Town on this eye-opening township tour, led by a knowledgeable local guide. Stepping away from the history of the dark Apartheid days, the tour instead focuses on the townships' future, and you'll learn about ongoing plans to transform the townships from ramshackle to regenerate. Meet local leaders in Langa and Manenberg and sample typical Xhosa food, cooked by welcoming members of these vibrant communities.
Highlights
4-hour township tour in Cape Town led by an expert local guide
Visit communities in the Langa, Manenberg, Guguletu and Rylands townships
Learn about Cape Town from an objective viewpoint, focusing on the townships' future
Meet local community leaders and hear of their plans for the townships

Chat to members of the 'Proudly Manenberg' community at Manenberg Waterfront
Sample typical Xhosa cuisine cooked by locals
What You Can Expect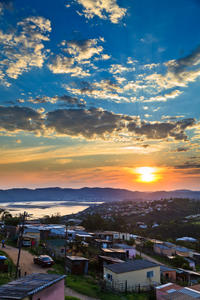 South Africa's townships were created as segregated places for blacks only, until the end of the Apartheid era. Usually located on city outskirts, the townships still exist today and while still facing undeniable problems, they form a fascinating part of South African culture with burgeoning jazz scenes, their own cuisine and even language – known as Xhosa.

After meeting your guide in Cape Town, you'll head out by minivan to discover some of Cape Town's most interesting townships, like Langa, Manenberg, Guguletu and Rylands, sampling Xhosa cuisine and meeting local characters. The exact order of visits will be decided on the day of your tour by your guide.

Established just before the Apartheid era began, Langa is Cape Town's oldest yet most rapidly developing township. Meet the local leaders who are making things happen for this vibrant community, and hear their views on some of the biggest questions surrounding their future: 'What if the greatest value of savings were in the townships, and not in the wealthy areas? How will the townships become suburbs? What's their future?'

Close to Langa sits Athlone Power Station, and here you'll learn about plans for its regeneration into a central station – helping to boost Langa's economic development and ease the commute for local residents.

The other township that you'll spend a large amount of time in is Manenberg Waterfront – a community just to the east of the city on the Cape Flats. Meet members of the 'Proudly Manenberg' organization and see how they've reclaimed the township from the clutches of gangs and hooligans by combating vandalism, setting up neighborhood watch patrols and creating recycling initiatives.

After spending four hours exploring these fascinating townships with your guide and leaning about their future plans, you'll be dropped off back in Cape Town, having seen a side of the city that many don't get to see.
August 2015
This is the Township tour you're looking for. Great, in-depth view of life in the Townships, the work and progress being made there. Incredibly informative and a great way to learn more about the history of South Africa free from pressure or propaganda.
May 2015
The tour was very informative it was a different look at South Africa
April 2015
August 2013
Our guides were really informative and interesting, really positive and they have many exciting plans for the townships, lots of smiles from the children! A must dont let people put you off
July 2013
March 2014
The Township Tour was really eye-opening. It is one thing to hear about apartheid on tv, radio and the news and a whole different thing to speak with guides who can educate you on it. Going to Langa was an adventure in itself. The people were humble, inviting and hardworking. My tour guide Michael was very informative and made the tour very interactive. Thanks!
February 2015
more contact with people expected
Mark H Australia
September 2015
The tour I went on didnt do any of the things in the tour description. The description has a disclaimer that activities may differ, but by 100? I was particularly looking forward to sampling the Xhosa cuisine but that didnt happen that was the most disappointing aspect for me.
This tour is also way overpriced. The cost of this half day tour is about the same as a full day tour of the Cape Peninsular and double the price of a similar half day tour in Soweto. For the premium price I expected a premium experience.
Advertisement
Advertisement