17 Reviews
Location:

Cappadocia, Turkey

Duration:

2 days

(approx.)
Take time out to tour Turkey's famous moon-like landscape of Cappadocia — on a two-day excursion from Kayseri. You'll visit UNESCO World Heritage Sites like Goreme National Park, discover the rich history in the Open Air Museum in Goreme, visit the pottery town of Avanos, Kaymakli, Pasabagi and Pigeon Valley, near Uchisar. You'll also have the option to admire Cappadocia's beautiful scenery of tall, volcanic rock from a hot air balloon.
Highlights
2-day tour exploring the wonders of Cappadocia
Discover the UNESCO World Heritage site of Goreme National Park
Visit the beautiful Cave Mosque in Cavusin Village, an old Seljukian and Ottoman village
See the beautiful underground city of Kaymakli, a historic haven for persecuted Christians
Upgrade to take in panoramic views of the Cappadocia region from a hot air balloon

Recent Photos of This Tour
2-Day Cappadocia Trip from Kayseri
What You Can Expect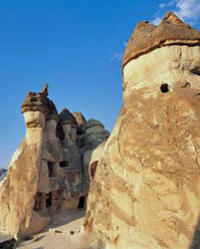 Dotted with fairy chimneys and underground dwellings, Cappadocia offers you an unforgettable experience in a truly unique land.
Day 1: Kayseri - Cappadocia (D)
After pickup from Kayseri airport or your Cappadocia hotel in the morning, your guide will start your Cappadocia tour by coach to Devrent Valley to admire its clustered collections of volcanic cones and other unique rock formations. Learn about the fascinating erosion process from your guide, and then head to Pasabag (Monks Valley), where you'll discover its interesting mushroom-shaped pinnacles.

Next, head to Avanos, where you'll participate in a pottery-making workshop. As you create your own pottery masterpiece, learn about the ancient art of pottery-marking in Turkey.

Stop for lunch at a restaurant near the Open-Air Museum in Goreme. After lunch explore the museum to see the remains of Christian settlements and rock-cut churches that date back thousands of years.

When you are finished at the museum, relax on your comfortable air-conditioned coach on the drive back to your overnight accommodation, a beautiful cave hotel (subject to availability) where you'll enjoy dinner and spend the night.

Day 2: Cappadocia Sightseeing (B)
Start the morning in style with an optional hot air balloon ride and witness the beauty of Cappadocia from the skies. Depart at 5am from your hotel and admire the Turkish countryside as you head to the hot-air balloon office, where you'll enjoy a complimentary buffet breakfast. Next, head to the nearby launch field where the hot-air balloon is inflated, board the balloon basket with your experienced pilot and up you go! See the stunning volcanic landscape and views of the Cappadocia relief, a high plateau standing more than 3,281 feet (1,000 meters) above sea level, during your 1-hour flight. After your flight, toast with a glass of Champagne while being presented with a flight certificate. Then, relax on the drive back to your hotel.

If you choose not to go on the hot air balloon ride, you can rest in your hotel, have breakfast, and join the group at approximately 10am for departure toward the Rose Valley. Enjoy the morning hiking downhill in Rose Valley while exploring some ancient churches. Arrive in Cavusin Village, an old Seljukian and Ottoman village and visit the Cave Mosque. Continue on to Kaymakli Underground City, where early Christians hid from persecutors. Final stop of the day is Ortahisar, famous for its friendly inhabitants, picturesque stone houses, narrow streets and castle.

Head back to your air-conditioned coach and drive back to your hotel or to the airport.

September 2015
Hotel Dilek Kaya very good even if wifi not strong enough in some rooms
Landscapes amazing.
Fist guide Ulun was not so good as the tour was really shortened and at 4 pm I was already back at the hotel, having nothing to do there. Also he didn't go to Red Valley which was on the program.
Second guide Fatma was really kind and perfect, she totally saved the tour, it was really amazing and she even bring me to red Vallay what was normally at the program of previous day.
October 2014
I really liked the tour. We saw different and beautiful places. However, we could have spent more time in certain places, since both days we finished much earlier than established in the schedule.
July 2014
Unforgettable. Amazing. Outstanding. Great scenery, long and beautiful history, and nice cultural touch. We had good guides, comfortable accommodations and transportations. Ballon ride is a must
July 2013
My wife and I were very satisfied with this tour. We started the tour from Ürgüp and went to Ortahisar, Çavuşin, Pigeon Valley, Kaymaklı Yeraltı Şehri, Kaymaklı, O Agacin Alti Panorama, Göreme Açık Hava Müzesi, Yeralti Sehri, Fırça El Sanatları, and Paşabağı. The optional hot air balloon tour was also unforgettable experience. The hotel was very comfortable. Finally, the tour guide was very experienced and knew well about the regional culture, history, and other stories behind each spot. I highly recommend this tour to my friends.
September 2012
I really enjoyed this trip, it was absolutely amazing! Our guide was great, he was very knowledgeable and at the same time very nice and entertaining. After Istanbul, we loved being out in the nature and doing an easy hike in the Rose Valley. The natural formations we saw on this trip were absolutely amazing! We loved the fairy chimneys, the underground cities and the Goreme open air museum. Also really enjoyed being in a small group. I would definitely recommend this tour!
September 2012
Amazing!!! Mother nature was hard at work in this part of the world!! Tour guide was excellent and everything was seamless. DEFINTELY TAKE A HOT AIR BALLOON RIDE!!!! Phenominal experience!
August 2012
I have to admit I was not really sure what to expect of this tour. We hired a 2 day tour to see the main highlights of Cappadocia, of which I was mostly looking forward to the fairy chimneys. We landed from Istanbul the morning the tour began, and kicked off the day with a easy hike along the Rose Valley. After spending a few days in all the hustle and bustle of Istanbul I was so grateful to find a bit of quiet, admire the rock formations and listen to our guide explaining how the area originated and enjoy a quick stop for tea. Lunch involved a typical place in Avanos, overlooking the river. After refuelling we were taken to see one of the Christian underground cities in the area. It was amazing how much they had excavated into the rock and being able to explore it. On the second day we visited the Goreme Open Air museum. Our guide was very knowledgeable and explained quite a few of the buildings and the frescos in the churches built by the Christians. This was just as beautiful as the fairy chimneys we went to see in the afternoon before finishing our visit. All in all, I greatly recommend this tour. When we went (early june) there were a few tour buses but felt quite laid back, and the group we were in was small and the guide very friendly. I wish I could have stayed one or two days more to relax a bit and enjoy the area, but I think I got a good overall impression.
September 2015
We had a great time! Very nice tour! However I think it is overpriced and I recommend the guide should give enough time for picture taking. Our guide was talking too much nonstop and we did not have enough time to take photos. Although it was good information, however I think he should give time also in between bus rides to have free time, me time or whatever and upon arrival into the destination should brief us only anout the place for a little bit and give us the time to ourselves.
June 2014
It is a good trip, we did more than I expected and visited so many great attractions. The only issue, which was not really that big of a deal but it is an area in which you can improve is that you should give travelers the itinerary before you start the tour. After they picked me up, I had no idea what we were going to do and the guide was telling us every day but it would have been good to have it beforehand. Finally, I had to call the agency because nobody told me at what time I was going to go for the hot air balloon ride on the second day. The experience was great and the guide was exceptional.
May 2014
My wife and I really enjoyed this tour. We were lucky to have a small tour group (6 on day 1 and 10 on day 2) which really allowed for a fun dynamic in the group. The tour company really looked after us well and our guide made kept us fully informed and answered all of our questions. The tour was well structured, with some nice walks, tailored for all levels of fitness, as well as some interesting side trips to watch pottery and jewelry being made. The cave hotel was also really nice, which we must admit surprised us for the price. The meals were fully included as well, which made this great value. Would recommend this to anyone wanting to visit the region.
Advertisement
Advertisement