Discover Cappadocia's fascinating geologic formations during a 3-day guided tour from Kayseri with optional balloon ride! Shack up in a traditional cave hotel central to Cappadocia and then visit its best attractions including Kaymakli Underground City, Rose Valley and a selection of rock sculpted villages including Ortahisar and Çavuşin. This tour includes a trip to the vocalnic carved chapels and churches at the Göreme Open-Air Museum. There is an optional 1-hour hot air balloon ride that soars over the memorable landscape. Plus, enjoy a complimentary roundtrip transfer to Kayseri airport.
Highlights
3-day Cappadocia trip from Kayseri with an expert local guide
Visit Monk's Valley and Göreme Open-Air Museum
Upgrade to include a Cappadocia hot air balloon ride!
Trek through Rose Valley, explore the village of Çavuşin and then visit Kaymakli Underground City
Pose for pictures against the surreal backdrop of Ortahisar Castle
4-star cave-hotel accommodation in Cappadocia plus a round-trip airport transfer from Kayseri Airport included
What You Can Expect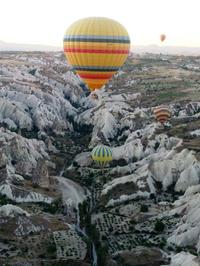 Your 3-day guided Cappadocia tour is sure to be a memorable and hassle-free way to explore this stunning region. With the assistance of your expert guide, visit Kaymakli Underground City, Rose Valley, Ortahisar and more. Learn about the history of this fascinating corner of Turkey at the Göreme Open-Air Museum. With lodging at 4-star hotels, this trip is not to be missed.
Day 1: Kayseri – Cappadocia (D)
Depending on the option selected, enjoy either a worry-free transfer from Kayseri Airport or a hotel pickup in the greater Cappadocia area for your 3-day Cappadocia tour. Then, travel by air-conditioned coach to your cave hotel for check-in. After dropping off your bags, continue to stunning Dervent Valley Area and hop out to view the impressive landscape in Pasabag (Monk's Valley). As your stroll through this area, learn how hermits and monks once secluded themselves in these cone-shaped monoliths.
Next, head to Avanos, a village famous for its pottery making and stop for lunch. Continue to Pigeon Valley and learn how pigeons were bred in caves for so their droppings could be used as fertilizer. Afterwards, drive to Göreme Open-Air Museum and see the collection of rock carved churches and chapels that are prime examples of Cappadocia's Byzantine history.
Overnight: 4-Star Alfina Cave or Dilek Kaya Cave Hotel
Day 2: Cappadocia (B, D)
If you optioned for the hot air balloon flight over Cappadocia's landscape get ready for a sunrise to remember! Bright and early, enjoy a short ride to the hot air balloon office for a tasty buffet breakfast. Then, hop aboard your trusty wicker carriage and watch as the flame floats you into the crisp morning sky. Explore different vantage points of Cappadocia's fairy chimneys and fascinating rock formations that were weathered by natural forces over millennia. After snapping your last photo, gracefully land and salute your pilot and travel companions with a glass of Champagne. Then head back to your hotel to meet the rest of your group.
If you decided to pass on the balloon flight, enjoy a tranquil morning at your hotel. In the late morning, everyone will meet up and continue to Rose Valley for a leisurely hike. Along your walk, see red-hued rocks expand over a striking reach of land. As you traverse the valley separated by Çavuşin and Göreme, watch as your guide points out the abundance of tunnels and churches chiseled into the walls of rock. End the walk at Çavuşin and stop at the cave mosque. Then, enjoy free time to explore more and stop for lunch (own expense).
Rendezvous with your coach and journey to Kaymakli Underground City, Cappadocia's most well maintained subsurface attractions. Then, experience what life was like for early Christians who hid here from persecution. Discover a labyrinth of passages and floors leading to animal stables, living quarters, and even a church. Hop back on your coach and head to Ortahisar home of the huge monolithic Ortahisar Castle. Explore the craggy homes lining the streets and grab photos of the massive fortification that rises high above the village. Journey past Pigeon Valley back to your hotel for dinner and if time allows take a slight detour for a wine-tasting at a local cellar.
Overnight: 4-Star Alfina Cave or Dilek Kaya Cave Hotel
Day 3: Cappadocia – Kayseri (B)
After a nice breakfast at your cave hotel end your 3-day trip with a ride back to Kayseri Airport or if you are staying longer your preferred Cappadocia accommodation.

May 2014
Tour guides were excellent and hotel Lykia Lodge was excellent. Very happy with the tour!
August 2015
Absolute amazing tour guide!!! Site were amazing, balloon ride was an incredible experience! Great!
Only bad point was the hotel! It was just bad quality, bad service!! Horrible rooms, just overall bad bad hotel!! The dilek kaya hotel is not even a 3 star let alone 4! NEVER AGAIN! Avoid it!
September 2015
This tour is a scam! It is listed as a 3 DAY tour but is actually a 2 days tour with a transfer to the airport on the third day. Moreover, for the first two days of the tour, instead of spending as much time as possible visiting the fabulous sites of Cappadocia, we spent far too much time visiting some ceramic and carpets workshops that sold hugely overpriced ceramics and carpets. For the third day, I was practically abandoned by the tour operator in my hotel and had to rent a taxi in order to visit the many attractions that were omitted during the first two days.
Advertisement
Advertisement