20 Reviews
Location:

Cappadocia, Turkey

Duration:

3 hours 30 minutes

(approx.)
Discover the stunning landscape of the Cappadocia region of Turkey from a hot-air balloon! Admire Cappadocia's beautiful scenery of tall, volcanic rock spires and high plateaus from the air on either a 1-hour or 1.5-hour flight. Toast to your unforgettable experience with a glass of Champagne during the post-flight celebration and receive a souvenir medal. Your Cappadocia hot-air balloon flight includes a complimentary pre-flight buffet breakfast and convenient round-trip hotel transportation.
Highlights
Hot-air balloon ride in Cappadocia

Admire incredible panoramic views of the Cappadocia region from the air
Get a close look at the stunning volcanic rock formations as you fly up approximately 1,000 feet

Enjoy a complimentary buffet breakfast before your flight

Toast with a glass of Champagne and receive a complimentary souvenir medal

Choose a 1-hour or 1.5-hour flight
Recent Photos of This Tour
Cappadocia Balloon Ride and Champagne Breakfast
What You Can Expect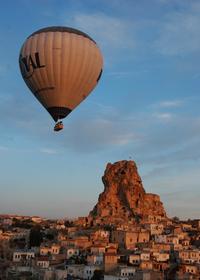 The Cappadocia region of Turkey is the perfect location for a hot-air balloon flight, thanks to its outstandingly beautiful landscapes and great weather conditions. After complimentary pickup from your hotel by comfortable, air-conditioned minivan, take in views of the Turkish countryside as you head to the hot-air balloon office, where you'll enjoy a complimentary buffet breakfast of fruit, pastries, meats and salads.

Head to the nearby launch field and watch as your 100-foot tall (30-meter) hot-air balloon is inflated before boarding the balloon basket with your experienced pilot. Then, up you go!

Feel the subtle motion of the balloon as it lifts up over the stunning volcanic landscape. On your safe, scenic, flight, enjoy panoramic views of the Cappadocia relief, a high plateau standing more than 3,281 feet (1,000 meters) above sea level and pierced by tall, thin volcanic spires.

As you fly through the Cappadocia valleys, take a close look at the rock formations and listen to your pilot's interesting commentary about Cappadocia's history and geological formations. See churches and houses carved into the rocks as the balloon climbs approximately 1,000 feet (300 meters).

After your flight, raise your glass for a Champagne toast while being presented with a silver or gold medal as a flight souvenir. Then, relax on the drive back to your hotel.

The 1-hour flight holds up to 20 people; for a more intimate experience, take the 1.5-hour ride, which guarantees a maximum of 12 people.
September 2015
I had a wonderful time and the whole process was seamless. From the pickup to the actual fliying. Kudos to our pilot who did a great job keeping us safe.
September 2015
Highly Recommended
Lovely experience, a must do when in Turkey!
My wife and I went for this ride on 26/08. We had our hotel pick at 4.30 am, but our flight was delayed and we reached Keyseri airport at 4 am. As we were short on time, we called up the Royal Balloon Chief Pilot Mr. Suat Ulusoy who advised us to come directly to their office/hotel. At 5 am we were served a hearty breakfast there, then divided into groups and taken to the launch field. The sight of the balloons being filled with gas was splendid. We were up in the air for about an hour, during which time we soaked in the magnificent sights of the landscape the early morning rays of the sun touching our faces is something that'll be forever in our memory, we forgot all about our exhaustion and tensions from the flight. Chief Suat kept us entertained with his jokes and by answering our queries on the intricacies of the gas balloon he also guided us about the landscape. When we landed, we were treated to customary champagne and strawberries dipped in chocolate by the staff. It concluded with each one of us being felicitated with a medal as a memento of our flight. We were then dropped off at our hotel. Super happy and content with this tour.
August 2015
Fantastic Tour! Seeing the sunrise was an incredible experience and our Balloon Pilot/Driver was great. She made it much more fun. Truly a must-do if you're in Cappadocia!
July 2015
This was one of the highlights during my trip to Turkey. The local operator that Viator used for this was very organized and professional. They provided breakfast before the flight as well as a champagne toast afterward apparently a tradition for balloon rides. The balloon pilot was funny, entertaining, and a total pro. We landed in a field of flowers, which was great.
July 2015
It was a seamless arrangement. Very skillful pilot who took care of everyone onboard.
November 2014
I have a had 3 ballon trips already but nevr have got a full breakfast prior the flight. Very kind and warm hospitality. Highly recommended. As a negative aspect didnt know that if you pay cash it cost you 20$ less so i ended up paying 40$ more than my colleagues.
October 2014
This was fantastic. The whole experience unforgettable
They picked us up when they said they would, we had a very skilled professional flying the balloon
Amazing
September 2014
An extraordinary experience which I can never forget. The Royal balloons are well organized and have professional licensed pilots. I enjoyed every second of the trip and it was not scary as I thought. It was like a flying balcony. Don't miss this experience.
July 2014
This was my first flight and it was amazing. A must-do in Cappadocia!!! Breakfast and transportation were excellent. During the way to our balloon it was amazing to see balloons who were flying already. The flight was great and safe. It was very exciting to flight so close to the geological formations and I had great pictures. Our pilot was very professional and friendly and the sunny weather made that trip an unforgettable experience! We ended the flight with a champagne toast to celebrate and a medal. Really recommended.
July 2014
A must-do in Cappadocia! From the pickup to the pre-flight breakfast to a top-notch pilot to the Champagne glass at the end, it was perfect from start to finish. Our pilot was amazing, and though he kept saying there is no steering wheel on a hot air balloon, his dexterity in maneuvering the balloon was astonishing. Getting so close to the rock formations one could have touched it, going in and following the path of the canyons, around and above the Fairy Chimneys, was a once-in-lifetime experience. The operation is flawless too, we felt safe at all time, they even have staff on the ground monitoring all balloons at all time. The tour finished by a high altitude portion, given us the opportunity to take in the whole region. Don't go to Cappadocia without doing a hot air balloon ride and this tour is the one to do!
Advertisement
Advertisement