Explore the magnificent landscape and cultural centers of the Ihlara Valley on this full-day tour in south Cappadocia. Enjoy your journey by air-conditioned coach as you travel through Cappadocia's compelling ancient landscape with an expert guide. Discover the subterranean world of Derinkuyu Underground City and explore the sacred caverns at Selime Monastery. See if you recognize any scenes from Star Wars in Yaprakhisar and learn about how the Turkish people have lived in unison with the local landscape for thousands of years.
Highlights
Full-day Cappadocia tour to Ihlara Valley with an expert local guide
Explore Derinkuyu Underground City – the deepest ancient dwelling in the region
Discover Selime Monastery and wander around its secret passageways
Head to the cave village of Yaprakhisar and see where scenes from the Star Wars movies were filmed
Hotel pickup and drop-off from your Göreme or Ürgüp hotel
What You Can Expect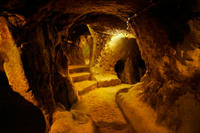 Your guided full-day Ihlara Valley trip begins with a convenient pickup at your Cappadocia hotel by air-conditioned coach. Meet your guide and settle in and admire the scenery outside the window as you travel to your first stop, Derinkuyu Underground City. Explore the tunnels of one of the region's deepest underground cities as they twist and drop far beneath the earth's crust. Learn about the early Christians who carved this city, and visit their courtyards, churches and wineries.
When you emerge into daylight again, venture to the Ihlara Valley, a 10-mile (16 km) gorge created by volcanos thousands of years ago. Today, it's popular with hikers and other nature lovers. Trace the length of the Melendiz River as you enjoy panoramic views of the valley's dramatic cliffs from your window. Along the way, break for a traditional Turkish lunch at a local restaurant, then continue on your journey.
You won't want to miss the picturesque Selime Monastery on the north section of the gorge. Explore the passageways and sacred rooms that were carved into the mountain by monks in the 13th century. Visit the stables, kitchen and church and gaze out of the 'tunnel' windows for views that stretch across the valley.
But for the best views of the valley, stop at the historic cave village of Yaprakhisar. This is a great stop for a photo opportunity, with the Ihlara Valley canyon sprawling behind you as far as the eye can see. Also, you may recognize a few scenes from "Star Wars" here. When you're ready, step back into your bus and relax on the scenic ride back to your hotel.
March 2015
Excellent trip,special places,professional guide.

September 2013
November 2015
Amazing tour. Guide was very good. Found interesting. I generally tour myself but this is one of the tour which is very difficult to cover by public transport. I recommend it.
June 2014
My guide was terrible. I can walk and do most everything. I am just slow. On the first part when we went on a hike he tried to talk me out of going. I insisted and he let me go. He ran ahead and I heard him tell all the other group member not to help me at all. Then he refused to allow me to go the the Selime Monastery and Yaprakhisar because I was too slow. It was a waste of my money since I could not see what was advertised. Especially since the next day, I went on a tour of the Red Valley and the guide allowed me to take the walk, visit the underground city and all the other activities. I was able to do them although I was slow.
June 2014
You can find better tours. Tour guide didn't tell us much, looked like he didn't want to be there and he smoked the whole time, which I thought was unprofessional..
Advertisement
Advertisement