Witness the best of beautiful south Cappadocia on this scenic full-day trip from the central Cappadocia region. With an informative guide, explore the subterranean network of Kaymakli Underground City, admire the multicolored Red Valley, and marvel at the deserted rock-cut village of old Çavuşin. Gaze over the cliff-carved birdhouses of Pigeon Valley, and watch and try your hand at pottery-making at a traditional workshop in the town of Avanos. Savor lunch at a local restaurant, and as you explore, learn all about the remarkable geology and history of the region.
Highlights
Full-day guided tour of southern Cappadocia including lunch
Walk in the beautiful Red Valley and visit its hidden cave churches
See the abandoned rock houses of old Çavuşin village
Explore Kaymakli Underground City and view the dovecotes of Pigeon Valley
Visit Avanos, a traditional village known for its pottery making
Watch potters at work and try making your own earthenware masterpiece
Enjoy a pickup and drop-off from your Göreme or Ürgüp hotel
What You Can Expect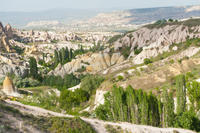 Board your air-conditioned coach at your Ürgüp or Göreme hotel, and journey to south Cappadocia, an area famous for its moon-like rock formations, fairy chimneys and ancient subterranean settlements.
Along the way, hear about the region's geology and get a taster of some of the sights ahead. Then, make your first stop at Pigeon Valley, a beautiful gulley where thousands of pigeon houses have been hewn into the rocks and cliffs.
Take snaps of the dovecotes as your guide explains how through the centuries, local farmers kept pigeons to use their droppings as a crop fertilizer.
Next, drive on to the Red Valley, a stunning area of red- and multicolored rock cones, peaks and cliffs.
Trace the trails accompanied by your guide, and absorb views of the caves, vineyards and orchards. As you look around, peek into some of the hidden rock churches that litter the area and learn how they were used by Christians through the ages.
Travel on to Kaymakli Underground City, one of the best preserved of its kind in Cappadocia. Head underground and delve into its hand-cut rock passages and rooms as you discover how long-ago Christians used them as hideaways to escape persecution.
Continue to 'old' Çavuşin, a deserted village cut into a hillside. Marvel at the desolate rock houses, caves and shelters and hear about the people who once called them home, and why they left.
During your explorations, break for lunch at a local restaurant and visit Avanos, a town famous for its pretty pottery and craft industries.
Visit a workshop to see the potters in action and have a go at making your own pottery masterpiece. As you watch and work, learn about the local clay-working techniques that have been passed down through generations of potters.
Your tour then ends with a hotel drop-off.
June 2014
Thoroughly enjoyed this with a good guide.
June 2015
This was a really good, full day. The underground city was amazing. The hike was good, although it was in the middle of a very hot day, and we hadn't realised that there was a 4km hike involved so weren't appropriately equipped.
Unfortunately we did not make it to Avanos for pottery-making - instead we were taken to an onyx workshop with a very pricey attached showroom.
Overall I was happy with the day and the tour, and would have appreciated a little more information on what was involved beforehand.
October 2014
I bought the tour but on that day, I was told in the van that the van was for Northern Cappadocia Tour. The tour company decided to switch my tour without notice!!! However, the tour guide on that day was great. She accepted it was the company's fault and she arranged a private Southern Cappadocia Tour for me on that day.
September 2014
Very well-arranged ; good coverage of sightseeing and information ; good lunch ; energetic guide ; good transportation ; request the guide to inform more of the local famous history
June 2015
Area was beautiful, tour leader accommodating and informative but was disappointed in that the tour did not meet the advertised itinerary. When booked it claimed that the tour would last about 8 hours and that we would venture to and explore an underground city. he tour lasted 5 hours and we did not get to the underground city but were told that it would be on the second day- at no time was it advertised as a 2 day tour and we couldn't do it anyway as we were leaving on that day.
August 2015
I expected more out of this tour. Unfortunately the tour guide was very unprofessional. Too bad because this place is very interesting.
February 2015
THEY NEVER SHOW UP HORRIBLE I have contacted viator but still yet to receive any message!!! NOT ONLY they never show up on the date we have scheduled we had to change the date twice while I was traveling and had to book an extra date with my hotel just because of this tour!!!!!
Advertisement
Advertisement