Follow the trail of 'Doctor Who' around Cardiff on a 4-hour sightseeing tour by bus! The 4-hour TV locations tour is the perfect experience for fans of the eccentric time lord who want to see Cardiff's sights, like the Millennium Stadium, as well. Hear insider gossip from your guide – an avid 'Doctor Who' fan – and stop to explore locations such as Amy Pond's village of Leadworth.
Highlights
4-hour Doctor Who tour of Cardiff aboard a sightseeing bus
Learn insider gossip about the series from your guide, a Doctor Who fan
Walk around Amy Pond's village where the first episode with Matt Smith was filmed

Visit Llandaff, the town used as the fictional village of Leadworth
Pass top Cardiff attractions like Millennium Stadium and National Museum Cardiff
Hear behind-the-scenes tales about famous doctors, such as Christopher Eccleston, David Tennant and Matt Smith
What You Can Expect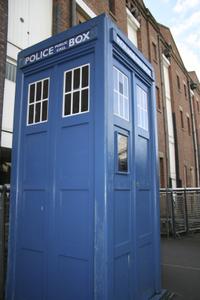 Meet your guide at Cardiff Bay and then set off to explore the city aboard your Doctor Who sightseeing bus! Most of the popular science fiction series, as well as several TV spin-offs, have been screened in and around Cardiff, so filming locations are scattered around the city. Stop at some of the best to stretch your legs, take photos and see the locations up close.

As you travel, your guide will entertain you with fun facts and trivia about the intergalactic time lord, who travels back in time exploring the universe in his TARDIS – a 1960s-style London police box – with his companion.

Stop for a walk through the set of Amy Pond's village, where scenes from the first episode with Matt Smith as Doctor Who were filmed, and then see sites nearby from popular spin-off series like Torchwood – a popular program about a team of extraterrestrial investigators.

In between seeing screening locations, look out for other top Cardiff attractions while exploring the city. Pass National Museum Cardiff, where collections of archaeology and botany are housed, and see the impressive Millennium Stadium where the Welsh rugby team play.

Visit surrounding areas of Cardiff featured in the show, and then head to Llandaff, a town outside of Cardiff that was featured as the town of Leadworth – used in the 11th Doctor Who series starring Matt Smith.

After exploring Cardiff and the surrounding area, finish your tour back at the start point.
November 2015
Matt was awesome and had really good insider information. There was a good bit of walking to this tour and all of it was to some really cool places. This is a must-do for all Whovians.
September 2015
The tour guide was great he knew lots of facts and stories about dr who in the area the only sad bit was the rain on tour day but no but Dr Who could change this
August 2014
Matt did a great job with the tour. We were taken to a vast majority of the sites used for the show. He had great knowledge, insight, and gossip regarding DW. For those who are fans of the show, I'd recommend it to everyone!!
July 2014
Most excellent! Our guide was tops! Made the show all the more real and it was amazing how they used some really basic areas to make some wonderful shows! Highly recommend this!
June 2014
Absolutely brilliant! Fantastic tour and our guide, Matt, was very knowledgeable and funny! This is a MUST for any Doctor Who fan!
May 2014
We enjoyed how knowledgeable and pleasant the guide was... never realized how very much of DR Who is filmed in Cardiff! Great time.
October 2014
I am torn between 'worth doing' and 'recomended' for this event. I found the tour informative although it was sometimes hard to understand the tour guide's accent and mumbling of words. I wanted him to be more confident in his presentation and therefore more engaging. He certainly knew his stuff! The tour requires a great deal of familiarity with Dr. Who series and in my opinion it is highly recomended for 'die hard fans'. Lessor mortals might struggle to remember all the referred scenes. The video display in the bus helped memory recall.
July 2014
The tour and tour guide was really fantastic he was so nice and informative. However the bus driver was pure dire he constantly complained and we had to go back early and couldn't stop at Sarah Jane's house. I was so disappointed as I really wanted to see it. The driver said that if we got out then he would not let us back in. Absolutely disgusting. This really spoiled my trip
January 2014
I'm not a Dr Who fan but my wife who came with me on the tour is a huge fan. She felt the tour dragged on quite a bit and could've taken half the time and been a better tour. We felt some of the stops to get off the bus to take photos (in which only one or two people in the tour did anyway). For instance we would stop at a house and end up taking more time than required to get everyone off the bus to take a photo and then get everyone back on. Some of the places people couldn't really take photos because the home owners weren't keen to have the tour there.
Would work better if it incorporated the Dr Who Experience exhibit as well.
Advertisement
Advertisement