Go behind-the-scenes of one of Britain's most beloved rom-com TV series 'Gavin and Stacey', on this 3-hour sightseeing tour of Barry Island. Hop on board 'Dave's Coach', the original bus seen on-screen, and explore Stacey's hometown of Barry, stopping at key filming locations along the way. Snap a photo in Nessa's chair in the Barry amusement arcade, pay a visit to Stacey's house and get the inside scoop on characters like Smithy, Uncle Bryn and Gwen, as well as actors James Corden and Ruth Jones, who co-wrote the series.
Highlights
3-hour Gavin and Stacey TV locations tour of Barry Island near Cardiff
See TV locations used in the peninsula town of Barry, Stacey's hometown
Ride around town in Dave's Coach – the original vehicle used in episodes of Gavin and Stacey
Hear little-known facts about much-loved characters like Nessa, Smithy, Uncle Bryn and Gwen
Stop for photos at key filming sites: Nessa's chair in Barry amusement arcade and Stacey's house
What You Can Expect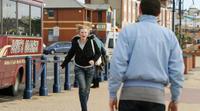 Head to Barry Island, near Cardiff, and meet your local guide -- a keen Gavin and Stacey fan! The hugely popular series documents the relationship between Gavin and Stacey – likeable characters from very different areas of Britain. While Gav hails from Essex in England, bubbly Stacey is as Welsh as they come, and the comedy centers on the cultural differences between them, their families and friends.

Hop aboard Dave's Coach – the vehicle that was driven by Dave throughout the series – and then start seeing filming locations while riding around town. Stop at the best sites to stretch your legs, take photos and see the locations up close.

As you travel your guide will entertain you with trivia about the hit TV series and behind-the-scenes stories about the cast. Learn about James Corden who played Smithy (Gav's best mate) and hear how he co-wrote the series with Ruth Jones – the actress who brought the no-nonsense character of Nessa to life.

Pay a visit to Barrie's amusement arcade to see where Nessa once worked and take a seat in her chair where she gossiped for many an hour about Stacey's relationship woes. Pose for photos in front of Stacey's terraced house, and hear all about Uncle Bryn who frequently popped over for a 'crackin' omelet cooked by Stacey's mum.

Head to Barry Island seafront in the center of town and finish your tour with a stroll along the promenade. Before leaving you can hop into the driver's seat of Dave's Coach to pose for a picture, if you wish!
May 2016
It was Brilliant, Carrie from Barry was very funny and knowledgeable. I would do this tour again :
October 2015
We loved Sally the tour guide she made the day we enjoyed the atmosphere on the bus and all the places we visited especially Stacey's house. Bev was very kind in letting us into her home. We would highly recommend this tour to any Gavin and Stacey fan
July 2015
Die hard G and S fans will love this for the simple fact the tour is via the original Dave's Coach, and you get to go inside Stacy and Gwen's house. Those two things are really the only reasons to take this tour. It's needlessly long, 3 hours! with 30 minutes spent inside a pub that has absolutely nothing to do with the show. It is swelteringly hot and stuffy on the coach, that is not air conditioned in spite of it stating clearly on the tour info that it is. Two open windows do not count. The tour started late so the end was rushed and incomplete. We were assured everyone would get a chance to have pics taken in the driver's seat of the coach, but there wasn't time. If you have any mobility issues, you may not be able to board the bus, as the stairs on are steep. This was not a professionally done tour, but both the driver and guide were very friendly. In short, if you know G and S well enough to quote lines from the show, you will be thrilled just to ride in the coach and go in Stacy's house. Otherwise, save your time and money.
Advertisement
Advertisement