Capture the color and charisma of Cartagena's vibrant nightlife on a 4-hour city tour by bus. Climb aboard a vibrant 'chiva', a colorful wooden bus typical in rural Colombia, to begin your exciting excursion into the night. Listen to pulsing live music, sip complimentary drinks and admire spectacular sights as you cruise around the captivating colonial city. Carry on the revels at a popular local nightclub, or return to your hotel at the end of this energizing excursion.
Highlights
4-hour night party tour in Cartagena

Hop aboard a rustic bus known as a chiva

Travel through the charming streets of the historical walled city of Cartagena, a UNESCO World Heritage site

Enjoy domestic liquor and snacks on board

Continue the party at a local nightclub

Hotel pickup and drop-off included
Recent Photos of This Tour
What You Can Expect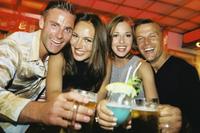 Depart from either your hotel in Bocagrande or a central Cartagena location to begin your exuberant expedition. Climb aboard your colorful chiva bus and absorb the electric atmosphere created by lively music and excited chatter.
Sip refreshing rum and coke cocktails as the music bursts into life and you embark on a tour of the UNESCO World Heritage Listed walled city; admire legendary landmarks and listen to comic commentary as you sample local Colombian fritters and enjoy the festive atmosphere.
Drive past the fabulous fortification of Castillo San Felipe de Barajas, a protective castle that reigns supreme from the top of San Lazaro Hill. Learn about the purpose of its construction and its ancient 14th century origin before travelling to the impressive archways of Las Bóvedas, in which bespoke boutiques and quaint craft shops sell artisan treasures.
Keep the party spirit pumping as you arrive at one of the city's most popular nightclubs; enjoy free admission and an exuberant ambience as you prepare to dance the night away. Move to Latin, electronic and salsa songs as they pulsate from state-of-the-art speakers, enjoying South American rhythms like reggaeton and vallenato (popular folk music from Colombia).
When the clock strikes midnight, return to the bus and relax during the journey back to your hotel. Stay at the club until the early hours if you wish, however return transportation must be arranged independently.
May 2016
It was quite an experience I fully enjoyed every minute, made new friends and had a ball .what a way to celebrate life. I look forward to my next trip and party bus.

Jaz USA
July 2015
Great, fun tour... just remember to get a cab to the meeting point in BocaGrande as the Chiva bus does not enter the Old Walled City area. The Chiva bus will circle around a bit picking up more passengers, so be patient, get to know your fellow passengers. My Spanish is limited, but the tour lead speaks excellent English and so do the other passengers.. It was so refreshing to be the only American on the Chiva bus and Asian to boot... most of the Chiva bus passengers are Colombians visiting Cartagena for the weekend or from South America. There was rum and coke provided in the Chiva, you can drink all you want till the stock runs out. There were 2 stops, both were outdoor stops where there's live music, salsa dancing. The last stop would be at a local bar in the Getsemani area. You're free to stay at the bar, have the Chiva bus drop you back to your hotel in Bocagrande or take a cab back to your hotel. I ended up making new friends from the Chiva bus and we opted to have a few more beers at a local restaurant till 3am.... this is truly a fun way to get to know the locals and culture.

June 2015
Super duper fun!! Loved, loved, loved it! Definitely have to do this if you go to Cartagena!
March 2015
July 2015
THE BUS RIDE COULD BE A LITTLE LONGER ADDING MAYBE A BEACH VIEW
March 2016
This was a huge disappointment of our trip. We were told to be at 7:45 pm in the lobby at the Cartagena Plaza because the tour would start at 8:00 pm. While we were waiting other guests were picked up by different chiva tour companies. By 8:30 we still had not been picked up, so the receptionist of the hotel called the local phone number of the local tour operator, but no answer. Ten minutes later we left, because there are many better things to do in Cartagena than sitting and waiting in a hotel lobby. The booking and payment was easy, even the communication via email regarding pick up information was timely, only the chiva did not show up, at least not within a reasonable time frame. Very disappointing. I will definitely request a return oof my advanced payment. Wish me luck!
jose034 United States of ...
January 2015
DO NOT BOOK THIS TOUR! FIRST OF ALL, IF YOU ARE NOT STAYING AT THE BOCAGRANDE AREA, YOU MUST TAKE A TAXI TO THE CARTAGENA PLAZA, WHERE YOU GOING TO ENCOUNTER SOME VERY RUDE SECURE GUYS! NO ONLY THEY ARE RUDE, BUT THEY DO NOT KNOW ANYTHING! WHEN YOU ASK ABOUT THE "CHIVAS BUS", THEY LOOK LIKE YOU ARE TALKING ABOUT SOMETHING THAT IT DOES NOT EXIST! LOL! IN ADDITION, IF YOU INQUIRY AT THE RECEPTION, THE PERSON WORKING INSIDE DOES NOT KNOW EITHER! LOL. IT IS SAD, TO FIND OUT HOW LOCALS ARE SO NAIVE ABOUT THIS PARTY BUS! NONETHELESS, WHILE WE WAITED AND MANY OF THESE BUSES PASSED BY WHEN TRYING TO GET IN THE BUS, THE FIRST THING THEY SAY, IT IS NOT THIS BUS, POSSIBLE NEXT, ABOUT 4 BUSES PASSED BY NONE OF THEM KNEW ANYTHING,.! LOL. SADLY, WE WENT BACK TO THE HOTEL! VIATOR SHOULD ENSURE THAT WHEN PEOPLE (THE CUSTOMER) BOOK ANY KIND OF ACTIVITIES, HE/SHE SHOULD OBTAIN WHAT THEY PAY FOR IT. FINALLY, VIATOR REPRESENTATIVES IN OTHER COUNTRIES HAVE NOT BEEN THE SAME. VERY SAD TO SAY THIS, BUT ITS TRUE! YOU WILL FIND OUT THIS BY YOURSELF!
September 2014
This tour is terrible. First you spend 1 hour going to different hotels waiting and picking up people until the bus is full to maximum capacity, 50 people. You are sitting like herd, squeezed into the bus. Six people per row no matter what size people are. Then your given a small bottle of white rum and lemon soda to pass down your row of six people and that is you "drinks". You get off the bus to walk and spend another hour of people playing musical instruments. This was enough for my husband and I and we decided to take a taxi back to the hotel. Horrible experience and we don't recommend this tour at all!!
Advertisement
Advertisement