Discover the beauty of Cartagena on a four-hour guided sightseeing tour of this Carribean port city. Set out with your small-group for a sightseeing half-day adventure, enjoying scenic vistas and popular landmarks such as plazas and cathedrals en route. Traveling by minivan you'll visit the colorful craft market of Las Bóvedas and explore Castillo San Felipe de Barajas, an exquisite castle fortress. The tour also includes a walk through Cartagena's UNESCO-listed Old Town, known for its stunning colonial architecture.
Highlights
4-hour small-group sightseeing tour of Cartagena
Enjoy panoramic views of the coastal Caribbean city from Cerro de la Popa
Visit the Castillo San Felipe de Barajas with your knowledgeable guide
Stroll through the walled Old Town of Cartagena, a UNESCO World Heritage site
Stop by the craft market of Las Bóvedas
Hotel pickup and drop-off by minivan included
What You Can Expect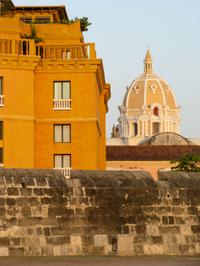 Start your small-group sightseeing tour of Cartagena upon hotel pickup. Your minivan drives through the suburbs of Bocagrande, Castillo Grande and Manga en route to the Cerro de la Popa, the city's highest hill. You'll appreciate fantastic panoramic views of Cartagena and Colombia's Caribbean coast from this location, which is topped by a convent and chapel. Visit the 17th-century Convento de la Candelaria, dedicated to Cartagena's patron saint.
Re-board your vehicle and visit the Castillo San Felipe de Barajas, a Spanish castle fortified from pirate attacks. Learn about this military marvel of engineering from your guide before stopping at the nearby monument of Los Zapatos Viejos (The Old Shoes). These enormous bronze boots — a tribute to a poem by the city's great poet Luis Carlos López — offer a popular backdrop for fun photo ops.
Continue to Cartagena's UNESCO World Heritage-listed Old Town, passing the monument of La India Catalina and reaching the clock tower, where your walking tour inside the walled historical center begins. Follow your guide to numerous bastions, colonial buildings and public squares, including Plaza de la Aduana and Plaza de los Coches.
Visit San Pedro Church, reconstructed in the 18th century, and admire the high altar made of Italian marble. Your guide will tell you the history of this impressive cathedral and the Spanish-born priest for which it was named. Your last stop is the craft market Las Bóvedas, where you can stay and enjoy a variety of cafes, bars and restaurants or be returned to your Cartagena hotel.
Karl S. Venezuela
February 2016
This is a very nice tour for those who are interested in History as well as Architecture. You get to see and visit many spots unknown to the Visitor and also The Museum of the Inquisition.

May 2015
I was alone on this tour made for undivided attention and on my pace. The tour guide was very well versed in all things cartagena, English was good and very friendly. I saw more then expected and just fell in love with this city! I felt very safe.
July 2014
The tour was amazing! Our guide spoke English and Spanish. He was very knowledgable and kind. If you are considering this tour, please don't hesitate to book it! Great price for a great tour!
June 2016

FERNANDA MARIN P Brazil
November 2014
I enjoyed this tour, there where just 5 women, but the walked very best.

February 2015
The telephone number provided for the local contact was a non-working number. Therefore, I was unable to reach anyone to meet up for the tour.
August 2014
Never got picked up! I thought the tour was a scam!!! Im very disappointed and will never book again

Zee USA
August 2014
We were told to go to a local hotel and we would be picked up from there. When we arrived the hotel had no knowledge of the tour. We were finally gathered 30 minutes late to be transferred from one bus to another around the corner. When asked why we were told that our guide did not speak English so we will be transferred to an English speaking tour on another bus. Weird but okay. This guide was very sweet and tried his best to speak English but we were the only two English speakers so he said everything in both languages which was very uncomfortable and hard to keep up. This new tour now took us on different destinations than were offered wasting our tinme and money
Advertisement
Advertisement