Escape Cartagena for the day and discover the healing powers of the mud baths at Totumo Volcano! Climb up and inside this small volcano and dive into the natural mud that lies within. This is a rejuvenating Colombian experience you won't forget!
Highlights
Day trip to Totumo Volcano from Cartagena

Relax in the rejuvenating mud inside Totumo Volcano
Enjoy stunning mountain views as you soak in the unique atmosphere
All entrance fees and round-trip hotel transportation included

Recent Photos of This Tour
What You Can Expect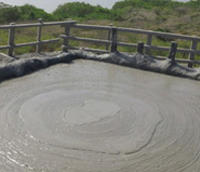 Totumo Volcano is situated in the municipality of Santa Catalina, approximately one hour outside of Cartagena. Sit back and enjoy the scenic ride through Bolívar, a region of Colombia boasting absolutely breathtaking tropical landscapes.

The area surrounding Totumo Volcano offers amazing panoramic views of mountains, lakes and forests. Enjoy a guided tour of the region before heading to the small volcano itself -- the highlight of your day trip!

According to local legend, a priest sprinkled holy water onto the once lava-spewing volcano and tamed it into the relaxing mud bath that exists today. Climb up the 50-foot (15-meter) volcano, accessible by a staircase, and jump inside the crater to relax in the natural mud that the volcano produces. Enjoy a delicious Colombian lunch near the mud baths (own expense).

Sitting inside the mud volcano, enjoy beautiful views of the Santa Catalina region. The mud itself is not only relaxing but its minerals are known to help rejuvenate the skin. You'll also have the option to receive a personal massage from one of the attendants. Afterwards, take a swim in the nearby lake to clean yourself off before returning back to your Cartagena hotel. This natural spa experience is truly a fun and unique way to spend the day in Colombia!
October 2015
We had a good time and the driver and guide were very nice people and knowledgeable. However, I think that it was overpriced. I found the same tour through the hotel where we stayed cheaper and included lunch. Ours did not include lunch.
October 2014
Interesting tour. A few things to be aware of: 1) There will be several locals there providing services and it is appropriate to tip them for it. About 5000 pesos per person is what my hired driver suggested per person (about $2.50 US), but all I had was large bills of 50.000 because I wasn't expecting this. Word to the wise, bring appropriate bills to be able to tip 4-5 different people. 2) Bring a towel. None there. 3) When you rinse off in the lagoon, people will be there to rinse out your bathing suit while you rinse your body. You will be obscured by the water, but know that you'll be butt naked for a bit. The alternative is to keep your bathing suit on, but you won't be able to get all the mud out. 4) There is a pay toilet there. I believe its 1000 pesos but maybe good to have that change handy.
September 2014
You climb up rickety stairs and then down rickety stairs into a former volcano. You cannot sink in the mud, which still bubbles up. Aides in the volcano give you a massage and women rinse you off in the lagoon. All of these people want fees: about 5000 pesos. (About $2.50 US).
September 2014
Well it was good only thing lunch was not included after it had stated lunch was included and the tour person said it was not in his paperwork. It was fun but too short the time in the volcano
January 2013
Advertisement
Advertisement