Soothe your skin in the healing mud bath of the Totumo Volcano on a 4-hour tour from Cartagena. Climb to the peak of the volcano then descend into the therapeutic mud bath below for a truly unique experience. Indulge in a restorative massage from an experienced attendant; rinse off in the warm waters of the river; and gain insight into the cultural significance of the incredible natural formation with an experienced guide. Convenient round trip transportation from your Cartagena hotel is included in the tour.
Highlights
Day trip to Totumo Volcano from Cartagena

Relax in the rejuvenating mud inside Totumo Volcano
Enjoy stunning mountain views as you soak in the unique atmosphere
All entrance fees and round-trip hotel transportation included

Recent Photos of This Tour
What You Can Expect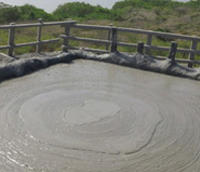 After pickup from your Cartagena hotel, travel by air-conditioned minivan to the site of the incredible Totumo Volcano. Sit back and absorb the scenic scenery of the Bolivar region as you pass atmospheric mangroves and splendid seaside sights.
Enjoy a guided tour of the area, exploring verdant forests and glittering lakes for panoramic views of the surroundings. Arrive at the volcano, a legendary natural landmark steeped in history and legend; according to local folklore, a priest sprinkled holy water over the molten lava of the volcano, transforming it into the therapeutic mud bath it is today.
Sample some local specialties at an authentic local restaurant (own expense) before changing into your bathing suit. Climb the wooden staircase to the summit of the 50-foot (15-meter) volcano, and then descend by ladder into the viscous depths below.
Float upon the dense mud, choosing to receive a personal message from an on-site attendant. Rub the thick liquid into your skin to take advantage of its rejuvenating qualities, and then emerge to take a refreshing dip in a nearby lake. Rinse off and revitalize then relax during the journey back to your Cartagena hotel.
November 2015
Had a great tour guide and this was really fun! It's quick but worth the experience.

February 2016
This was a funny one. We were promplty picked up at the hotel and off we went for a 45 minutes car ride to Totumo. I would plan to go early so you can avoid the crowds. Bring a towel, come in your bathing suit and a good disposition. You will climb a wooden stair up to the volcano, not too tall. Once you are up there, you have to come down a small ladder into the volcano where the mud in waiting for you with two guys ready to make sure you are evenly covered. After like 5 minutes soaking in the mud you will climb back up and go down the other side of the volcano and head to were local women are waiting to wash you down. Don't forget to tip them.
October 2015
We had a good time and the driver and guide were very nice people and knowledgeable. However, I think that it was overpriced. I found the same tour through the hotel where we stayed cheaper and included lunch. Ours did not include lunch.
March 2016
Of course the volcano experience was great. I just felt so attacked by the staff for tips. After paying 130, I really didn't see the need in tipping the guy who carried my flip flops, the ladies who rinsed me off which I'd rather do myself, the guy who used my phone for the pics and the guy who opened the door for the shower.
November 2015
super weird but fun. we were not very thrilled about being forced to go to a emerald museum after we were wet and muddy but the volcano is a unique experience.
October 2014
Interesting tour. A few things to be aware of: 1) There will be several locals there providing services and it is appropriate to tip them for it. About 5000 pesos per person is what my hired driver suggested per person (about $2.50 US), but all I had was large bills of 50.000 because I wasn't expecting this. Word to the wise, bring appropriate bills to be able to tip 4-5 different people. 2) Bring a towel. None there. 3) When you rinse off in the lagoon, people will be there to rinse out your bathing suit while you rinse your body. You will be obscured by the water, but know that you'll be butt naked for a bit. The alternative is to keep your bathing suit on, but you won't be able to get all the mud out. 4) There is a pay toilet there. I believe its 1000 pesos but maybe good to have that change handy.
September 2014
You climb up rickety stairs and then down rickety stairs into a former volcano. You cannot sink in the mud, which still bubbles up. Aides in the volcano give you a massage and women rinse you off in the lagoon. All of these people want fees: about 5000 pesos. (About $2.50 US).
September 2014
Well it was good only thing lunch was not included after it had stated lunch was included and the tour person said it was not in his paperwork. It was fun but too short the time in the volcano
January 2013
July 2015
Advertisement
Advertisement