Explore Grand Cayman's National Marine Park aboard a 48-passenger submarine during this family-friendly undersea adventure. Journey underwater in a real submarine — the 'Atlantis XI' — specifically designed for underwater sightseeing excursions. You'll get up close to coral canyons and marine life such as sea sponges, snapper, grouper, sea turtles and brilliant tropical fish. Select a morning or afternoon tour, or choose a night departure for a more dramatic experience with views of nocturnal creatures.
Highlights
Submarine dive on Grand Cayman

See the underwater world of the Caribbean without getting wet!

Spot coral, tropical fish and maybe even a sea turtle from the comfort of an air-conditioned Atlantis submarine

Choose a morning or afternoon tour, or go for the night option to check out the sea after dark

Recent Photos of This Tour
Atlantis Submarine Expedition - Grand Cayman
What You Can Expect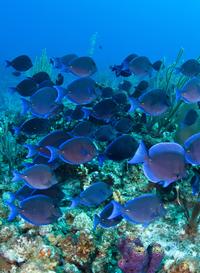 Make your way to the the Atlantis Adventure Center on the George Town waterfront, then start your 90-minute Grand Cayman experience with a safety briefing followed by a 5-minute boat transfer to the Atlantis XI submarine.
On arrival, walk across the ramp and step aboard the deck of the submarine. Once you enter the air-conditioned and pressurized cabin through a large hatch, your captain will complete pre-dive checks of the vessel and begin your descent. During the 45-minute ride, you'll reach depths of 100 feet (30 meters) while exploring the underwater world of Cayman's National Marine Park.
Enjoy a smooth ride and find out what lies beneath the water's surface as you peer through your large view-port. You'll be amazed by the high visibility that allows you to see huge barrel sponges, star corals, snapper, grouper and the occasional stingray or sea turtle gliding past.
After you return to the surface, you are returned to the waterfront via the transfer boat.
Night Option:
It's the same
45-minute submarine ride, except that you'll explore the water's depths after dark.
Special lights on the submarine allow you to view
nocturnal marine life,
particularly predatory fish
that don't usually show themselves during the day. It's a memorable and eerie experience that makes for the perfect end to a night on Grand Cayman!
June 2016
This was a really good trip. Our tour was very small which made it even better because we were able to move from one side to the other to see. After talking with some other people - the night trip might have been better because the sun makes the colors look faded. With that said it was still great. Would do it again if ever back in Grand Caymen.
April 2016
A check off the bucket list. Fantastic experience, give it a try.
April 2016
A unique experience to see the sea floor at depths below 100 feet!
February 2016
This is not something that I had ever put on my bucket list we went because friends invited us. But it was a great experience. We dived to around 120 feet and viewed coral and a variety of fish that I had only before seen in documentaries. The staff was great, the guide informative and the sub well maintained and comfortable. I did not even experience the ear pops I was expecting because the cabin pressure was maintained at surface level. I'm not a great fan of snorkeling. This is a great alternative.
marilyn h USA
November 2015
As I did not have proof with me I was still able to board the sub for a really interesting undersea ride and saw a large turtle on bottom of reef.
mmaricarmen89 United States of ...
July 2015
Great Expedition, but I suggest to take the night one instead, I think it would be better because of the lights. Still we love it.
April 2015
Well worthwhile! There were only 8 people on our tour, which was a huge plus. There were lots of fish, even saw a couple of lion fish. Would definitely advise sitting on the right side of the pilot for the best view.
March 2015
it was the best had a great time the guide explained about all the fish and the ship wreck and even found us a turtle thanks for a great stop in your port patricia
March 2015
Luck of the draw? The sub was not crowded so we could use windows on both sides, clearly made it more enjoyable. It allowed my non scuba wife to experience much of what I did - except she didn't get wet.
March 2015
We did the night time submarine and it was amazing. We saw lobsters, crab, eels, a nurse shark and much more. And amazing staff!
Advertisement
Advertisement