Visit the West Bay of Grand Cayman on this sightseeing tour with optional upgrade including entry to the Cayman National Museum and a duty-free shopping trip in Georgetown. On this 2.5-hour outing, you'll see the authentic side of island life with a friendly guide, passing through Caribbean neighborhoods where the locals live to visit the world's only green sea turtle farm. Visit 'Hell,' an area of the island with unusual rock formations, and send a postmarked card or letter home before visiting a local rum distillery.
Highlights
2.5-hour sightseeing tour of Grand Cayman West Bay from Georgetown
Stop at the Governor's Residence and Seven Mile Beach
Visit the world's only green sea turtle farm and the Tortuga Rum Shoppe
Explore the sunlit rock pools of 'Hell'
Upgrade with an option to shop duty-free
Hotel pickup and drop-off included
Recent Photos of This Tour
Cayman West Bay Sightseeing Tour
What You Can Expect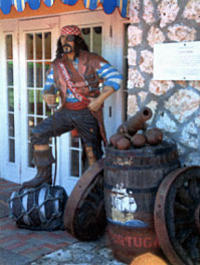 Your comfortable, air-conditioned coach will meet you at your Georgetown hotel. Stop by the Governor's Residence on Seven Mile Beach while your guide fills you in on the cultural and architectural significance of the building.
Drive through authentic Caribbean neighborhoods to gain insight into what daily life looks like on the island on your way to the West Bay. Your first stop is at the word's only green sea turtle farm, which plays an important role in the species' conservation. Learn about the large breeding females gliding peacefully through their lagoons and marvel at the tiny just-hatched babies. Gently handle a turtle for a unique photo op.
Next, travel to 'Hell,' an area of the island so-named for its unusual black limestone rock formations. When the sun sets and the orange light hits the rocks and shallow pools in the area just so, it looks like the fires of hell. Send a card or letter from the area's post office with the unusual return address: Hell.
Taste Tortuga Rum and the island's world-famous rum cakes at the next stop. If you opt for the upgrade, spend some time shopping duty-free in Georgetown and checking out the Cayman National Museum before being dropped off at your hotel.
March 2016

June 2015
Had a fantastic time! My favorite part has to be holding a baby sea turtle which will be my next tattoo! I was a little nervous about staying on schedule as I booked this tour on my own and not through the cruise ship which guarantees to have you back on time all my fears were quickly put to rest as the driver was aware of our departure time and returned us to the port with plenty of time to spare for shopping. It was a very humbling experience visiting the island and meeting the locals. I'm not good with names but I would like to say thanks to our very friendly and quite humorous driver who made the experience one to remember :

Claire S USA
May 2015

Altagracia P USA
August 2011
nice i loved friendly guide
Nicole B USA
August 2010
The tour was a little fast paced but great. Even though we were on a cruise ship and there were lots of tours scheduledhandled by Tropicana Tours, my friend and I ended up having a bus and tour guide all to ourselves. He was wonderful and very knowledgeable. Would recommend this tour for those individuals seeking an overviewhistory of Georgetown, 7 Mile Beach and Turtle Farm.
Jennifer S USA
June 2010
The only problem we had was transportation. The first bus we boarded from the ship was so full, some sat on the floor. We had to switch to another bus once we got into town. Once this happened, everything went smoothly. The turtle farm was absolutely wonderful! We had an overall great time and recommend this to others.
July 2015
Our tour guide showed up over half an hour late. We asked numerous people, passersby, and travel information specialists to call, and just kept getting the generic they are on the way response. We had to go off the tour path so the tour guide could go to his office for over 5 minutes. We also were dropped off at the Turtle Center the tour guide gave us about 50 minutes and said he had to go pick up another group and would be back and again we were left waiting for at least 10 minutes. Over an hour of our tour was spent waiting on the tour guide who was most unprofessional. Not to mention no one at the port seemed aware of the tour company or where they picked up so we wandered around. Our paperwork said to meet 10-15 minutes prior to our tour time 9am-island time, yet the tour guide did not show up until 9:50am island time. Completely disappointed and upset that we spent our money through Viator instead of through our cruise line.
June 2015
If I could rate 0 stars I would. They lost our booking the first time so we rescheduled for a later day. On the second try, the van showed up 45 minutes late. We called every 10 minutes when they weren't on time and every time the representative said the van would be there in 5 minutes. Once the van arrived, we were the only ones on the tour. How is it possible for the van to be that late??? Extremely unorganized company! With the delay, our tour had to be cut short we skipped the governors mansion altogether so we could make our flight back. The driver/guide was lack luster at best and didn't have any enthusiasm or interest in what he was talking about if he said much at all. Also, the turtle pass they provide only gives access to half of the park which was not explained clearly when we booked the tour. The turtle farm was fun to visit, but you could drive yourself there instead of taking this tour. In summary, do not book a tour with this company!
July 2014
it was terrible. They didn't tell us to meet them Island time so we went to the island at 9 A.M. our time. Then the driver didn't show up till 9:15 and didn't have a bus to take us. He pawned us off on another driver and that driver put us off his bus because he said our driver didn't pay him last time. An hour and a half after we were supposed to go on our tour he found someone else to take us. The bus was old and dirty and my husband ended up sitting under a dripping airconditioner and getting soaked.
This is not what we expected and was very aggrevating to say the least. My husband is a diabetic and I had to buy food for him at the store so his sugar wouldn't be low. All in all the five of us wouldn't recommend using your website again.
Advertisement
Advertisement