Special Offer
Book by July 31st to save 10% off our previously offered price!
Book a Dolphin Swim at Grand Cayman's Dolphin Discovery, where you'll enjoy a belly ride in the turquoise waters of the Caribbean Sea. Experience a dolphin handshake and a dolphin kiss, the listen as these incredible marine mammals sing you a song. Don't miss out on this 30-minute interactive dolphin program, limited to 12 people for a small group experience.
Highlights
30-minute dolphin swim program in Grand Cayman

Spend time in the water with the ocean's most fascinating animals

Enjoy the unforgettable experience of taking a thrilling belly ride and swimming with dolphins

Don't want to swim with the dolphins? Try the Grand Cayman Dolphin Encounter!

What You Can Expect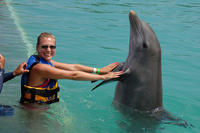 Swim with dolphins in Grand Cayman inside a protected cove in the crystal-clear Caribbean Sea. If you've always dreamed of swimming with these amazing marine mammals, you'll enjoy the experience of a lifetime — available for adults and children eight years and older.
Make your way to Dolphin Discovery at your selected time and meet the expert dolphin trainer who provides an orientation for your small group before you enter the water. You'll get right up close to a dolphin during your 30-minute Dolphin Swim Adventure and discover firsthand the special bond these intelligent and playful creatures have with humans.
These tamed dolphins are trained to say hello with their fins, give you a kiss, and even 'sing' before taking you for a thrilling belly ride — just hold on to their pectoral fins as you're propelled through the water. Finish your Grand Cayman dolphin swim with free time playing the dolphins as they jump over you!
June 2016
June 2016
Tour was informational and the handler was very nice. Facility is clean but seems small for such fast swimming Dolphins. Pictures were outrageous. We had six adults and the initial price quote for our photos was 380. Then they started bargaining with us by the time we hit the parking lot it was 180. Needless to say by then we just skipped buying them all together. If they had been reasonable we would have purchased all of them. We did enjoy our tour and would do it again.
February 2016
Very good, was able to also include the sea turtle farm
May 2015
Great experience with amazing staff.
March 2015
It was so much fun!! We had a great time. The staff was very informative and friendly. I would definitely recommend doing this!! Pictures were expensive though
March 2015
Great Time! Would highly recommend.
April 2014
July 2012
It was alot of fun and clean. Organized for the number of people going to do all the activities and unbelievable pictures taken. Turtle area was also great and clean.
June 2015
Really did enjoy this the staff and handlers are brilliant make you feel very relaxed and at ease. The Dolphins however are the stars of the show how you would expect and a lot more besides. However the saddest part was the photos which made me feel very upset as you are charged as individuals not as a group of two therefore having to pay double for them the cost more than the dolphin experience as a whole.
Angela Lee Canada
June 2013
Pricey adventure... unless you are really in to animals and wildlife- then I guess it's worth it. 30 min swim with dolphins and you get to pet a small sting ray (no barb). Don't get suckered into buying the photos ... Or the CD if you are on a tight budget. They aren't included.
Special Offer
$149.00 Save $14.90
Advertisement
Advertisement