Slip beneath the surface on a 1-hour semi-submarine cruise shore excursion, see a fish feeding show and discover Grand Cayman's undersea landscape, sunken ships and reefs. Watch schools of fish pass the semi-submarine's large windows, and watch for the turtles, barracudas and rays that thrive on the island's unspoiled coast. Visit a steel schooner that ran aground in 1944, then watch a diver feed fish at the vibrant Cheeseburger Reef; see the massive Balboa freighter that sunk during a 1932 hurricane, and finish your trip at George Town's dock.
Highlights
Grand Cayman semi-submarine shore excursion

View tropical marine life and colorful coral reefs

Enjoy a fish feeding show right before your eyes

Covered by Viator's worry-free policy: guaranteed on-time return to your ship

Recent Photos of This Tour
What You Can Expect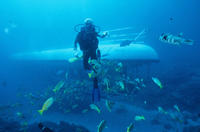 As your captain maneuvers the Observatory to various locations, you'll view an abundance of marine life and even a historic shipwreck, through large windows. Throughout your tour, a guide will provide an informative yet entertaining narration, in an interactive setting while answering any questions you may have.
The first site you visit is a dramatic shipwreck, the Cali, a steel schooner built in 1900. This ship ran aground 100 yards (90 meters) off the coast of Grand Cayman in 1944. From here, your captain takes you to Cheeseburger Reef. Be sure to have your cameras ready when our diver enters the water and begins to feed the hundreds of multi-colored tropical fish right in front of your window!
Hear more tales of the high seas as the Seaworld Explorer takes you to see the wreck of the Balboa. The Balboa is a 375 foot (115 meter) freighter which traveled from Cayman to Cuba when she encountered one of the worst hurricanes in the island's history on 10 November, 1932. The ship was literally broken into pieces by huge waves as she was bounced along the ocean floor. Much of her cargo of wood was used to reconstruct the buildings seen in George Town today.
The Seaworld Explorer then brings you back to the dock in the heart of George Town where you'll disembark.
Worry-free Shore Excursion:
We will ensure your excursion ends with ample time for you to return to Georgetown for your ship's departure. In the rare event your ship has departed, we will arrange for transportation to the next port-of-call. See our terms and conditions for full details.
December 2015
A nice way to see and appreciate the beautiful marine life without getting wet!
October 2014
Our entire family (including five kiddos ages 1-11, my husband and I plus my parents) just loved this excursion! We had a fabulous time; it was one of the highlights of our vacation. None of us felt even slightly nauseated, and we all had awesome views. The guide was knowledgeable and friendly.
February 2014
Great to see all the fish and ship wrecks. They were so helpful to my husband since he just had back surgery 6 weeks ago
January 2014
The guide was very informative and explained everything in detail and was funny. The "submarine" was clean comfortable and our trip was shared with only one other couple that day. We stumbled upon this trip by accident on line and im so glad we did. Had a blast.
January 2014
We really enjoyed the Simisub tour. I think that may have boosted our courage enough to take a real submarine tour next time! Thanks for adding a highlight to our cruise.
March 2013
Very nice and great guides
October 2012
Great time, got some wonderful pictures. Best value out there
May 2014
Great excursion. Guide was very informative, engaging and helpful. All of the family enjoyed it and we saw saw some wonderful fish and other incredible sights especially the fish feeding. Would definitely recommend as a fun, exciting and educational experience and much better than a similar event we experienced in Cabo San Lucas a few years ago.
January 2014
The tour was fine the directions were not. The referenced point "Hard Rock Cafe" is closed so you need to update directions to the Atlantis which is shown on local maps and nothing about Grand Cayman Shore Excursions is known by the locals nor has signs to identify. Two locals sent us in opposite direction.
August 2013
This tour was a lot of fun and very interesting. The guide was friendly, knowledgeable, and funny. No regrets about this tour. I am giving this four stars based on our experience with the local tour company (Atlantis Submarines) and not our experience with Viator in general. The local company for this excursion is Atlantis Submarines. I suggest you book directly with them or through your cruise line for this or any other excursion.
The rest of this review has to do specifically with Viator and, again, is no way a negative reflectoin of our experience with Atlantis Submarines. Simply put, I would not use Viator to book my excursions in the future. We were on a 7 day cruise which had 4 ports of call. Viator offered excursions for 3 of those ports and since their prices were lower, we decided to use them instead of booking through the cruise line. Unfortunately, 2 of the 3 excursions we booked ended up being cancelled by the local tour operators. One cancelled because they did not have enough people sign up for that tour and the other cancelled because of technical difficulties with the equipment used for the excursion.
We did get our refund from Viator for the cancelled excursions without hassle, but the problem is that we did not find out about the cancellation until we showed up for the excursion. In one case, we had to borrow a cell phone to call the local operator. Only after several attempts to contact them by phone did we finally learn the tour was cancelled. This left us scrambling at the last minute to book an excursion through the cruise line. There is no point in saving a few extra dollars if you risk having your excursion cancelled regardless of the reason. Had we booked through our cruise line, at least we would have found out sooner and had more options for alternate excursions. When on a cruise, you don't have the luxury of coming back later to try again so the local tour operator must be reliable.
Advertisement
Advertisement