41 Reviews
Location:

Charlotte, North Carolina

Duration:

1.5hrs - 2hrs
Buzz through Charlotte's hopping Uptown neighborhood on this Segway tour of North Carolina's biggest city! Follow your local guide as you glide along the Levine Avenue of the Arts and check out the Mint Museum, the Bechtler Museum of Modern Art, The Gantt Center and the historic Fourth Ward. Choose either a 1.5- or 2-hour ride – the longer ride includes two historic cemeteries and the Carolina Panthers football stadium.
Highlights
1.5- or 2-hour Segway tour of Charlotte
Ride by the museums in Uptown's vibrant arts district

Visit historic highlights like Trade & Tryon (Independence Square) and the Fourth Ward

Check out The Green, a park with sculptures and whimsical signposts that honor great world literature

Learn about Charlotte's history at the Old Settlers' and the Elmwood/Pinewood Cemeteries (if option selected)

See the home stadium of the Carolina Panthers NFL football team (if option selected)

Why Our Insiders Chose This Tour
If you visit in the summer, on your ride through The Green - a world-literature themed park tucked into downtown - you might catch a glimpse of one of the Charlotte Shakespeare Festival's summer performances in the park.
What You Can Expect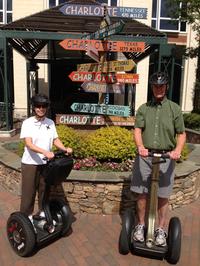 You'll meet your guide in downtown Charlotte and get started with a safety overview for the Segway. Once you're comfortable with the Segway's controls, follow your guide through the Uptown district, with plenty of stops along the way to snap photos and to hear fun stories and facts about Charlotte's history.

Option 1: 1.5-hour Segway tour
Wheel down the Levine Ave of the Arts, named after local donors to the arts in Charlotte. On one side of the avenue you'll see the Bechtler Museum, designed by a Swiss architect and opened in 2010 to show the Bechtler family's collection of modern art. Check out Niki de Saint Phalle's outdoor sculpture "The Firebird" – which is covered in mirror mosaic and stands more than 17 feet (5 meters) tall.

Across the street you'll find the Mint Museum, the oldest art museum in Charlotte with one of the largest art collections in the Southeast, and the Gantt Center for African-American Arts and Culture, which presents exhibitions and performing arts. Then pop into The Green, a pocket park lined with sculptures that celebrate great literature.

Next you'll travel over to Trade and Tryon streets, a crossroads where two native American trails once intersected, which became the center of Charlotte. Then head into the historic Fourth Ward where your guide will lead you through streets lined with beautiful Victorian homes.

Landmarks include:
Levine Avenue of the Arts
Mint Museum
Bechtler Museum of Modern Art
The Gantt Center for African-American Arts and Culture
The Green
Trade and Tryon
Fourth Ward

Option 2: 2-hour Segway tour
This option includes the sights in the shorter tour followed by a visit to the Old Settlers' Cemetery, Charlotte's original municipal cemetery which operated for a century starting in 1776. Listen to your guide's tales of the prominent citizens that were buried here and at your next stop, the Elmwood/Pinewood Cemetery. Finally you'll return to modern times with a spin around the Panthers Stadium, where Carolina Panthers football fans cheer on their team.

Landmarks include those in option 1, plus:
Old Settlers' Cemetery
Elmwood/Pinewood Cemetery
Carolina Panthers football stadium
August 2015
Excellent, wonderful time. Our guide T. was extremely knowledgeable and made the tour very enjoyable. We would highly recommend this and plan to take another tour on a future visit to Charlotte.
August 2015
JamesIII was fantastic and while we had done this tour before with another guide, James was outstanding!! We learned so much more about Charlotte this time around as James was so knowledgeable and so much fun. He kept us engaged with his point system and was so patient with us. He has the best sense of humor and is just the nicest guy. If you do this tour, ask for James the 3rd.
August 2015
We have done segway tours in many cities and this was one of the best! We did the 2 hour tour which gave us plenty of time to ride and see the sites. Our tour guide Rob was very informative, relaxed and friendly. I highly recommend this tour!
July 2015
My wife and I did this tour with friends we were hosting in town from Europe. We all LOVED this tour! My wife and I are from the Charlotte area and we learned a lot about our city we didn't know! Lastly, Rod was fantastic!!! We will definitely do this again...
July 2015
Was excellent had a great time. Recommend it to anyone our guide was very helpful.
June 2015
Had a great time. Guides were very nice and professional.
June 2015
The tour guides were fantastic!! After a brief scare video on what can happen on a Segway, we went for our hands on training. At first, many felt apprehensive but after just a few minutes everyone was up and running. Charlotte is a small town so don't expect a huge sprawling tour but that's ok. There was plenty to see and everyone in the city seemed to be acclimated to the Segway tours so they were very friendly. I would recommend this to everyone, young and old. Definitely 5 stars.
June 2015
This tour was great. My visitors from out of town loved the information provided by the tour guide and were extremely happy about seeing a different side of Charlotte. The tour was timely, entertaining and informational.
June 2015
Our tour guide James Rice III was fantastic. He was so knowledgable and enthusiastic. We couldn't believe he'd only been on the job 6 months. Do pay attention to all the safety tips ahead of time because our group experienced a couple of falls. No one was hurt either time, but it was a bit scary!
June 2015
Recently moved to the Charlotte area. The tour was a great way to see/learn about the Queen City. We had some family in from overseas and a fun time was had by all! Thanks to our guide James for the laughs, info, and points! And to Michael-great communication skills! You guys ROCK!
Advertisement
Advertisement