Discover the incredible UNESCO World Heritage-listed sites of Leshan on an all-inclusive 2-day tour from Chengdu. Accompanied by a private guide, witness the colossal majesty of Leshan Grand Buddha, the largest stone Buddha sculpture in the world, and soar over the magnificent Emei Shan (Mt Emei) during an exhilarating cable car ride. See sacred shrines and beautiful Buddhist temples; spend the night in an enchanting monastery; and appease an appetite for authenticity with traditional Chinese meals. Relish the freedom and flexibility of this private tour and enjoy the undivided attention of your guide throughout your experience.
Highlights
2-day tour of Leshan Grand Buddha and Emei Shan with a private guide
Explore the UNESCO World Heritage-listed Grand Buddha, the largest stone Buddha sculpture in the world
Enjoy magnificent aerial views from the Golden Summit of Emei Shan
Learn the history behind these ancient temples from your private guide
Enjoy overnight accommodation at a Baoguo Monastery and get a glimpse of traditions in an ancient religious temple
All-inclusive private tour gives you more flexibility on your daily agendas, including meals and site visits
Private guide ensures a more personalized and in-depth experience
Recent Photos of This Tour
2-Day Private Tour of Leshan Grand Buddha and Emei Shan including Monastery Stay
What You Can Expect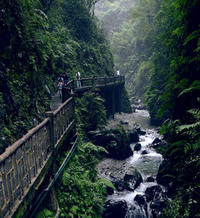 Accompanied by a private guide, immerse yourself in the legendary landmarks of Leshan; marvel at the colossal stature of the Leshan Grand Buddha and gasp at the natural splendor of Emei Shan (Mt Emei). Spend the night at Baguo Monastery, an ancient temple that exudes a tranquil atmosphere, and feast upon traditional Chinese meals at times convenient to you. Enjoy round-trip transportation in a private, air-conditioned vehicle from your Chengdu hotel and tailor your itinerary according to your personal interests.
Please see the Itinerary section below for further details of the tour.
Itinerary
Day 1: Leshan Grand Buddha (L, D)
After private pickup from your Chengdu hotel, enjoy a relaxing 2-hour drive to the Leshan Grand Buddha. Spend four hours on a guided exploration of the surrounding trails and visit the Wuyou Temple, which houses a large number of calligraphic paintings and various Buddhist artifacts. At the foot of this structure, admire its grandeur - at 233 feet (71 m) high and 92 feet (28 m) wide, it is the largest stone Buddha sculpture in the entire world!
A short drive will take you to the foot of UNESCO World Heritage-listed Emei Shan. Covering an area of about 10 acres (4 ha), there is plenty to see on a walking tour with your guide, like the classical Chinese courtyard surrounded by springs and ponds or the Tiger-Taming Temple, allegedly named because of a pillar built in front that protects people from tiger attacks.
Spend the night at Baoguo Monastery, an ancient temple where you can witness elements of Buddhism, Taoism and Confucianism.
Day 2: Emei Shan (B, L)
After breakfast, follow your guide to the excursion bus that will take you to the cable car station. Board the cable car with your guide to ascend Emei Shan to the Golden Summit. Upon disembarking, find yourself among a sea of clouds at 9,842 feet (3,000 m) above sea level. If you wake up early enough, you can enjoy a gorgeous sunrise from the summit that many people come from afar to witness.
See the tallest golden statue of Puxian, standing at 157 feet (48 m) high. Explore two traditional Buddhist temples - the Woyun Nunnery and Hua Zang Si, where you will find countless padlocks inscribed with couples' names to symbolize eternal love. After spending a whole day atop Emei Shan, your guide will lead you back to the cable cars to descend the mountain, where you'll embark on your journey back to Chengdu.
June 2015
Monastery stay is superrrr, with walking distances to restaurants, grocery stores! Highly recommended! Rachel Pan, my tour guide now we are friends! is really awesome. She is patient, and takes good care of me despite weather was not in our favor. Our driver, Jerry is also helpful and plan ahead to manage timings of trip.
October 2014
This was a great 2-day excursion - Andy our personal guide was FANTASTIC!!!
Thanks so much for a wonderful experience. I will always check on Viator first when traveling!!!
October 2014
This was a great trip! My guide Andy was excellent and spoke very good English. She was very knowledgeable about the different places and sites. The restaurants we ate at was also excellent!
December 2013
Trip was fabulous, Lilian our guide was great and spoke English well. Mt Emei was awesome, well worth the trip, would highly reccommend this two day trip, bus trip up the mountain pretty hairy though. Professional service by Viator, most organised of our other day trips booked with other companies.
December 2013
Fantastic!!
Although the weather was not great at all (it raining during 2 days), I had a great time.
Leshan and Emei Shan areas are really worth seeing... the mist even made those places more especial.
My guide was very helpful giving me all the extra details regarding the different temples and places.
August 2014
The tour was an unforgettable experience--not always easy, but consistently fascinating. My guide, Andy, was well-informed, energetic, and enthusiastic. The Leshan Grand Buddha was worth the trip in itself--huge and impressive. I didn't make the long walk the down the stairway to its base--it was drizzling, and the stairs looked a bit slippery--but it was an awesome sight even from the top. The monastery at the base of Mt. Emai was serene, lovely, peaceful (or as peaceful as China gets). The ascent up Mt. Emai was a bit hair-raising--a couple of hours on steep mountain roads, many hairpin curves, and a driver who passed every vehicle we caught up with, including other tour buses--all while screaming at the other drivers for being too slow. The climb to the cable car and from the cable car to the peak was easy enough, and the ride in the cable car itself was spectacular--I gather that we were lucky, because we had a fairly clear day at least at first, and that is apparently only rarely the case. There are only a couple of minor reasons why I'm giving the tour 4 stars instead of 5. First, the description should have been more specific about what transpires on which day--I thought we were ascending the mountain on the first day and sleeping in a monastery on top--which affected when I took altitude pills. No, the monastery is at the base of the mountain. Second, my room at the monastery was deep inside it, off a conference room that a group of tourists used for meeting--very noisy--instead of on the outside, looking over the courtyard. The rooms themselves are fine, simple but comfortable, but the bathrooms are on a different level, and I did have a touch of turista--so that was a bit inconvenient. Nevertheless--a memorable experience.
June 2015
Andy was a great guide, but this tour is also not worth the expense. Again, the cost is not comparable to what you would pay in other countries with a similar economy for a similar tour. Way overpriced. Two stars based on cost.
Advertisement
Advertisement