Pack your passport and journey to the 'Roof of the World' on this 3-day all-inclusive tour of Tibet, including round-trip flights, transfers, accommodation and meals. Enjoy the undivided attention of your private guide as you marvel over the UNESCO-listed Potala Palace and Jokhang Temple Monastery, then shop for souvenirs along Barkhor Street in Lhasa. You'll also have chance to visit the Sera Monastery, hike along the Kyichu Valley and Yamdrok Lake, and tuck into some traditional Tibetan cuisine.
Highlights
3-day private tour of Lhasa, round-trip by air from Chengdu
Explore the UNESCO World Heritage Site of Potala Palace and Jokhang Temple Monastery
Discover the fate of Tibetan Buddhist monks at Sera Monastery
See breathtaking views of Norjing Gang Sang glacier and the Himalayas from Khampa La Pass
Find treasures at Barkhor Street and hike around Yamdrok Lake
Gain insight about Tibetan culture and history from your professional private guide
Round-trip flight from Chengdu, transport by private vehicle and entry visa included
Recent Photos of This Tour
3-Day Best of Tibet Tour from Chengdu by Air: Lhasa, Yamdrok Lake and Khampa La Pass
What You Can Expect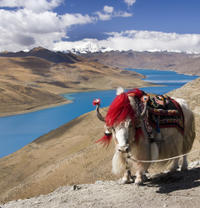 This private three-day tour of Lhasa takes you from historic Tibetan Buddhist monasteries, situated high in the Himalayas, to the bustling stalls of Barkhor Street and back to the quiet solace of Yamdrok Lake. Enjoy two nights of single or shared accommodation, depending on which option you select. Your comprehensive cultural tour includes round-trip airfare, private transport to each location and all meals. Even your visa is taken care of; you only need to provide your passport and China entry visas before the tour! Enjoy personalized attention from your expert guide on this private tour of Lhasa highlights.
Itinerary
Day 1: Chengdu – Lhasa (L, D)
After a hotel pickup, you'll head to Chengdu airport for your 2-hour flight to Lhasa. Upon arrival at Lhasa Gonggar Airport, you will be greeted by your local guide, who will take care of your entry visa into Tibet. Your driver will transfer you to your hotel in the old part of Lhasa city to check in. Then you're free to relax until your guided tour in the afternoon.
After lunch at your hotel, your guide will take you on a private tour of Sera Monastery, located just 3 miles (5 km) north of central Lhasa. Along with Ganden Monastery and Drepung Monastery – the home temple of the Dalai Lama – Sera Monastery is considered one of the great Gelugpa monasteries in Lhasa, developed over the centuries as a renowned place of scholarly learning.
Admire the imposing complex, built in 1419 by one of the eight disciples of Tsongkhapa, founder of the Gelugpa sect. As you explore the site, your guide will explain the significance of the picturesque green and gold design, typical of Tibetan architecture. Learn about the 1959 revolt that destroyed some of the monastery structures and caused many surviving monks to seek refuge in Mysore, India, where another Sera Monastery was established.
After your private tour, enjoy dining at a good local restaurant before your guide returns you to your hotel.

Overnight: Dhood Gu Hotel or Gor Kha Hotel in Lhasa
Day 2: Lhasa (B, L, D)
After breakfast at your hotel, embark on a private sightseeing tour of the UNESCO World Heritage-listed Potala Palace and its Jokhang Temple Monastery, as well as nearby Barkhor Street. Around midday, your guide will accompany you to a local restaurant for lunch.
As you approach Potala Palace, marvel at the 13-story fort, which dominates the Lhasa Valley at an altitude of 12,140 feet (3,700 meters).
Established in the 7th century during the reign of King Songtsen Gampo, Potala Palace was built as a winter palace of the Dalai Lama. The complex, built on Red Mountain, covers 101 acres (41 hectares) and includes many
sutras and painted scrolls -- a
treasure of traditional Tibetan culture and
Buddhism.
Pass through the massive walled gates and turrets with your guide and
visit the private rooms, shrine room and audience hall of the present Dalai Lama on the uppermost level of the White Palace. View the most sacred shrine, the Phakpa Lhakang Temple, as well as the entombed stupas of past Dalai Lamas. Marvel at the Namgyal Monastery assembly hall and its fascinating murals!
Designated as part of the same UNESCO World Heritage Site, the Jokhang Temple Monastery is actually located in central Lhasa on about 6 acres (2 hectares) in the old part of town. A renowned pilgrimage destination for Tibetans, the Buddhist religious complex was founded by Queen Bhrikuti in the 7th century. Look with awe at the temple's rich ornamentation, beautiful murals and harmonious integration with the striking landscape. Your guide will take you to the temple's most important chapels and point out the sacred Jowo Sakyamuni Buddha statue, which represents the Buddha at the age of 12.
Next, continue to Barkhor Street, which runs through the heart of the old city, where life has changed little over the centuries. As you walk in a clockwise direction along the circuit, you'll find stalls selling everything from traditional Tibetan clothes to knives to prayer wheels and thangka, Tibetan scroll painting.
In the evening, enjoy typical Tibetan dishes at a local restaurant with your guide before retiring to your hotel.
Overnight: Dhood Gu Hotel or Gor Kha Hotel in Lhasa
Day 3: Lhasa – Yamdrok Lake – Chengdu (B, L)
Enjoy breakfast at your hotel before departing Lhasa and the Kyichu Valley toward the Khampa La Pass, reaching an elevation of 15,518 feet (4,730 meters). When you arrive at the pass, relax for a short break and enjoy stunning views of major snow-capped peaks in the eastern region of the Himalaya. From the vista point, you'll see Norjing Gang Sang glacier and look across the turquoise waters of Yamdrok Lake.
Descending from the pass, drive close to the lake and stop for a short hike on the shore. Afterward, enjoy lunch at a restaurant by the lake before returning to the airport for your return 2-hour flight to Chengdu.
September 2015
My Chengdu tour operator, Samtour, and my local guide, Lobsang, were excellent! I feel I really saw the most significant parts of the area. This was honestly one of the best trips of my life and I've done a fair amount of travelling in my 56 years. I pride myself on the efficiency and non-redundancy of my touring choices, so I'm almost embarrassed to say, I'd do this same tour again next week if I could.
Advertisement
Advertisement