Get a good workout on this half-day bike tour while learning about the daily customs of Chengdu locals. Visit People's Park, where the locals come to relax and pursue their daily leisure activities. See the Qingyang Palace and the Wenshu Temple to learn about the importance of religion. Absorb Chengdu's special atmosphere and see the sights of the city through a different lens.
Highlights
Cycle through the streets of Chengdu
Roam along Chengdu's ancient street, China's Lane (Kuan-zhai Lane)
Take part in the locals' daily activities at People's Park
Learn about the difference between a Taoist and Buddhist temple by visiting Qingyang Palace and Wenshu Temple
Explore the various curio offerings of the Song Xian Qiao antique market

Recent Photos of This Tour
Chengdu Half-Day Bike Tour
What You Can Expect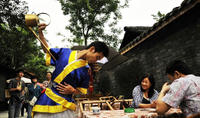 Cycle through the streets of Chengdu on this half-day guided bike tour. Your friendly and informative guide will assist you in obtaining your bikes, after which you will head straight to People's Park. After cycling past the beautiful scenery and monuments, stop to sip tea at a traditional tea house and watch the locals partaking in different activities, such as playing chess, practicing tai chi, drinking tea or playing music.
Love is in the air over at one section of the park, where parents exchange their children's pictures and contact information, hoping to match them up in the future. Leave these cupids to their matchmaking and cycle over to Kuan-zhai Lane to enjoy the sights of older-style buildings, gardens and rows of souvenir shops and vendors lining the street.
Continue riding to the Qingyang Palace and learn from your guide about the Taoist religion's influence on the local people. Ask your guide about the internal and external structure of the building, as well as the figures and monuments inside, and their significance to the religion itself.
Make a quick pit stop at the Song Xian Qiao antique market, where you can browse different trinkets, from carpets to chess sets and various artworks. Make sure you don't buy more than your bike can carry! You will then ride over to the Wenshu Temple, a preserved Buddhist temple housing many precious works of art that are considered cultural relics. Your guide can give you an overview of what makes a Buddhist temple different from a Taoist temple.
After half a day of discovering the streets of Chengdu on your bike, rest your legs by taking the air-conditioned coach back to your hotel.
July 2013
My family of four (children age 13 and 10) took this tour with Lillian and would highly recommend it to others of all ages and abilities. Riding a bike in China was more enjoyable than we expected as the traffic seems to respect bikes and moves at a safe pace.
Anonymous
February 2013
Awesome way to see Chengdu on a bike!
February 2013
Lovely bike tour! Guide picked us up at the hotel en we went to pick up the bikes. While cycling in Chengdu the guide explained a lot about Chinese culture, history and the important places we saw while cycling. Great and friendly guide and for sure a good way to see Chengdu!
January 2015
Our guide Rhea was fantastic and the bikes were ok. There was no confusion on them picking us up at our hotel. I made the reservation about 36 hours in advance and was glad they could accommodate our party of 4. The bikes weren't ready upon arrival to the tour starting point, but were quickly rectified within 15 minutes. They weren't fancy, but they had gears and handbrakes, so no complaints. The half-day tour was perfect in length. Right about the time our butts were hurting, it was over. A great day and a great way to really get the lay of the land. Having a guide through the People's Park added great insight.
October 2013
Nice guide, bikes very old and not in a good state. I do not recommend this bike tour with small children, traffic is really dangerous. But with our Dutch girls used to cycle it was great fun. People Parc was the best!
June 2014
Because Viator is recomended at LP I was expecting more of the tour. We paid for China Standards a high amount of money of 50 USD per person to see the main square, the main park and a touristic street. I hoped to see and hear more About Chengdu. The guide was friendly and spoke good English though.
December 2014
This tour was extremely expensive for what it was: renting a bike and go around with a student who was nothing like a guide. Didn't know any informatiom about Chengdu i later read, we got lost in the city and he also didn't have an any information on the tourist sites we visited. For a tour costing 70 dollars while the rental bike for a day is 20 yuan so less than two dollars it was an incredible deception! I was really fortunate that the student "guide" called the local manager and the manager accepted to stop the tour after the first temple visit. I got something like 50 dollars back. But I lost my day, i would have loved to have a true guide a learn about the city and temples! ...and of course 20 dollars lost as well!
Advertisement
Advertisement