There's no better place to experience the entire tea-making process than at the origin of tea itself – China! On your private tour of Mt Mengding (Mengdingshan) from Chengdu, a local farmer will teach you the whole process of making tea, from harvesting to brewing. Your own private guide will not only bring you to the plantation but also act as a translator between you and the farmer. Enjoy lunch at a local Chinese restaurant and bring home tea you make yourself!
Highlights
Private tour of Mengdingshan tea plantation including tea making and tea tasting
Learn the entire tea-making process, from harvesting to brewing, from a local farmer
Admire the beautiful sights of the tea terraces in Mengdingshan
Enjoy a delicious Chinese lunch at a local restaurant
Take your final tea product home with you!
Hotel pickup and drop-off and private guide are included
Recent Photos of This Tour
What You Can Expect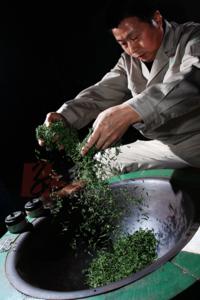 Private hotel pickup from Chengdu will take you on a two-hour ride to Mengdingshan. Along the way, your guide will brief you on the tour and share fascinating facts and information about the sites you will visit. Before making your way to the tea plantation, delight in a delectable lunch of local Chinese delicacies at a nearby popular restaurant.
The tea plantation at Mengdingshan is one of the earliest places to have cultivated this popular drink, dating all the way back to the Western Han period. After lunch, your guide will lead you to the plantation to meet a plantation farmer, who will walk with you to the beautiful tea terrace fields. Along the way, your guide will share various interesting facts, such as the several types of tea bushes that make different kinds of tea and how tea trees are planted and nourished. The farmer will then teach you the delicate ways of picking tea leaves.
Once you've gathered enough leaves, follow the farmer and your guide back to the factory to see and learn how to make different kinds of tea. Additionally, the farmer will show you how to make your own tea using the plantation's facilities. The final product is yours to take home and enjoy!
November 2014
We certainly enjoyed this tour.
From the drive into the mountains to a tasty Sichuan home cooked meal. Tea sipping. Collecting tea flowers. All Brilliant
Anonymous
August 2013
Unlike all the other touristy trap, this experience is legit! All 5 stars~~I especially enjoyed sipping tea with our newly made villager friends. Real life experience.
May 2013
When in Chengdu this tour is a must. We had to go to a different plantation because of the recent earthquake damage, but had one of the best days of our holidays. Coral our guide was one of the best we have ever had and Jerry our driver always got us there safe and sound in horrific traffic. This place was true China in the mountains. We picked our green tea with our baskets tied around our waist, then joined in frying it. The couple that owned the plantation were fantastic, did not speak English but our guide did a fantastic job and we all had a wonderful time. We then had a home cooked lunch and sat outside drinking green tea all afternoon. A few of the neighbours came wandering down to have a look at what we were laughing at and joined in as well. This was a fantastic tour, but made even better by our wonderful guide Coral.
July 2013
I'll admit I was skeptical about this tour, particularly because there was not a lot of information and no reviews. But I am so glad we still decided to go! Our tour guide was very friendly and fluent in English. She was not only incredibly informative about the tea-making process, but she also shared a valuable insight into the local culture. We traveled to a local farm (or tea plantation) where we picked tea for a little over an hour. It was hard work, but definitely an important part of the experience and really made us appreciate the process! We then were served one of the best meals on our entire trip, and the cook was very accommodating to the allergies of one of our group members. Afterwards helped roast our tea leaves on a special stove. By the end we had a nice packet of tea to take home! Unlike some "tours" in China, we were not asked to buy anything, but instead were able to simply enjoy the experience and leave with a special gift.
If you have any interest in how tea is made or want to have a more rural experience in China, I would definitely recommend this tour. The only downside was that it is fairly expensive, particularly when compared with other tours available in Chengdu. But if this is something you're passionate about (as we are), it's definitely worthwhile and the experience of a lifetime!
Advertisement
Advertisement