Uncover the secrets behind delectable Chinese cuisine on a 4-hour cooking class in Chengdu. Under the guidance of a professional chef, learn the techniques required to cook sumptuous Sichuan meals; make delicious delicacies like Kung Pao chicken and soft steamed dumplings while gaining insight into the complex flavors of Sichuan food. After cooking up a storm in the kitchen, sit down to feast upon the fruits of your labor with your fellow food lovers. Return home with recipe cards to impress friends and family with your new found knowledge.
Highlights
4-hour Sichuan cooking course with professional chef
Learn about Sichuan spices and cooking techniques
Make Kung Pao chicken, dumplings and more
Enjoy the dishes you prepared and take home the recipes
Choice of lunch or dinner course
Recent Photos of This Tour
Experience Chengdu: Sichuan Cooking Class
What You Can Expect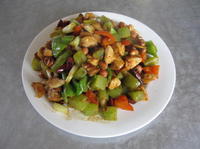 Depart from your Chengdu hotel with your experienced guide and venture to the established cooking school. Head inside and don your chef's hat to begin learning the techniques behind delicious Sichuan cuisine. Listen as your professional chef explains the complex flavor combinations and subtle spices used to create local specialties and then begin preparing four traditional Chinese dishes.
Inhale the enticing aromas as you cook dishes including Kung Pao chicken, sweet and sour pork, fish-flavored eggplant and soft steamed dumplings. Inquire in advance to request to cook a dish of your own choice.
After toiling in the heat of the kitchen, add the finishing touches to your Chinese feast and then sit down to devour your dishes. Chat with your fellow food lovers in the relaxed environment of the cooking school and then depart bearing recipe cards to ensure you remember your newly learnt recipes.
Return to your hotel with your knowledgeable guide at the end of the tour.
March 2016
My boyfriend and I booked this about a day in advance. Samtours was quick to respond about arranging hotel pickup. The taxi driver was ontime and dropped us off at Holly's Hostel, which is close to Wuhouci and the Jinli walking street area. Some of the ingredients like tofu and green onions were pre-chopped and the garlic and ginger had already been peeled which made the cooking go fast. I took notes on the preparation and recipe as the instructor lead us through them. Each one took 15-20 minutes for the two of us to prepare and were delicious. We made mapo doufu, sweet and sour pork, kungpao chicken, and dumplings. The mapo dofu was my favorite and the sweet and sour pork was my bf's favorite. Looking at the hostel menu, we could have ordered these for about 100 RMB, but I definitely intend to make all of these again and the recipes are pretty simple and easy to follow, so I thought the tour was money well spent. We were done around noon this was the lunch session.
September 2015
This cooking trip was run by Samtour and it couldn't have gone better. I was picked up at my hotel right on time and the Chef/driver spoke perfect english. His home was much nicer than mine and he made me feel very comfortable. We cooked mapo tofu, kung pao chicken, and twice cooked pork... All very delicious.
I will definitely use him in the future. Highly recommended.
December 2014
Could not want a better experience, Easy cooking directions and recipes. Hands on experience.
Food as good as any I have had at restaurants.
In fact I made one of the dishes almost immediately on my return home.
It received rave reviews.
If you enjoy cooking or even eating a worthwhile experience
August 2014
Brilliant
Good english speaking guide
Good humour
Small group
Tasty dishes
Recipies to repeat at home.
I would recommend to friends
October 2013
Great tour! Got picked up at my hotel and taken to a family run cafe! Asked if I could change one of the dishes which they were more then happy to accommodate ... Definitely recommend it if u are a foodie who wants to interact with the locals!
Anonymous
July 2012
What a fantastic experience! I think I am a qualified Sichuan chef now!
July 2012
Had a great time and the staff was friendly and full of humor. We went to the market to learn about the food firsthand, then we made delicious versions of typical Sichuan dishes. Thanks!
Bart Netherlands
June 2015
Nice and interesting cooking class,
Pretty expensive
our group was just the two of us, so the cooking class was at the chef his home.
June 2014
I thoroughly enjoyed the cooking class. I was the only student that day and asked if we could substitute gong pao chicken dish as I had learned to make that previously. The chef was very accommodating and gave me a couple of different options. In the end, we made four different dishes including mapu tofu, twice cooked pork, dandan noodles, and pork ribs with potatoes.
The class was taught at the chef's home with an ayi present to help with the dishes. The chef's English was very good. If you are looking for a fun way to learn more about the local dishes, this is an excellent option and I feel that I could make some of these at home too.
January 2014
I've done lots of cooking courses, but none quite like this. The driver picked us up promptly, but didn't speak much if any English. So no real idea where we were headed. We went to a simple but clean guesthouse with cafe. The cooking was all done in the cafe's little kitchen. The dished we cooked were all simple home cooking - nothing complicated. The teacher had a little English, but she had a helper who translated.
If you're looking for a lot of explanation of ingredients or how the flavours fit together, this probably isn't for you. But if you're looking for an idea of what a home cook would do in pleasant and clean surroundings, this is a great experience. The staff were friendly, helpful and it was great fun. The dishes we cooked were Kung Pao Chicken, sweet and sour pork (not the sickly sweet variety, but actually a really good dish), eggplant Sichuan style and pork dumplings. We got the recipes to take home.
Well worth it. M
Advertisement
Advertisement