10 Reviews
Location:

Chengdu, China

Duration:

4 hours

(approx.)
Want to impress your friends back home with a delectable Chinese meal made entirely by you? Then take part in this four-hour Chengdu cooking course and learn how to cook four different Sichuan meals! Whether you choose the lunch or the dinner option, you will be taught by a professional chef. The best part is you get to dine on your dishes and celebrate your new-found culinary skills with your fellow budding chefs.

Highlights
4-hour Sichuan cooking course with professional chef
Learn about Sichuan spices and cooking techniques
Make Kung Pao chicken, dumplings and more
Enjoy the dishes you prepared and take home the recipes
Choice of lunch or dinner course
Recent Photos of This Tour
Experience Chengdu: Sichuan Cooking Class
What You Can Expect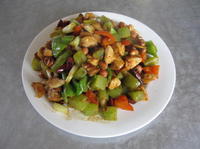 Put on your chef's hat and partake in this Sichuan cooking class in Chengdu that will teach you how to cook four different traditional Chinese dishes.
The dishes include Kung Pao chicken ('Gong Bao chicken' in Sichuan), sweet and sour pork, fish-flavor eggplant and dumplings. (You may also learn a dish of your own choice, provided that you inquire in advance; you may request this when booking).
You've seen all these dishes on a typical Chinese menu, so discover for yourself how they are made! Learn about the delicate ways people from the Sichuan province use different spices, handle separate food elements and make use of different utensils. Follow the cooking practices of your professional chef, and master the art of Sichuan cooking.
The best part is eating, of course! Taste your masterpieces and be amazed by how wonderful of a cook you are. Take this training home with you and astonish your friends and family by serving home-cooked dishes that rival those of the Chinese restaurant around the corner.
September 2015
This cooking trip was run by Samtour and it couldn't have gone better. I was picked up at my hotel right on time and the Chef/driver spoke perfect english. His home was much nicer than mine and he made me feel very comfortable. We cooked mapo tofu, kung pao chicken, and twice cooked pork... All very delicious.
I will definitely use him in the future. Highly recommended.
December 2014
Could not want a better experience, Easy cooking directions and recipes. Hands on experience.
Food as good as any I have had at restaurants.
In fact I made one of the dishes almost immediately on my return home.
It received rave reviews.
If you enjoy cooking or even eating a worthwhile experience
August 2014
Brilliant
Good english speaking guide
Good humour
Small group
Tasty dishes
Recipies to repeat at home.
I would recommend to friends
October 2013
Great tour! Got picked up at my hotel and taken to a family run cafe! Asked if I could change one of the dishes which they were more then happy to accommodate ... Definitely recommend it if u are a foodie who wants to interact with the locals!
Anonymous
July 2012
What a fantastic experience! I think I am a qualified Sichuan chef now!
July 2012
Had a great time and the staff was friendly and full of humor. We went to the market to learn about the food firsthand, then we made delicious versions of typical Sichuan dishes. Thanks!
June 2015
Nice and interesting cooking class,
Pretty expensive
our group was just the two of us, so the cooking class was at the chef his home.
June 2014
I thoroughly enjoyed the cooking class. I was the only student that day and asked if we could substitute gong pao chicken dish as I had learned to make that previously. The chef was very accommodating and gave me a couple of different options. In the end, we made four different dishes including mapu tofu, twice cooked pork, dandan noodles, and pork ribs with potatoes.
The class was taught at the chef's home with an ayi present to help with the dishes. The chef's English was very good. If you are looking for a fun way to learn more about the local dishes, this is an excellent option and I feel that I could make some of these at home too.
January 2014
I've done lots of cooking courses, but none quite like this. The driver picked us up promptly, but didn't speak much if any English. So no real idea where we were headed. We went to a simple but clean guesthouse with cafe. The cooking was all done in the cafe's little kitchen. The dished we cooked were all simple home cooking - nothing complicated. The teacher had a little English, but she had a helper who translated.
If you're looking for a lot of explanation of ingredients or how the flavours fit together, this probably isn't for you. But if you're looking for an idea of what a home cook would do in pleasant and clean surroundings, this is a great experience. The staff were friendly, helpful and it was great fun. The dishes we cooked were Kung Pao Chicken, sweet and sour pork (not the sickly sweet variety, but actually a really good dish), eggplant Sichuan style and pork dumplings. We got the recipes to take home.
Well worth it. M
December 2013
I did the morning class. I got picked up on time and taken to a working kitchen in a hostel. Everything was ready and although the chef had limited english, she knew all the necessary words. I thoroughly enjoyed the experience.
Avoid eating breakfast if you do the morning slot, the cooking starts as soon as you get their and you eat each dish as you cook it. Would definetley recommend.
Advertisement
Advertisement