Get up close to giant pandas during a private tour of the Dujiangyan Giant Panda Center from Chengdu. Volunteer alongside dedicated animal keepers to record behavior, clean enclosures and prepare food for the adorable mammals. Ensure the endangered species continue to prosper in the wild and in enclosures with your valued support and gain fascinating insight into the behavior and physiology of the animals. Capture photgraphs with the pandas to immortalize you memories (own expense) and enjoy a traditional Chinese lunch and convenient round-trip transportation on this tour.
Highlights
Private full-day volunteer tour at the Dujiangyan Giant Panda Center
Learn to record panda activities as you observe the behavior of China's favorite bears
Support the staff with their cleaning and feeding duties at the non-profit research facility
Spend free time touring the area with your knowledgeable guide
Enjoy lunch at the on-site cafeteria
Round-trip hotel transport by private vehicle from Chengdu included
Recent Photos of This Tour
Panda Rescue Center Volunteer for a Day
What You Can Expect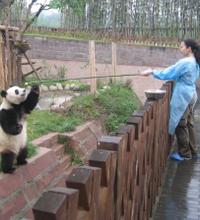 Depart from your Chengdu hotel in a comfortable, air-conditioned minivan and enjoy the scenic drive to the non-profit research center, located at the foot of a sacred mountain. Transfer to an excursion bus and ascend to the site's summit to observe resident pandas co-existing happily in replicas of their natural habitats.
Greet the professional panda keepers and listen to a short orientation sessions, in which the day's itinerary is outlined. Participate in your first feeding session, preparing fruit, vegetables and special panda cakes and feeding them to the majestic mammals. Revitalize with a traditional lunch after the fist few hours of volunteering, then spend an hour strolling the gorgeous gardens of the enclosures.
Return to your duties by cleaning indoor and outdoor panda enclosures and recording their behavior and weight. After feeding the pandas a second time, explore the panda center at leisure; use the computers and watch adorable panda videos at the volunteer service centre if you wish.
After a busy day of volunteering, receive a complimentary t-shirt and certificate that congratulates your valuable contribution to nature. Return to your hotel in a private vehicle with magical memories of your day.

May 2016
April 2016
This is an amazing five start experience and family friendly. The staff were helpful and knowledgable, worth every penny! Def do the photo with a panda portion -- the absolute best!
November 2015
This is an expensive day, especially if you have the photo too which I did and would highly recommend, plus much of that cost goes towards the wellbeing of pandas, but it is an amazing once in a lifetime, must-do, experience. cant recommend enough. This day will stay with me forever... but I do love pandas!
August 2015
This tour is expensive but worth it! It gave my daughter and I opportunity to get close to the pandas. We had great fun feeding them...even cleaning the poop in the cage.
June 2015
what a fantastic day - up close to the pandas! Not too many people, so perfect for those also to the pandas experiences, feeding them by hand etc. The work programme was pretty relaxed and low energy if you wanted - broke the day up nicely, great lunch in the workers canteen, excellent food! Overall a real highlight of our China/Tibet trip and highly recommended. our guide was a star, spoke excellent English and very helpful and knowledge able etc.
May 2015
Great experience and great tour. Expensive but in the end, worth every penny. Picked us up on time in the morning from hotel in a clean spacious car. We went to a panda center about 1.5 hours away which is not open to general public. Only organized tours. In 8 hours, maybe only saw another 30 tourists. No crowds but tons of pandas. We got to clean the cage a little, feed pandas, walked around and ate lunch with the local workers. The best thing was we paid the additional RMB 1,800 for our kid to sit with panda. The panda even looked over and put his paw on her at one point. Amazing. Such a wonderful day.
October 2014
This was a brilliant day, we helped to look after pandas all day had a lovely lunch and my daughter and me had photos with a 2 year old panda. This tour was organised through Samtours and Sam picked us up from our hotel and looked after us all day at this wonderful place. We used Samtours all week including airport transfers. We had an excellent driver Mr Cheung and Andy, Lilleth, Rosa and Carol were our tour guides. We had a brilliant time in Chengdu with wonderful memories. Thank you Sam
October 2014
Very interesting day of work. My center guide was very knowledgeable and I learned much about the Pandas. When you volunteer to work, you work! It was a once in a lifetime experience and I was glad that I could help support the Center.
neu_jn USA
September 2014
This entire experience was a bucket list for me, not only did I get to touch a Panda, but I had the chance to feed a few of the Pandas. on the down side to this tour was that I thought I was going to the Chengdu but I was in Wolong, I was nice was because it had way less tourist. You really don't hold a Panda, you sit next to them, but I totally understand, 1 1/2 year old Panda that is some what wild. overall I would do it again because I turned from 33 to a kid again.

Lina Stock USA
September 2014
Volunteering to work around the Panda's for a day was a magical experience. If you are looking for something different than the typical visit to the research center, don't hesitate to book the volunteer program.
Advertisement
Advertisement