Discover the cultural and historical highlights of Chengdu on an enriching full-day tour of the spectacular city. On this private tour, venture to the Research Base of Giant Panda Breeding to spend several hours observing adorable pandas, and then absorb the sacred ambience of the Zen Buddhist monastery during a leisurely lunch. Sip refreshing tea at a traditional teahouse in the picturesque park, and then meander through the narrow alleys of Kuan and Zhai Lane for dinner. Upgrade to immerse yourself in the melodious magic of the Sichuan opera.
Highlights
Full-day private Chengdu city sightseeing tour
Observe giant pandas, including babies, at the Chengdu Panda Breeding Center
Visit Zhaojue Temple, dating back to the 7th century
Stop by Match Corner at People's Park and stroll around Kuan-Zhai Lane
Enjoy tea, lunch and dinner at local venues
Receive personalized attention from your knowledgeable private guide
Round-trip hotel transport by private vehicle included
What You Can Expect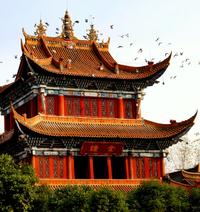 Greet your guide at your Chengdu hotel and climb aboard a comfortable, air-conditioned vehicle for the short journey to the Research Base of Giant Panda Breeding. On arrival, embark on a tour of the research facility and witness giant pandas in every stage of development; gain insight into their physiology and behaviors from the expert staff members who care for them and capture photographs of the majestic creatures as they nibble bamboo.
After three hours touring the facility, return to the minivan and venture to the Zhaojue Temple to discover the fascinating history of the 7th-century monastery. Absorb the architectural splendor of tranquil waterways, dramatic pavilions and interminable grounds then revitalize with a fulfilling vegetarian lunch.
Sated, travel to People's Park to see locals going about their daily business before witnessing the cultural idiosyncrasy of Match Corner, an enclave in which parents attempt to match their children with other eligible infants.
Next, wander the winding lanes of the Kuan-Zhai area and listen to tales of the area's rich heritage. Stroll down the picturesque pedestrian area to see Qing-style quadrangle houses and sample a local delicacy from an enticing food stall in the neighborhood.
Relax during the journey back to your hotel after your enriching private excursion.
Andy Australia
October 2015
Very enjoyable tour, our guide Sam was very knowledgable about the local area and organised our day perfectly. Although the panda centre was our highlight, the monastery was very interesting and our rest in the park in the tea house was a lovely look into Chinese culture. I would recommend this tour, as we only had two days in Chengdu it was a fantastic way to spend a day.
September 2015
June 2015
Today it was my birthday and I'm off to see the pandas. I was met by the wonderful Jeli and we set off at 07:30. Arriving at the base Jeli led the way and I was not disappointed with great views of the big cuddly ones. We then saw the younger pandas then the red pandas. As we were walking back we visited the film theatre and could see the value of getting to the centre early as there were large groups entering .A wonderful morning. We left for lunch and the sightseeing tour. Such a lovely day with tea and snacks at the end , A lovely birthday in the company of Jeli who was fantastic
April 2015
We booked this tour from Viator, it was easy, safe and value for money.
In China the company that ran the tour was amazing.
Our guide Green picked us up in a private car with friendly driver. Our guide was polite, courteous, friendly and very knowledgable about ChengDu.
Our tour included: Panda Research Centre where in March we saw 6 month old panda cubs, visit to the wide and narrow alleys, lovely vegetarian lunch and look around a rarely seen Buddhist Monastery, we then proceeded to the People's Park where the retired dance and socialise. We went and had tea at a traditional tea house, where we socialised and had our ears cleaned like the locals. We finished our day with traditional snacks from a restaurant in the park where the same recipes have been used for generations.
We loved ChengDu and felt this tour allowed us to see it from a locals viewpoint, our experience was enhanced due to the openness and kindness of our wonderful guide.
Thank you Viator, tour company, but especially to Green our guide you really made this trip amazing.
April 2015
We thoroughly enjoyed this tour. Our main reason for visiting chengdu was to see the panda's and we weren't disappointed. Our guide was very knowledgeable and nothing was too much trouble. I would highly recommend this tour.
January 2015
Andy picked us up at our hotel and took us to the Panda centre. We had wanted to have a photo with a panda and Andy organised this for us. We went on to a Buddhist monastery for lunch and Andy helped us choose foods which we would like. She then took us to a quaint tourist shopping area, then onto the peoples park where we walked around and had tea and relaxed, later in the evening we had some snacks for dinner. All in all it was a great day. Andy went out of her way to make sure the day was excellent. The day was well panned with lots of interesting things to do and see. Even our driver was great, very pleasant and always ready to pick us up and take us to the next destination. I would definitely recommend this tour, without Andy there is no way we could pack so much into one day, but having someone else do all the organising it still felt really relaxed.
June 2016
Love this tour and the tour guide was very informative. Did a lot of walking but was worth it. Loved the Pandas and the bamboo shoots were everywhere. So beautiful.
April 2016
We had a great time as we were brought by Ms Jenny Ting, our tour guide round the Chengdu Research Centre and not missing meeting the Pandas as well as the Red Pandas.
The City Tour was great too as we have enough time to move around and shop for souvenirs.
The tea was marvelous and we met a Chengdu report taking pictures around including all of us.
The snacks was tasty and a good experience for us to try since it was a first time for us.
A tour worth joining.
August 2014
It was a nice day. Seeing the pandas was great and walking around the old parts of Chengdu was interesting. We'd have liked to spend a big more time browsing the shops in the Old Town Area but felt a bit rushed. The food was very disappointing and the tour lasted for 9 hours but should have been 11.
Advertisement
Advertisement