Absorb the mammoth magnificence of the world's largest stone Buddha statue on a private full-day tour of the Grand Buddha of Leshan from Chengdu. Accompanied by a knowledgeable guide, marvel at the colossal size of the UNESCO World Heritage-listed monument and take an illuminated journey down trails that weave around the structure. Visit ancient Buddhist temples and satisfy an appetite for authenticity with a flavorsome Chinese lunch in a local restaurant. Enjoy the convenience of round-trip transportation from your Chengdu hotel on this enriching excursion.
Highlights
Private guided tour of the World Heritage-listed Leshan Grand Buddha from Chengdu
See the impressive Grand Buddha from several different vantage points
Admire intricate architectural and structural designs of the Lingyun Temple and Wuyou Temple
Enjoy a delicious Chinese lunch at a local restaurant
Learn interesting facts from your friendly, English-speaking guide
Recent Photos of This Tour
Private Tour: Day Trip to the Leshan Grand Buddha from Chengdu
What You Can Expect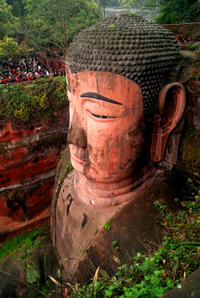 Depart from your Chengdu hotel in a private, air-conditioned vehicle and enjoy the scenery that sprawls on the 2-hour drive to the UNESCO World Heritage-listed monument. On arrival in Leshan, treat your taste buds to an authentic Chinese meal in a popular local restaurant. Revitalized, head to the sacred Temple of the Grand Buddha, located behind the colossal structure's head.
Marvel at the intricate construction of the head's hair, gazing at 1,020 twisted buns, and then follow your guide down a twisting trail toward the left side of the mammoth monument. When you reach the bottom, gasp at the 233-foot (71-meter) height of the largest carved Buddha in the entire world and capture fantastic photographs of the sacred site.
Next, explore the right side of Buddha to discover the Wuyou Temple, a pink-hued building containing an abundance of terracotta sculptures and calligraphic paintings. See the Arhat Hall, replete with 500 Arhat statues, then absorb panoramic views of three rivers converging prettily below.
Choose to take a cruise of the river for an alternative perspective of the grand Buddha (own expense) then return to your comfortable vehicle for the relaxing ride back to your Chengdu hotel.
Derek G United Kingdom
April 2016
Great day out. Its still hard to grasp the scale after seeing it. Great food included too
July 2015
We had time to do both to sail to the Buddha and to walk to it. The second is more interesting.
June 2015
I was met by my guide the wonderful Jeli from samtour and our driver. We drove to leshan. I chose to take the boat to the Buddha. The boat only spends about 5 mins in front of the Buddha but that was enough for a great view and some nice pictures. Aftrewards we had a very tasty lunch in a leshan restaurant. All in all another pleasant day compliments of viator and samtour
July 2014
We had an amazing time in Leshan. Our guide, Andy, taught us so much and made it a great day. Lunch in the village was fantastic too.
Thank you!!
April 2013
Our best guide of our Chinese trip. Very friendly and helpful. Awesome lunch too.
Anonymous
October 2012
Amazing big buddha and great way to enjoy other aspect of SIchuan besides the pandas!
April 2016
Firstly our guide 'Coral' was excellent, very friendly, spoke good English and the driver was first class especially with the traffic and 'non existent rules of the road it would appear'. The journey to Lesham takes about 2 hours and Coral gave us an excellent commentary during this journey. Unfortunately the weather was dreadful, luckily had umbrella with us. On arrival the crowds were everywhere, good job did not arrive in height of season. Throughout the visit to the Buddha, Coral gave a good history and explanation and we had a laugh. The wait to walk down the Buddha and up again was around 2 hours so we declined due to the weather conditions but Coral made up for this with her commentary. The lunch was superb. One observation perhaps to improve this visit is to climb up and be given the commentary and visit the temples then proceed to the 'boat option' rather than waiting up to 2 hours to fully view the statue then followed by the lunch, that way everybody would see everything. The return journey to the hotel took again another 2 hours so a very full day.
January 2015
Tour leader and driver very good. very interesting trip
December 2014
We had a really great day. Its a long drive out to Leshan from Chengdu but we arrived in plenty of time to beat the big rush of people. Our guide was very friendly and spoke excellent English. The actual trek itself was a little more challenging than I had anticipated, especially going up.. but with a few little breaks it was very manageable. We were very lucky with lines, we barely had to wait at all and our guide said that in peak seasons it can be a 4hr wait to see the buddha.. something people should keep in mind when booking this tour during the popular months. The included lunch was also good… Not the best food I had while in Chengdu, but warm and filling after our big climb. It was a pretty perfect day, my only complaint (and its not an overly big one) is that neither our driver or our guide wore seat belts in the car despite being on a freeway at over 100kms an hour. It made the journey a little nerve wracking, especially considering how insane traffic is in China compared to what were used to at home. Would definitely recommend to anyone staying in Chengdu
October 2013
Very nice tour guide and amazing buddha. We thought it was a real hike but even small children can do these stairs. Don't take the boat, but line up to walk down.
Advertisement
Advertisement