On this fabulous night out in Chengdu, watch the incredible Sichuan Opera and enjoy a hot pot dinner. Discover Sichuan customs as you join in the celebration of Sichuan theatrical traditions. The show includes acrobatics, music, humor and more!
Highlights
Sichuan Opera performance and hot pot dinner in Chengdu
Experience Sichuan culture and traditions

Feast on a delicious Sichuanese hot pot

Watch the dynamic and vibrant Sichuan Opera

Hotel pickup and drop-off included
Recent Photos of This Tour
What You Can Expect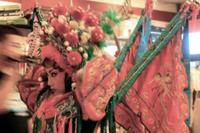 It's like watching magic happen right before your eyes! This is what you'll be thinking while watching the Sichuan Opera, a marvelous display of Sichuan culture and art. On your evening out in Chengdu, you'll receive a delightful overview of Sichuan customs, combining a delicious Sichuan meal with an awe-inspiring display of visual art.
After pickup from your hotel, you'll be taken to a hot pot restaurant to enjoy tasty Sichuanese fare in the company of new friends. Hot pot is just another well-known delectable Sichuan cuisine. At the center of your table is a simmering metal pot of stock (spicy or non-spicy), waiting for you to throw in ingredients of your liking: various meats, vegetables, seafood and more. The hot pot dinner is a social experience – chat with your neighbors while you create your mouthwatering pot of soup!
Next, you'll drive to the Shufeng Yayun Teahouse in Chengdu Culture Park for the Sichuan Opera. Sit back and enjoy a performance packed with wit, humor, lively dialogue, amazing acrobatics, dancing, acting, puppetry and music, all of which celebrate Sichuan's creative history in the performing and fine arts. Most acts are derived from Chinese classical novels, legends and folk tales. It features dazzling sets and costumes and is known for two distinct acts: Changing Faces and Rolling Light.
Rolling Light involves a performer acting out a variety of routines like jumping over a bench or dancing with a fan, all the while balancing a bowl lit with fire on his head! Changing Faces, perhaps the most popular act, involves speedy makeup changes right on stage while the actor performs other exciting feats. The most complicated routine requires the performer to inconspicuously switch between different damask masks as the drama develops.
Relax as you are taken back to your hotel after the 90-minute show.
June 2015
I was met by Jeli my guide and companion for the evening. Jeli led me through the options for the famous Sichuan hotpot. The meal was very good and she was lovely company. Afterwards we walked around the park to the Chengdu Opera. I enjoyed the show and was then returned to my hotel A wonderful start to my short stay in Chengdu
January 2015
Andy picked us up at our hotel and we drove to the hot pot restaurant. We had lots of fun, it was in a beautiful position overlooking the river. Andy helped us choose the different food we were putting in the hot pot and helped us know when they were cooked. After this we went on to the Sichuan culture show. Andy had explained about the show beforehand so we understood what we happening. The show was very colourful and entertaining, a perfect night in Chengdu!
December 2014
Fantastic.... we had a brilliant time. Many thanks for the tour.
November 2014
What a great night we enjoyed hot pot. The cultural show magical
December 2012
Very nice, even though I didn't know chinese. Face changing, shadow puppets and puppets were my favorite. Food was great and not as greasy as the hot pot I've had in Shanghai
October 2012
Our guide was really lovely, and most informative on Sichuan lifestyle and culture. Dinner was superb - believe it when they say Sichuan food is spicy! The show had some great acts - the puppets were brilliant, the acrobatics were unbelievable and the final act - well you have to see it for yourself! (Some of the other acts were a bit ordinary though.) Over all a most enjoyable evening, however we thought it a bit strange that the guide AND the driver tucked into dinner with us at our table. On our (many) other tours the guide has sometimes joined us, but never the driver as well. We had been told that our meal was very special and too expensive for local people, so we felt our Viator payment had covered an extra meal.
May 2015
The food was great the show was great. I wish our tour guide would've explained more about what we were eating and what was going on with the show/performances.
Advertisement
Advertisement