Experience the mesmerizing melodies and intense action of the Sichuan Opera during a 1.5-hour performance in Chengdu's Shufenf Yayun Teahouse. Marvel at dazzling dancers and astounding acrobats as they deliver an extravagant spectacle of color and culture. Upgrade to enjoy unrivalled stage views from luxurious seats and pleasure your palate with snacks to accompany a Sichuan tea. For the ultimate experience, opt for ear grooming, a Chinese massage and a show costume dress up session that comes with a complimentary photograph.
Highlights
Sichuan Opera cultural performance with tea in Chengdu
Take a seat at Shufeng Yayun Teahouse for a delightful show
Be entertained by Sichuan performing arts using stick puppets, face masks, folk music, acrobatics and dance
Enjoy complimentary tea service and upgrade to include snacks
Choose from four seating options including VIP access to a Chinese massage, ear grooming or photo session in costume!
What You Can Expect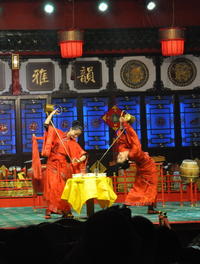 Make your own way to Shufeng Yayun Teahouse, a cultural construction located in the Chengdu Culture Park. Venture within the richly decorated building and take a seat in the position selected. If you've opted for VIP seating, sink into a luxurious chair and enjoy a relaxing massage and ear grooming session before the show starts. For more detailed information on each VIP option, please see the Itinerary section below.
Hear an expectant hush descend over the crowd as the lights dim and the curtains open to reveal dazzling set design and colorful costumes. Become hypnotized as you watch a magnificent mélange of puppetry, folk music, acrobatics and dancing. See Southwestern China's rich culture come to life through three distinct acts, which include Spitting Fire, Rolling Light and Changing Faces.
Immerse yourself in tales of legend and love and watch puppet shows that depict ancient folk art while enjoying a traditional Sichuan tea service at your table. Upgrade to enjoy specialty snacks that compliment the refreshing beverages.
Applaud raucously at the end of the show and venture to the dressing room to transform into a colorful character if you have upgraded to the VIP experience. Make your own way back to your hotel with magical memories after the show concludes.
Itinerary
VIP Upgrade:
When you arrive at the theater, choose one of three options: a massage, ear grooming or photo opportunity in opera makeup and costume.
Massage:
As you sit at your seat, relax as you receive a head and shoulder massage before the show begins!
Ear Grooming:
Get your ear cleaned by a professional ear groomer
—
a traditional service that
typically takes place at a teahouse or theater.
Costume Photo:
After the show, head backstage to

see how the traditional Sichuan opera mask is applied as you

dress up in costume with stage makeup. Then pose for your photograph!
August 2015
Enjoyable!
Have a drink, snack and get a massage while you watch a fun performance.
February 2015
We did the option to be made up like the cast, it was great, unbelievable pictures.
Show was entertaining and extremely enjoyable
December 2014
The opera was very interesting. For VIP, I showed up an hour early to have the costume and makeup done, which was a lot of fun! They offer photo services at an additional fee, and help you pose in traditional dance movements. The opera was a variety hour of different chinese performance acts
May 2015
April 2015
Redeemed the coupons for tickets without too much trouble as I speak Chinese, but I have no idea how others would have known to go to the shopping complex across the street from the park, and then to a desk in the back. As for the show, it was extremely loud too loud! and while the face changing and fire breathing at the very end were fun, there was an awful lot of non-opera felt like a US variety show in the 1940s -- slapstick, bad jokes, overall silliness -- but the audience clearly loved it! Worth every penny if you want to experience today's China..
Advertisement
Advertisement