This private tour flies you round-trip from Chengdu to explore Xi'an's top attractions! A friendly local guide accompanies you on a full-day trip to see the UNESCO World Heritage site of the terracotta warriors, climb the Xi'an Wall for views over the city, and marvel at the Islamic-inspired architecture in the Muslim Quarter. Enjoy regional specialties for lunch to make your full-day tour complete! Round-trip airport transfers by private vehicle from the Xi'an airport are included.
Highlights
Private Xi'an full-day tour from Chengdu by air
Catch a plane from Chengdu to Xi'an on a morning flight and return in the evening
Marvel at Emperor Qin's mausoleum and the terra-cotta army at a UNESCO World Heritage site
See panoramic views of the city as you walk along the Xi'an City Wall and peer up at ancient gate towers
Discover architecture and food on a walking tour of the Muslim Quarter
Learn about the history of this fascinating city from your knowledgeable private guide
Lunch and round-trip private transfer from Xi'an Xianyang International Airport included
What You Can Expect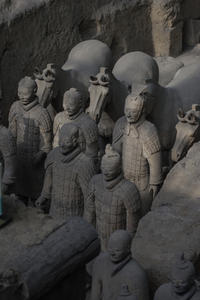 Make your own way to Chengdu Shuangliu International Airport for a short morning flight to Xi'an. In a little over an hour, your plane lands at Xi'an Xianyang International Airport, where your guide meets you in a private vehicle to set off for your first point of interest: the UNESCO World Heritage site of the terracotta warriors.
On the 1- to 1.5-hour drive to this world-renowned museum, you'll learn about the significance of its vast display of life-size clay figures that were buried during the 3rd century BC to protect China's first emperor, Qin Shi Huang Di, in the afterlife.
When you arrive, step inside the underground chambers of Emperor Qin's mausoleum, which features the terracotta army. Your guide and the onsite exhibits reveal the ruler's elaborate plan for the nearly 250,000-square-foot underground tomb, guarded by more than 7,000 life-sized clay figures and horses.
After your museum tour, drive back to Xi'an and continue your sightseeing at Xi'an's Wall. If you'd like, climb the steps from the south gate until you reach the top of the ancient wall, where you can stroll along the walkway with your guide. Admire views of the city below, and marvel at the incredible architecture of the gates and towers on each side of the fortification.
Then walk to the Muslim Quarter to discover evidence of Islamic influences in the architecture of surrounding buildings, such as the Drum Tower, and in the dishes served at nearby food stalls. Amble past neighborhood alleys and the bustling market, and stop at a restaurant to enjoy a lunch of local specialties, including yang rou pao mo (crumbled fried pancake soaked in mutton stew), cold rice noodles and jiaozi (dumplings).
If there's time you can visit the Great Mosque, one of China's oldest and most renowned mosques, founded in 742 AD. Learn about its Chinese architectural style and the Hui people who brought Islam to China centuries ago.
In the evening, you'll be transferred by private vehicle to the Xi'an airport for you return flight to Chengdu, finding your own way back to your hotel from there.
October 2014
Excellent tour, it was a very early start and was organised through Samtours. We booked 2 tours through this company with Viator but needed details for our visas and Sam was very helpful so we ended up using his company for the whole week. We were picked up from the airport when we arrived in Chengdu and driven to our hotel. We did this tour and had an excellent guide called Rosa who organised a wheelchair for me at The Terracotta Warriors Museum and took lots of photos of my daughter and me. We also used Samtours to do a chengdu City tour including a visit to the panda garden, to do a volunteer day at the Woolong Panda Centre, to visit the Lehsan Giant Buddha, The Chinese Opera and the irrigation system and mountain.Samtours also took us back to the airport when we returned home. We had the same driver all week Mr Cheung who was an excellent driver and we always felt safe with him even though Chengdu is very busy. We had excellent tour guides all week. I would like t say a big thank you to Sam, Mr Cheung, Lilleth, Andy, Rosa, and Carol for looking after us and giving us excelent memories of China
June 2015
A very busy day, started at 0530 drive to airport and ended at 2200 returning to the hotel in Chengdu but thoroughly enjoyable and well worth the long day. We had our own guide and driver she was great, learnt the fascinating history of the Emperor Xin, the Terracotta warriors story etc. Excellent experience. Good local lunch. Overall, excellent trip and well organised - for one of those, just have to, trips!
Advertisement
Advertisement