Set out from Chiang Mai to trek through northern Thailand's mountainous jungle on a three-day private tour. With an experienced guide by your side, you'll explore the area around Chiang Dao, visiting Karen, Akha and other remote hill tribe villages, dining on (and if you like, helping prepare) northern Thai cuisine, and bedding down in bamboo huts. You'll even have time to enjoy Chiang Mai and its offerings at your own pace with sightseeing tips catered specifically to your interests.
Highlights
4-night northern Thailand private tour with three-day trek round-trip from Chiang Mai
Strap on your backpack and follow your expert guide into the jungle near Chiang Dao

Stay overnight in two Palong villages and visit several more
Identify the ingredients used in northern Thai cooking at a local market and in the forest
Take a mini-cooking class from your guide and have the option to help prepare meals

Enjoy free time in Chiang Mai with sightseeing options tailored to your interests
Chat with locals as your guide translates
Why Our Insiders Chose This Tour
Most Palong people live in Burma, but you'll get to visit some of the very few Palong villages in northern Thailand!
Recent Photos of This Tour
4-Night Experience in Chiang Mai: Palong Villages Stay and Chiang Dao Trek
What You Can Expect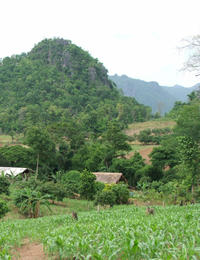 Immerse yourself in the Chiang Dao region of northern Thailand for a memorable experience trekking through the jungle and visiting several hill tribe villages, including those of the Palong, Akha, Lahu and Karen peoples. Your adventurous tour includes three days of trekking in the mountains, walking for 1-4 hours between villages. You will need a decent level of fitness to participate as you will carry your own backpack and personal gear.

This cultural experience includes two nights' accommodation in bamboo huts in a hill tribe village where living conditions are modest. Your experienced guide will assist you with any questions along the way. You'll also have two nights of accommodation at a hotel in Chiang Mai, where you'll have plenty of time to explore the city at your leisure.
Itinerary
Day 1: Chiang Mai
Arrive at your Chiang Mai hotel anytime before your 6:30pm welcome meeting. If you arrive early, enjoy exploring northern Thailand's vibrant capital, with dozens of stunning temples, a lively riverfront, great shopping at outdoor markets and a variety of small shops, and numerous options for delicious Thai cuisine.

After your welcome meeting, you'll have the option to follow your guide on a leisurely stroll through the old city or choose to peruse Chiang Mai on your own (all activities at own expense).

Overnight: Wangburapa Grand Hotel or similar

Day 2: Chiang Mai – Palong village (L, D)
Your guide will pick you up from your hotel in the morning and you'll head north to Chiang Dao. Along the way you'll stop at a local market in Mae Malai to shop for food for your trek. Your guide will show you the ingredients used in Thai cooking as you gather the materials for your journey ahead.

Hop back in your vehicle and continue to the Mae Tang River, where you board a bamboo raft for a refreshing float down the river. Enjoy the relaxing ride and river scenery, then disembark and meet your driver. From there, you'll take a ride through the northern town of Chiang Dao to an Akha village called Ban Huay Hok.

In Ban Huay Hok you'll put on your backpack and set out on the first leg of your trek, a 1-hour hike to the Palong village of Pang Deng Nai. Follow your guide along lush jungle trails and hear about how the royal projects – sponsored by the Thai royal family – created villages like Pang Deng Nai to give economic and educational opportunities to hill tribe peoples.

Savor lunch when you arrive at the first village, then you'll continue to another Palong village named Pang How, where you will stay the night. After you meet your local hosts and set your pack down, your guide will introduce you to northern Thai cooking and show you how to make some favorite dishes for your dinner tonight. After enjoying your meal, head over to another home and hear stories about the history of the Palong people and the village.

Overnight: bamboo mountain hut in hill tribe village

Day 3: Hill Tribe Trekking – Chiang Mai (B, L, D)
After awakening to the sounds of roosters and village life, enjoy breakfast with your guide before exploring the village. Learn about your surroundings from your guide. Afterward, say goodbye to your hosts and hit the trail for a 2-hour hike to a waterfall where you can take a dip in the water and nibble on a picnic lunch.

When you're rejuvenated, you'll continue along the trail for 3-4 hours, listening to your expert guide talk about the forest's plant and animal life. Find wild ginger, rattan and pitcher plants as you walk along the jungle trail, and learn the many ways that bamboo is used locally.

Once you reach another Palong village known as Huay Bong, take time to rest and meet the local people. Have the option to help your guide prepare the night's meal and learn more about Thai cuisine, then enjoy dinner and a campfire where you share stories with your guide and the people in the village.

Overnight: bamboo mountain hut in hill tribe village

Day 4: Palong village – Chiang Mai (B, L)
Join your guide for breakfast then grab your pack and walk about an hour to the Karen village of Thakilek, the last part of your trek. Along the way you'll stop in at a Lahu village and check out their spirit temple and blacksmith. In Thakilek, your guide shows you around the village and introduces you to the Karen people.

Bid farewell to the village community, and head back to Chiang Mai with your guide. Celebrate your trekking accomplishments with a tasty lunch at a local restaurant. Once you have refueled, stop in at an orchid nursery where you can check out the varieties of this beautiful flower. Your guide will return you by songthaew (covered truck with bench seats) to your hotel in Chiang Mai in the afternoon.

Say goodbye to your guide and settle into your Chiang Mai hotel, then enjoy the evening at your leisure. You could opt to soothe sore muscles with a traditional herbal sauna and Thai massage or indulge in a festive meal at one of Chiang Mai's many fantastic restaurants.

Overnight: Wangburapa Grand Hotel or similar

Day 5: Chiang Mai (B)
You have the freedom to leave at any time for your next destination, or set your own itinerary if you choose to stay in Chiang Mai for a few days. Explore the gorgeous temple of Wat Phrathat Doi Sutep – located on a hill above the city with stunning views, take a Thai cooking class, shop for local goods or catch live music at a riverside cafe (own expense).
January 2016
the tour was well planned and the guide on the tour was very well educated on the tour that we went on.
accommodation with the local villages was excellent and the mixing with the local people was fantastic.
the meals and snacks that were provided were also fantastic.
overall, I would recommend this tour 100.
June 2015
I had a great time hiking and staying at local villages around Chiang Dao north of Chiang Mai. There was only myself and my guide, Lek, on the trip so the we were able to hike/walk at my pace. Accommodation was VERY basic as expected but more than compensated by the amazing scenery, tasty food and the hospitality of everyone we met. A peaceful few days and a thoroughly enjoyable trip that I have no hesitation in recommending.
April 2015
If you seek an intimate look at rural village life and don't mind hours long hikes through beautiful terrain, then you will love this hike! I happened to be the only one on this tour with my guide, he spoke great English and provided an inside glimpse into village life. You stay in a large bamboo hut similar to camping, blankets and pillows, and mosquito nets are provided, but bring a sleeping bag. There are outdoor showers fenced for privacy, so bring your own towel. If you want to help make dinner, just ask, you'll enjoy a mini cooking lesson. Be sure to bring some spare toilet paper with you on the hike just in case you need to use it. You will be carrying your entire backpack for the entirety of the trip, so pack wisely. You can leave a small amount of items stored at the hotel if you need to. I forgot the name of the hotel, but it was pretty nice, maybe 2 or 3 stars. The tour company can provide a backpack and sleeping bag as well if you don't have one. The bamboo rafting and orchid tour are the only touristy parts of the tour. Otherwise, be ready to immerse yourself in their culture. Highly Recommended!!!
Advertisement
Advertisement