This Chiang Dao elephant jungle trek and Ping River Rafting Tour from Chiang Mai is perfect for the truly adventurous. Journey with your expert local guide approximately 37 kilometers north of Chiang Mai to the Ping River, where you'll spend some time watching the gentle giants of Dao Elephant Camp. Trek through the nearby jungle atop one of this iconic Thai animals and learn about their lives on this protected area from your guide. The tour also includes a visit to the Lisu Hilltribe, a traditional bamboo rafting trip along the scenic Ping River, and a stop at a typical orchid farm in nearby Mae Sa.
Highlights
Follow an exhilarating Elephant trek in the remote jungle of northern Thailand
Visit the ancient culture of the Lisu Hilltribe which originated in the remote mountains of Tibet
Visit Mae Sa, where you can take a stroll through the Orchid Farm and picturesque surroundings
Friendly and informative guide

Includes hotel pickup and drop off

Recent Photos of This Tour
Chiang Dao Elephant Jungle Trek and Ping River Rafting Tour from Chiang Mai
What You Can Expect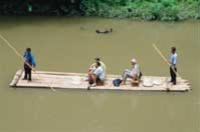 Your Chiang Dao elephant jungle trek and Ping River Rafting Tour from Chiang Mai kicks off with pick up from your hotel. An expert local guide will travel with you through the scenic landscapes of northern Thailand in the air-conditioned comfort of your vehicle. Make a stop at the Dao Elephant Camp, where you'll get an up close look at these gentle giants at work before climbing atop their towering backs and heading out on a jungle trekking adventure. Make your way to Lisu Hilltribe with your guide, who will provide insight and information about this traditional tribe that hails from Tibet. Enjoy a local lunch before heading off on a thrilling ride along the Ping River on a traditional bamboo raft.
You'll tour a typical orchid farm in nearby Mae Sa, where you'll have time to walk around the picturesque waterfalls, before being dropped back at your Chiang Mai hotel.
June 2016
Really great tour with Maggie as our tour guide. She had excellent English, met all of our needs and gave us lots of additional information. The company runs very small tours of six people or less and so was very intimate. The elephants were amazing and the camp we went was small, clean and the elephants were very well cared for.
June 2016
Excellent Tour - Would highly recommend to any one visiting Chiang-Mai. The river tour particularly relaxing as beautiful luminous butterflies danced around us. Be sure to slap on the sun cream though as very exposed.
Katrina A USA
May 2016
This tour was a lot of fun. Even though we were unable to raft due to the low water, our guide made sure to include additional sights to make up for it. We were able to visit a beautiful orchid farm and butterfly garden. The elephants were so cute and friendly, and the ride through the jungle provided us the opportunity to enjoy the scenery. The mahouts were professional and kind to the elephants, and we felt safe at every step. Lunch was also provided at the Tiger Kingdom, so we got a chance to take pictures with the tigers as well. I would definitely recommend this tour.
April 2016
The elephant trek is a great pleasure, ue to the dry season and lacking water the rafting was cancelled and replaced by a monkey show. The latter was regrettable.
March 2016
This was a wonderful day! The elephants were amazing, the trek up into the mountain to the hill tribe village was great. Riding the elephant for 1.5 hrs up a stream and back through the river....amazing.
The rafting down the river on a bamboo raft was a great experience, despite the low water which made it a bit difficult...water buffalo as water hazards in the river... unforgetable!
February 2016
Every thing was well organized. Nice elephant ride in jungle river, stream, etc.. Nice rafting. Not much water this time of year, but they can't control that.Very good lunch.
We ask to complete the day by visiting hills tribes to see the long neck women and they organised that easily.
January 2016
Viewing how the elephants are cared for, feed, washed and played with was wonderful. Riding on them through the forest was such a unique experience and then up the river was unforgettable. Lunch was lovely after rafting down the river and we shared it with a great bunch of people. our visit to the Orchid farm on the way to the elephants was just beautiful and we snapped off many photos. great tour. thank you
November 2015
More than 60 minutes ride on a natural stream, several minutes on a 1m deep river.
October 2015
Great tour - lots of fun.
August 2015
Our tour guide PEO was absolutely the best! The elephant trekking was incredible through a jungle in the river. The raft down the river was pretty cool to. PEO Even stopped in the village to show us what it was like to live with the locals. It was very informative and a wonderful experience. Romantic, unique, and a special experience - and we even made wonderful friends with another couple on their honeymoon from Canada.
Advertisement
Advertisement