Learn traditional training techniques and watch these giant creatures in action during the Chiang Mai Elephants at Work Tour. Spend a memorable morning in the company of these magnificent creatures. Enjoy an up close look at these precious mammals with your
friendly guide. Ride atop their towering bodies and visit the breathtaking Mae Sa Waterfall and nearby orchid farm to round out this incredible Chiang Mai day.
Highlights
Learn about the traditional Elephant training techniques and watch the giant creatures in action
Have the opportunity to ride on an Elephant
Visit the beautiful Mae Sa Waterfall and an Orchid farm
Informative and friendly guide

Includes hotel pickup and drop off

Recent Photos of This Tour
What You Can Expect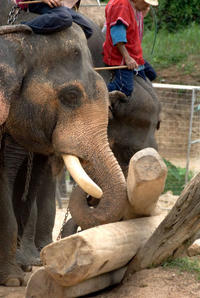 Even in modern Thailand giant elephants continue to be used as powerful beasts of burden. Enjoy this memorable Chiang Mai Elephants at Work Tour and get an up close look at these regal animals that have played a vital role in the nation's history.
Explore with your guide and learn about the traditional training techniques used to tame these wild giants. Ride atop these pleasant creatures (for an additional fee) and get a bird's eye view of life on top. Once you've had your fill of friendly elephants, pay a visit to the beautiful Mae Sa Waterfall and one of the region's numerous orchid farms to round out the day. Round-trip hotel transport is included in this one-of-a-kind tour.
April 2016
February 2016
Great tour, everything that I expected,great tour guide I was the only person on the tour highly recomended
November 2015
Fun trip the elephants were enjoyable to watch. A visit to the orchid farm was a plus.
July 2015
Punctual, courteous and knowledgeable. I was treaty very respectfully and given assistance when needed with traffic, seating, steps I can highly recommend the service
February 2014
Fabulous e is the only way I can describe this trip, to be snuggled by a baby elephant is indescribable !! This is definitely a trip worth going on, we would have liked to ave done the whole day trip but my husband has had major surgery, so we thought tis was second best.... It wasn't, it was an amazing experience.
June 2013
we were picked up on time in a van with 5 other people. we loved the small group experience. the elephants were marvelous and our hour long treck on top of one in the jungle was amazing. we had the added bonus of going to the butterfly farm, and one of the other couples wanted to go to tiger kingdom, so our tour guide took us, and while we didn't get down in the cages with the tigers, my husband and I did take many pictures of others doing that. I also had the chance to have a fish pedicure., which was fun, but I don't ever need to repeat. the tour, however was fabulous, and the company and guide were excellent. we used them again the next day to go to several local places and had a wonderful time.
June 2013
our tour guide made this good experience even better.
HIEN V France
January 2013
Amazing show by the elephants although I would have liked to get more comments about the training method.
Shaun K Australia
May 2010
Absolutley amazing show. Highlight of our trip to thialand, we were also given a chance to take a 1 hour elephant ride had to pay extra which we did and I would recommend to anyone also. Only downside was we felt we were rushed out afterwards without being able to buy soverniers, only to be taken to a "gift shop" down the road some way which was just overpriced market stuff not related to the elephant camp..
Elaine M Australia
March 2010
This was the very best one of our 7 tours. Elephants painting were mind boggling. No one believes us except that we have the photos to prove it and we were also there to experience it.
Advertisement
Advertisement