10 Reviews
Location:

Chiang Mai, Thailand

Duration:

4-5 hours
Explore the soul and spirit of Chiang Mai on this small-group cultural tour! Rise early and watch Chiang Mai come to life as you visit one of its liveliest markets. Enjoy a traditional Thai breakfast at a local market and get a glimpse of a typical morning routine. Gain insight into Chiang Mai's deeply religious culture by visiting two well-known Buddhist temples, and strike up a conversation with a monk.
Highlights
Chiang Mai morning culture tour, including Buddhist temples

Discover the cultural and spirit of Chiang Mai

Visit the vibrant Kad Thon Payom market and enjoy a traditional Thai breakfast

Enter the tunnels of Wat Umong and see the impressive Buddha images

See the picturesque Wat Suan Dok, with a collection of snow-white Buddhist stupas

Free hotel pickup and drop-off

Small group ensures personalized experience

Recent Photos of This Tour
What You Can Expect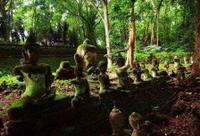 Your morning cultural tour of Chiang Mai starts as you jump aboard the songthaew, an iconic Thai passenger vehicle, and take a scenic drive down Suthep Road. Along the way, stop by Kad Thon Payom, a market renowned for its northern Thai cuisine and fresh fruits. See a variety of fascinating foods, from herbs to live fish to exotic fruits. Join in on the tradition of offering food to monks before enjoying a delicious Thai breakfast.

Continue on to Wat Umong, a 600-year-old Buddhist temple built in the foothills of Suthep Mountain and surrounded by forests. The most unique features of the temple are the tunnels that give the wat its name (umong is the Thai word for "tunnel"). Inside the temple, you'll see an impressive image of a fasting Buddha along with a large stupa (a mound-like structure filled with Buddhist artifacts). Keep your eyes open for the hundreds of Buddhist proverbs in English and Thai posted on trees throughout the grounds.

Then visit Wat Suan Dok, a 14th-century temple built in a forest grove for Phra Sumana Thera, a visiting monk from Sukhothai. The striking, white bell-shaped temple boasts a 20-foot (6-meter) Buddha. Wat Suan Dok is special because of its large prayer hall and the sides of the chapel, which are open instead of completely enclosed. Learn more about Buddhism by chatting with a Buddhist monk through the temple's Monk Talk program.
May 2015
This tour was amazing! We had a wonderfull guide who has told us and showed us so much about culture, buddhism and Chiang Mai. I would highly recommend it to anyone who wants to learn more about Thai Culture.
January 2015
I am so glad I booked this tour! The guide, Thongbang Thotsadon, was AMAZING! She came to pick me up right on time, at which point I discovered this was going to be a private tour. She was an absolute pleasure to speak with and so knowledgable! She took the time to get to know a bit about me and answered all my questions patiently and thoroughly.
The early wake up was worth it to go through the morning market to get breakfast for the monks. I got to give alms to the monks and get their blessing to start my day. Next, I got to experience a breakfast restaurant that was nearby. We then drove to Wat Umong and I was able to see the new monks bless the gifts they received and do a bit of ritual with them. We walked through the temple grounds and she explained a lot about Thai Buddhism to me and took me to the monk meditation caves where she and I had excellent discussion about meditation and the monk lifestyle. We next went to feed catfish on the nearby bridge and met another foreigner who was doing a meditative study stay at the temple.Thongbang took me to the meditation center and explained how I could arrange a stay the next time I was in Chiang Mai.
We next went to Wat Mahachula, which was celebrating its 30th anniversary as a monk and layperson university. I was able to speak with her former teacher and find out some information about studying at the school in English. We walked around the temple and she gave me the history of the structures there and of the Thai culture. I learned so much from her.
This is one of the best tours I have ever been on. Thongbang is a superb guide and so caring. She ensured I had a great experience In Chiang Mai.
January 2015
Trip Advisor Review:
What a well spent morning with Thongbang! She arrived on time to let me know I would be the only one on the tour but she still made sure I had every experience expected and more. As an avid photographer, she made sure I had the best opportunities and best positions to get some wonderful photos. She is also a great conversationalist and we had some good talks about life and our views of the world. Although I was somewhat familiar with Buddhism, she provided so much more information to help me understand this faith and philosophy better.
We started the early day at the market where we gave food to the monks, some barely teenagers and we received their blessing and I got some good photos. Just wandering through the market with a local guide to explain was a good experience in itself.
We spent a good bit of time at the Forest Temple and I even got to present the monks with food for their breakfast. They were so friendly and the place so peaceful. Although part of the city, it was an oasis of quiet and solitude. We were also fortunate to catch an ordination ceremony and we watched the young men getting their heads shaved as their families looked on with such pride. Next she took me to a more urban Temple and, again, luck was on our side as they were celebrating the 30th anniversary of the Temple with many dignitaries and much color. I even got to meet one of her old teachers who was a delightful, friendly monk. They were also having an art show with some excellent paintings by students and monks.
We ended the morning with coffee and more good conversation before I was returned to my hotel.
Many people come to Chiang Mai just to have "fun" but there's so much to learn about another culture and this tour is the perfect way to learn. Thongbang is a great teacher as well as guide and I learned much on this tour.
Visited December 2014
February 2014
Very informative. Exceptional tour guide. Answered all of my questions in detail. She was very patient with me. We purchased food, then gave it to the monks and received a blessing. We went to a novices breakfast and listened to the elder state his prayers and instructions, then we were able to photograph the monks as they ate their morning meal. It was an extraordinary tour; I recommend it highly.
January 2014
Up close and personal, loved it!
January 2014
This was great! A brief, informative and varied tour of the city and a great sampling of the cultural goodness available. Our tour guide was lovely and knowledgeable.
August 2012
This is a must do tour, great value for money. The guide was excellent and it is was great to not only learn about the culture but also to exerience a small part of it!
Megan, Australia
July 2013
Enjoyable morning and friendly guide. Thai breakfast was fine. Interesting to see the monks start their day, but this tour may not be for everyone.
April 2013
If you are the slightest bit interested in Thai and Buddhist culture then this is the tour for you. Very interesting to see Buddhist practices up close and take part in some of these. Very welcoming guide that helps immerse you in the Thai culture, highly recommended.
January 2015
Very good tour. Was fun watching Chiang Mai come to life in the morning. Tour guide was friendly.
Advertisement
Advertisement