Travel from Chiang Mai Airport to your Chiang Mai City Hotel. Transfer services are available 24 hours a day, 7 days a week.
What You Can Expect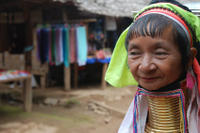 When making a booking, you will need to advise your flight details and your accommodation details. Your private transfer will be confirmed immediately and you will be provided with a travel voucher to present to the driver.

Price is per person, based on 3 to 6 adults per car/vehicle.
April 2014
Although our arrival was near midnight the vehicle was reading and waiting. The guide met us at the arrival area and was very helpful in loading our luggage.
July 2013
Escort and driver were waiting as we exited customs. Quick and easy transfer to our hotel. Highly recommend if you are a first time visitor to Chiang Mai.
March 2011
Picked up immediately on arrival through security, airport not a long distance, however driver very professional and found hotel without delay.
June 2010
The tour operator helped and organised other tours. They are great!
February 2014
on time and was very informative. ended up helping with an additional add on tour. highly recommend based on the service
January 2012
Operator on time but pushy. Followed us up to reception and did not seem to comprehend we wanted her to go. She insisted on dealing with the other tours we booked despite our desperation to get to our room after a day of travel
June 2010
The process of the driver booking us into the hotel is so frustrating. It takes too long with the back and forth, do you want this or do you want that then you still have to go to the check-in desk and hand over the CC. It would be quicker and easier to do it yourself.
Advertisement
Advertisement