Experience the beauty and mystery Thailand's most impressive and historic Buddhist temples on this private tour from Chiang Mai. Travel with your expert local guide on a half-day excursion that includes round-trip hotel transport with the option of morning or afternoon departure. Get an up close look and behind the scenes insight as your travel through some of the north's top attractions with your friendly private guide.
Highlights
Your own private guide

Visit the impressive Buddhist temples of Chiang Mai on this private half-day tour
Choice of morning or afternoon departure
Includes hotel pickup and drop off
Recent Photos of This Tour
What You Can Expect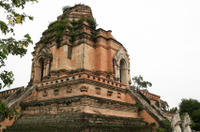 More than 36 wats exist within the old city walls and even more spread out over the stunning countryside surrounding Chiang Mai. Follow your expert guide on this private tour of Chiang Mai City and Temples and see some of the top attractions of northern Thailand. Visit the summit of Doi Suthep, a 5300-feet peak where the 600 –year-old temple of Wat Phrathat Doi Suthep. You'll explore the enormous dragon-headed serpent known as a Nagras as you make your way to the mountain's peak using the 306-step staircase. Look out over epic Chiang Mai landscapes with incredible temple views once you reach the summit.
Your guide will also take you to Wat Chedi Luang temple, which was built in 1411. It once reached a height of 278 feet but was partially destroyed by an earthquake in the mid-1500s. You'll see the city pillar and learn about the guardian spirits that keep the temple and its worshipers safe.
Mandi Australia
June 2016
Our private tour with Roong from Tour East was fabulous. She was incredibly knowledgeable about the temples and the area's history which we loved. We had an air-conditioned van and enjoyed being showed around the old city. We fell in love with Chiang Mai.
Roong even suggested a great restaurant to us as a locals favourite 'The River Market' and it was possibly some of the best food we've ever eaten.
Booking through Viator was really easy and we could pay in advance so we didn't dig into our spending money
May 2016
The guide Bua and driver arrived punctually. The guide's English was very good. The car we travelled in was clean and either reasonably new or very well maintained. The guide ran the tour at the pace that suited us. With only wife and I on the tour, we struck up a rapport and it became like being shown round by a friend or family member. We found the stops very interesting and I'm sure the tour went on longer than was originally scheduled. Very enjoyable and enlightening.
May 2016
Amazing and worth every penny!
December 2015
Great tour and guide. We went to number of prominent temples and enjoyed having own guide with family to keep you fully informed. Well worth the money.
August 2015
Fabulous tour and our guide was phenomenal!
March 2015
Our tour guide, Noy, was absolutely amazing. She was very knowledgeable in Buddhism and the different temples. She was friendly and went out of her way to help us buy local food at vendors. The tour gave us a better understanding of the culture in Chiang Mai.
January 2014
Truly amazing experience. Private tour guide provided invaluable information. Spoke very good English.Pick up to and from hotel made life easier. He arrived on time and was very receptive to our questions. It felt like a very personal and comfortable experience which I would highly recommend.
August 2013
Loved our tour guide and seeing the city and all the temples was completely unforgettable. It will stay etched in my mind forever.
July 2013
This tour with great. The guide was really knowledgable and customized the tour when we asked to visit a temple not on his itinerary. The scenery is beautiful and I feel we would have missed a lot without a guide.
July 2013
Great tour fab day guide was super, great day
Advertisement
Advertisement