Leave the busy city of Chiang Mai for a day of fun activities in the countryside. Get a taste of rural life as you bike down country roads lined with rice paddies, Thai temples and local homes, ending at the lush Tweechol Botanic Garden. Refuel with an authentic Thai buffet lunch, then head to Mae Sa Valley for an exciting afternoon of ziplining. Your tour includes an expert guide and driver, lunch, activities, and hotel pickup and drop-off.
Highlights
Full-day private zipline and bike tour in the Chiang Mai countryside
Take in the rhythms of daily life in the rural outskirts as you cycle past colorful temples, lush rice paddies and small markets
Explore the extensive Tweechol Botanic Garden with your expert guide along easy cycling paths
Learn about Lanna (northern Thai) culture at the museum and architectural display inside the botanical garden
Soar through the jungle of Mae Sa Valley on ziplines and master the art of high-flying fun
What You Can Expect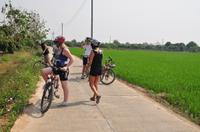 Your full-day tour starts with morning pickup at your Chiang Mai hotel and transfer by air-conditoned minivan to the city outskirts.

Get fitted with your bike and helmet, and receive a safety orientation from your guide. Then follow your guide into the Thai countryside, taking quiet roads that pass by vibrant local markets, rice fields dotted with water buffalo and glittering temples. Enjoy regular stops for photo ops, water breaks and a chat with a monk at a local temple.

Ride into Tweechol Botanic Garden, which contains a series of botanic gardens that are organized in themes, with paths connecting the different sections. Pedal through a spectacular rose garden and breeze past a small waterfall and koi fish pond in the orchid garden. Traditional wooden Thai houses are exhibited in the garden, providing a glimpse of Lanna culture. Change your bike for a pedal boat to glide around a tranquil lake in the garden.

Take a break for a delicious Thai buffet lunch, then head to Mae Sa Valley where you take to the trees for a thrilling ziplining activity. Before discovering your inner Tarzan, receive a safety talk, harness and other gear. Your expert guide then walk with you to the first platform and show you the mechanics of braking and slowing down.

When you're ready, your guide clips your harness into the safety line and you hop into the air. Fly from platform to platform on 16 different ziplines, sailing through the treetops like a bird. Try other aerial challenges such as attempting to keep your balance while crossing a bridge of rotating logs.

At the end of your adventurous day, your guide returns you to your Chiang Mai hotel.
December 2013
We were met at our hotel and was taken to the Botanical gardens where we picked up our bikes. The bikes were not the most comfortable and only after 30 mins my husband was very uncomfortable. They need to have padded seats! We cycled around the botanical gardens which was quite nice and then went on a paddlow, which for us was not what we wanted to do, but if you had children perhaps would have been fun. We then cycled out of the botanical gardens and went along the main road only a short distance until we turned off down a little road and which took us to the rice fields. We kept stopping at small places, where they made wooden figurines, and paper making which we weren't really interested in. There wasn't much cycling really and was disappointing. We stopped at a restaurant for lunch but it was closed so we were taken by car to another restaurant which was also closed. Third time lucky but the restaurant was on the side of a major road, not ideal. Disappointed with the cycling although we did get to see some nice scenery. The Zipline Adventure was fantastic. After being scared/nervous at the height and walking off the platform for the first couple of times, after that it was just brilliant. Enjoyed it very much and great being so high up in the forest. Our two guides were great and spoke good English. Very enjoyable afternoon. I would give the cycling 2 stars and the zipline 4 stars.
Anonymous
October 2013
We took a 20km cycling tour around Chiang Mai's botanic gardens and the surrounding countryside, both beautiful places to cycle. A leisurely boat paddle and the feeding of animals within the botanical gardens was also included in the tour - a lovely surprise that we didn't expect but certainly worth doing. The team took great care of us. Not only did they easily accommodate our heights with the bicycles provided, provided us with fruit breaks and gave us recommendations for dinner, but they also provided us with great insights into everything we were seeing, including local history, knowledge and introductions to the local people. The lunch stop on the tour was also excellent. So many times on tour is one disappointed with the lunch provided - usually another production styled tasteless buffet. The restaurant we were taken to provided individual service and used only the freshest of ingredients. An excellent reward to the hard peddling we just endured in Thailand's heat. Thanks Would recommend the team to anyone.
June 2015
Lots of fun! Be ready for an adventure for most ages.
April 2015
We were picked up from our hotel, and lucky for us, our guide handed us a print out of the itinerary fairly quickly as it was WRONG. He then spent considerable time trying to call people to find out what to do as we had already done everything on the itinerary he had been given. We eventually made it to the zipline adventure, though encountered delays as they were expecting us in the afternoon, not the morning. Ziplining was awesome and I'd highly recommend it. However, due to the stuff up we then had to do our cycle tour in the afternoon heat and it was a killer. Would have been far more enjoyable in the morning, as per our purchased itinerary. Our guides on the cycle tour Franz and George were just lovely and very knowledgable. The two activities themselves were very enjoyable however it was extremely frustrating that our itinerary was mixed up and took some time to get to the bottom of the situation.
Advertisement
Advertisement