Travel by local train to Lamphun, the ancient capital of the Hariphunchai Kingdom, on this comprehensive private tour from Chiang Mai. During your in-depth exploration of the historical town, your private local guide will introduce you to major attractions—including several Buddhist temples, two markets, a museum, and a longan plantation and winery—before you return by private, air-conditioned car along the scenic Ping River. Enjoy a delicious Thai lunch and local snacks as well as longan wine tasting!
Highlights
Private full-day sightseeing tour of Lamphun from Chiang Mai
Ride a one-way train to rural Lamphun and return on a scenic drive along the Ping River
Visit several Buddhist temples: Wat Phra That Hariphunchai, Wat Phra Yuen and Wat Chama Thewi (popularly called Wat Kukut)
Learn about the Tai Yong culture at a textile museum with your knowledgeable private guide
Sample snacks at Lamphun's fresh food market and enjoy a tasting of longan wine
Eat a noodle dish for lunch and delight in the flavors of northern Thai cuisine
Hotel pickup and drop-off by air-conditioned private vehicle included
What You Can Expect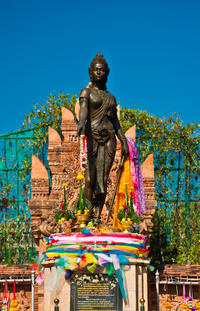 Lamphun, among the oldest cities in Thailand, was called Hariphunchai before it was besieged in the 13th century by a Thai kingdom.

Your private guide will greet you at your hotel at 8:30am and transfer you to the Chiang Mai railway station for a local train departing at 9:30am. Enjoy the scenic 30-minute ride before arriving in Lamphun, where a private driver awaits. The first stop on your private sightseeing tour is Wat Phra Yuen, one of oldest temples in northern Thailand. Here, you'll find four tall Buddha images standing within a chedi (stupa) amid the palm trees.
Your guide will point out Ku Chang, a chedi containing the relic of the war elephant of Chama Thewi, the first queen of Hariphunchai. Climb the old city wall before continuing to Wat Phra That Hariphunchai, the most venerated temple in Lamphun. Dating back to the Mon kingdom, the temple was built on the site of Queen Chama Thewi's palace in the 11th or 12th century.
Walk with your guide to a nearby market where you'll find many locally made and marketed OTOP (One Tambon One Product) items for sale. Learn about this unique entrepreneurial program, which improves the quality of local products from village communities in each tambon (subdistrict).
Enjoy a steaming bowl of khao soi, a Thai noodle dish that contains pickled cabbage, shallots, lime, ground chilies and meat in a curry sauce with coconut milk—delicious! After lunch, visit a museum with exquisite Tai Yong textiles on display. Your guide will share historical and cultural information about Lamphun's inhabitants, most of whom descend from the Tai Yong, an ethnic group from northern Burma (Myanmar). Then continue to the local fresh food market of Lamphun for a snack of local specialties and a chat with the vendors.
Leaving the market, you'll have the opportunity to burn some incense and candles at the statue of Queen Chama Thewi before making your way to Wat Chama Thewi (Wat Kukut), one of the oldest religious structures in Lamphun. Once you spot multiple standing Buddhas peeking from the niches of the temple's tall chedi, hop back in your private vehicle for the scenic drive back to Chiang Mai.
Your driver follows the railway line to Ban Umong for a final stop at a shop, where you'll enjoy a tasting of the famous longan wine, made from the longan or lam yai—the area's prolific fruit, similar to lychee. Visit a longan-processing factory and a longan plantation before returning to Chiang Mai, following the scenic Ping River back. If time allows, make a final brief stop at a lively local market along the way before drop-off at your hotel.

April 2015
The tour was great our guide was full of local knowledge and knew the history of the sites we visited. He helped us with our attempts to learn Thai and waited while we took endless photos.
March 2015
We loved every bit of it. Special thanks to our guide for introducing us to the yummy drink at the temple. She was very knowledgeable and helpful. From now on khao soi will be a regular feature on our menu!
August 2015
It was a relaxed day, but we were disappointed that the train ride only lasted 30 minutes. The scenery wasn't anything special. Our guide Narong was good and informative. We enjoyed a traditional lunch with him. Be prepared to see a lot of temples. However, all far less crowded than in Chiang Mai. We thought the election of wines on offer at the wine tasting were almost unpalatable, although the wine makers were very hospitable. It was interesting to see a provincial town.
January 2015
Not bad. The tour guide was very knowledgeable and informative about the temples and culture. I enjoyed helping to give an offering at one of the temples.We enjoyed the lunch in the noodle shop and the visit to the markets. Unfortunately, the guide and the driver did not seem as knowledgeable about how to get to places. We were constantly driving around in circles, with them asking the way all the time. We were looking forward to the visit to the longan wine making co-op which was an inclusion in this tour, only to find when we got there that it was closed. We received an apology, but in my humble opinion, if it is a tour inclusion and we are paying for it, they should at least be making arrangements and checking ahead of time to make sure there are no glitches. That is called professionalism.
February 2015
The tour was a useless tour. Nothing worth writing about. The main attraction, ( Longan winery, plantation, and processing factory ) was closed. And the company and the guide was supposed to check beforehand, and NOT the same moment that we were supposed to make the visit. They did not even offer an alternative visit. Something that we had already paid for and did not recieve.
Beeing a PRIVATE TOUR, the guide rushed us through the temples and the markets in a flash, not beeing able to take photos comfortably. However, the guide was very knowledgable and fun, thus making this horrible waste of a tour bearable.
Lunch was horrible. In a restaurant which was NOT even a restaurant ( it was a grocery store that served some kind of food) and gave us upset stomach for the rest of the tour. The bottled water was another joke. We had to buy bottled water from stores, because they were kept in a closed car with almost 35 degrees, and the bottled water was HOT water.
The textile museum was a joke, with only 1 woman at the textile machine and the rest on a lunch break. Again, the guide and the company were supposed to find out when they are on or off to take us there. It is NOT that difficult to organize something for only 2 pax ( especially when the tour was booked and paid for 3 months in advance ).
I would definitely NOT recommend this tour to anyone. It was a waste of money and time.
Advertisement
Advertisement