The Mae Kok River, 80 miles long, running through the heart of Chiang Rai, is said to be one of the most beautiful and unspoiled rivers of the world. It flows gently along jungle banks and towering mountain cliffs. Along its route lie several hilltribes and jungle-tribes of Chiang Rai. The people are friendly and the life aboard the raft relaxing.
Highlights
Your own private guide

Cruise down the picturesque Mae Kok River on a traditional long tailed boat
Be spoiled for culture when you visit the Karen, Yao and Akha Hilltribe villages
Embark on an adventure trekking through the woods on an Elephants back
Lunch is provided

Includes hotel pickup and drop off

What You Can Expect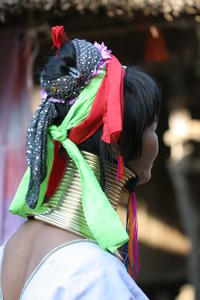 The many hilltribes who inhabit the area have long trudged the mountain passes between Northern Thailand and their home villages in Burma and China. Each tribe is district, with its own culture, religion, language, art, and dress and on today's journey you will have the opportunity to meet an array of cultures.
First on this private tour you will leave the hotel for Mae Kok boat trip by long-tail boat to the Karen Hilltribe Village, where you start two hours elephant trekking up and down hill into the woods, to a Yao Hilltribe Village. Lunch will be provided and your private guide can give you a greater insight into today's touring.
After lunch visit Yao and Akha Hilltribes, both fascinating people. Then trek to a waterfall, where you can swim and take a short rest. Return to your hotel, enroute visit Chiang Rai Handicrafts Center.
July 2010
Excellent, excellent, excellent!!!!!! Everything about this tour was fantastic!!!! Our tour guide was fabulous. He actually walked the entire elephant trek and was very informative about the areas we visited. What a trooper! I recommend this tour to everyone... but also warn that they should be prepared for a bit of a rough elephant ride no complaints here - it was wonderful.
October 2012
Wonderful! The boat ride has beautiful scenery! The mountains! The visit to the tribes is interesting, but I guess I was expecting more. I don't know why I was expecting the elephant ride to take to the hilltribes. But it's separate. The ride is long and do take sunscreen and a hat. If its sunny, you will bake. The waterfalls were wonderful, specially after the elephant ride. But overall, it was a great experience. Lunch was really good..
Advertisement
Advertisement