Savor a half bottle of bubbly as you take in spectacular views of the city from 360 Chicago (John Hancock Observatory) with this convenient package. From your vantage point 1,000 feet (304 meters) above the Magnificent Mile, admire top Chicago attractions such as Navy Pier and the Willis (Sears) Tower. Enjoy your half bottle of Italian Prosecco, making toasts high above the hustle-bustle of the streets. This experience, not available for purchase at the tower, is an ideal way to relax and get your bearings or cap off a special night in the city.
Highlights
Admission to 360 Chicago (John Hancock Observatory) and a half bottle of Prosecco
Ascend to the top in North America's fastest elevators and marvel at stunning views in every direction
Admire landmarks including Willis (Sears) Tower, Navy Pier and Lake Michigan

Indulge in your half bottle of Italian Prosecco and opt to use interactive screens and telescopes to discover the sights of Chicago

Savor the thrill of the open-air Skywalk!

Awesome way to turn your visit to this popular tourist attraction into a luxury experience

What You Can Expect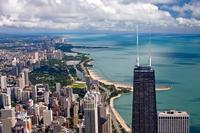 Hand in your ticket when you arrive at the centrally located 360 Chicago (John Hancock Observatory), and receive a voucher for your half-bottle of Italian Prosecco. Step into an elevator that will whisk you up to the 94th floor at a speed of 20.5 mph (33 kph). At the Lavazza Espression Cafe, present your voucher to receive your Prosecco and two glasses.

Take your time drinking your bubbly while admiring 360-degree views of Chicago from the floor-to-ceiling windows. Appreciate the majesty of the buildings all around you in the daytime, and delight in a sea of glittering city lights at night. See Chicago landmarks including the expansive Lake Michigan; the vibrant Magnificent Mile with its many shops and bars; Navy Pier, the city's most-visited tourist attraction; and another famous Chicago skyscraper, Willis (Sears) Tower.

Dare to take a stroll on the open-air Skywalk, where you'll enjoy unobstructed views of the Chicago skyline and feel the wind on your face. Or take the multimedia Sky Tour, a combination of an audio tour available in seven languages and interactive screens that allow you to zoom in and out of famous locations all over the city (additional fees apply).

Make sure to check out the 80 foot-long (24 meter) wall with murals depicting Chicago's colorful past, and have a souvenir photo taken in which you appear as a 360 Chicago (John Hancock Observatory) window washer.

After you finish your Prosecco, you may want to also indulge in gelato, coffee, cocktails or a cafe menu created by 3-star Michelin chef Ferran Adria (own expense). When you've had your fill, head back down to the Magnificent Mile where you'll have plenty of choices for filling the rest of your day or night.
October 2015
April 2015
The view was absolutely stunning. I loved looking over the whole city. The lights were so bright. I would most definitely do this again. The wine was Ok. I think everyone that comes to visit Chicago should most definitely do the john Hancock observatory. I give it 2 thumbs up!!
February 2015
Tour was okay. And that's being very generous. Had to ask for bottle of wine. Employees didn't offer any info on what we were seeing. Cafe was closed for renovations, which was not told when booking tour.
August 2014
There is nothing to tell you that purchasing ONE of these tours will admit TWO people to Chicago 360. My two friends and I each purchased a tour, only to find out that each was good for two. When we arrived, the cashier was not very familiar with how to do it, but she called a manager over and was able to generate our tickets pretty quickly. However, nobody really told us where to go after that, so we kind of wandered until we found the elevators that would take us up. When we reached the top, the views of the city were spectacular! Really stunningly breathtaking. However, we still did not know where to go to get the Prosecco. We finally asked someone, and even though he didn't know, he did find out for us (even though he had to leave his station) which I thought was really above and beyond, and I really appreciated. When we reached the bar, we were told that they were out of Prosecco. The bartender told us that there had been complaints about the Prosecco not being very sweet anyway, and she offered us champagne instead, which we happily accepted. Unfortunately, the champagne was TERRIBLE. It was undrinkable (and I have consumed some pretty bad drinks before). It was not sweet at all - which would be fine if we had been served a dry wine - but this was champagne that was supposed to be replacing a Prosecco that "wasn't sweet enough". Overall I'm giving two stars - as the views were great, but the Prosecco (or - in our case - champagne) portion was a real bust, and definitely not worth the money. In addition, we bought 3 more tickets than necessary, because Viator does not state that each purchase will admit two. In fact, if you put "2" in the section where it asks how many adults, it will double the price! (I tried it after the tour.)
Advertisement
Advertisement