Tower above Chicago's world-famous skyline and Lake Michigan as you enjoy breathtaking views from atop 360 Chicago (John Hancock Observatory). Ascend 94 stories to the observation deck of one of the tallest buildings in North America aboard its lightning-fast elevator, then check out incredible bird's-eye views of landmarks like the famous Willis (Sears) Tower, the scenic lakefront shoreline and the magnificent architecture of the Windy City. A variety of on-site interactive touch screens and educational exhibits help put your visit into context.
Those interested in seeing both a day and nighttime view should check out the optional "Sun & Stars" package, offering two visits to the observation deck within 48 hours.
Highlights
Admission to the 360 Chicago (John Hancock Observatory), located above the Magnificent Mile

Ride to the top in North America's fastest elevators, which rise 1,000 feet (305 meters) in 40 seconds!

Enjoy breathtaking 360-degree views of the Chicago skyline and Lake Michigan

Enjoy access to Architect's Corner and free Wi-Fi
Upgrade to the Sun & Stars option or the Total Tower Experience

Recent Photos of This Tour
360 Chicago Observation Deck (formerly John Hancock Observatory) Admission
What You Can Expect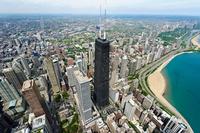 Enjoy the high point of your Chicago visit (literally) with this admission to 360 Chicago (John Hancock Observatory), 94 stories up in one of the country's tallest buildings. Anyone looking to get an incredible view of the unique lakefront landscape and scenic architecture of Chicago will enjoy this sky-high excursion.
Make your own way to the 360 Chicago entrance, conveniently located along Michigan Avenue. You can choose to visit any time during the site's hours of operation. Once inside the building, step into a high-speed elevator that will whisk you more than 90 stories above the ground at a speed of 20.5 mph (33 kph). As the doors open, make your way to the floor-to-ceiling windows as you enjoy incredible aerial views of the Windy City in all four cardinal directions.
Depending on the time of day you visit and the season, you'll see all manner of interesting highlights. Morning and afternoon tend to give Lake Michigan a richer blue tint, while sunset offers the perfect opportunity for a romantic moment with that special someone. After dark, the city literally sparkles down below with a sea of lights.
In addition to great views, 360 Chicago offers a number of interesting on-site amenities. Play around with the interactive touch screens, allowing you to zoom in and out of various landmarks visible from above. You can even test you knowledge on a series of fun digital games that explore the city. The guide features seven different languages, and a child-friendly version just for kids.
Before you leave, don't forget to stop for a photo opportunity to pose as one of the building's window washers, a fun memento that is available for purchase. Those who have worked up an appetite from the high altitude can stop by the Architect's Corner for a delicious array of gelato, Italian coffee, cocktails and light bites.
Upgrade
: Additional admission options are available to make the most of your visit.
The Sun & Stars option is good for two visits (valid for 48 hours) to the observatory providing opportunity to enjoy Chicago views by both day and night

DelWill4 USA
June 2016
We did this one at night. It was amazing! The Chicago skyline is absolutely stunning. What a beautiful city! I got on the tilt ledge and that was very unnerving, I had to sit down, but it was a lot of fun too. Would recommend! Courtney and Alex
June 2016
June 2016
Well worth it. I loved seeing the whole city from that high up. Definitely print your tickets out because they do not acccept phone vouchers. There is a fedex to print at the building but it takes time. Overall loved it.
May 2016
Didn't manage to go on this tour due to bad weather but later we booked dinner two levels down in the restaurant. The view is breathtaking definitely recommend a visit!

October 2015
The views from the 360 Chicago are absolutely stunning! I chose this tour rather than The Willis Tower. Had an old family friend fly in to Chicago from Spain and her breath was taken away and was probably one of the best items checked from our excursions! A MUST SEE!!! Will definitely be back.
September 2015
Booking was done very easily. Recommend doing the audio tour.
August 2015
I went as it was getting dark. Beautiful watching all the lights come on throughout the city and the outlying areas.
June 2015
February 2015
The staff at 360 Chicago were helpful and courteous. The observation was enhanced by the screens that helped us identify landmarks; the creators of this feature are to be commended. Parking was easy; we also appreciated the guest discount for parking. We'll definitely return to 360 Chicago!
February 2015
I always enjoy my visit to Chicago!!! It is my home town and I come back to visit every few years. I enjoyed my visit to 360 Chicago very much. It was an unbelievably clear, clear day so I enjoyed it even more. I didn't have enough nerve to try the "tilting" enclosure, but, it was still a great day. Everyone that I dealt with was very nice.
Priscilla G., San Francisco Bay Area
Advertisement
Advertisement