13 Reviews
Location:

Chicago, Illinois

Duration:

Flexible
Be transported to the outer reaches of the Universe on a visit to Chicago's Adler Planetarium and Astronomy Museum, the first planetarium in the United States. Since 1930 the country's oldest planetarium has been delighting audiences with the spectacle of the night sky. Visit The Universe: A Walk Through Space and Time, Atwood Sphere Experience, Shoot for the Moon exhibit and choose from a range of Sky Shows in Grainger Sky Theater, Definiti Space Theater and Johnson Family Star Theater.
Highlights
Admission to Adler Planetarium, Unlimited Sky Shows and Historic Atwood Sphere Experience

Explore and learn about space at the most advanced and oldest planetarium in existence today
Visit a variety of exhibits including Clark Family Welcome Gallery, Planet Explorers, The Universe: A Walk Through Space and Time, and shows

See a Sky Show in the Grainger Space Theater, Definit Space Theater and the Johnson Family Star Theater

What You Can Expect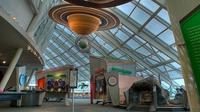 On your self-guided tour you'll visit the historic Atwood Experience identifying the positions of the brightest stars in the night sky and constellations they form. You'll also visit Shoot for the Moon, highlighting the exciting stories of space exploration and America's bold plans to travel to the Moon.

In Adler's newest exhibit The Universe: A Walk Through Space and Time, be transported to the distant corners of the cosmos and witness how the Universe evolved over 13.7 billion years - from the Big Bang to modern day. Additionally, see a Sky Show in the Grainger Space Theater, Definiti Space Theater or Johnson Family Star Theater. There are over five Sky Shows to choose from and you can select which you would like to see upon arrival.

The Adler Planetarium is fun for the whole family and a great way to get a closer look and explore what's beyond our planet.
Itinerary
Shows and Exhibits:

Destination Solar System - Take a trip to the future with Destination Solar System, a live show that takes explorers to the hottest spots and the coldest, most spectacular nights.

Cosmic Wonder - Take an exciting journey of discovery as the world's most technologically advanced dome theater transforms into a virtual observatory in Cosmic Wonder.

Historic Atwood Sphere Experience
Atwood Sphere, Chicago's oldest planetarium, was constructed in 1913. The sphere is 15 feet in diameter with 692 holes drilled through its metal surface, allowing light to enter and show the positions of the brightest stars in the night sky.

The Universe: A Walk Through Space and Time - Explore the big questions - How large is the Universe? Where did it come from? Are we alone? Encounter the Universe from its meager beginnings and see how galaxies, starts, planets - and even the very atoms in our bodies - were created as the Universe grew. Explore regions farther than our Solar System, billions of light-years from Earth to the edge of the cosmos. Then zoom from one wondrous location in the Universe to another and investigate the most diverse and beautiful objects in deep space in ultra high resolution from the world's best telescopes.

Planet Explorers - Adler's newest exhibit lets families with children ages 3 - 8 take the helm in this modern-day space adventure. Future space explorers will enter a world where they can play and learn what it takes to be part of a mission to outer space. Through role-playing, children will become space scientists, astronauts and space explorers. The exhibition covers many aspects of space exploration including mission control, space flight and exploring a mysterious, distant body known only as Planet X.

Night Sky Live! - Take an in-depth journey through the cosmos with Night Sky Live! With the help of modern exploration and observing techniques, this show gives the audience a deeper look at the sometimes strange, and often breathtakingly beautiful, diversity of objects that make up our universe. Night Sky Live! is an original live sky show created by the Adler Planetarium to reflect our ever-changing understanding of the cosmos.

Undiscovered Worlds - Through the discovery of exoplanets — hundreds of planets found orbiting far-away stars — we have learned our solar system is not alone in the universe, causing us to redefine our understanding of planets and solar systems. With new instruments like the Kepler Telescope and rapidly improving technologies, the discovery of exoplanets puts us one step closer to finding an Earth-like world. Will this change how we view our place in the universe?
August 2015
Great tour of Adler with all shows included. Highly recommend this to visitors and residents of Chicago area.
August 2014
July 2014
February 2013
It was very nice. If you didn't know anything about the stars, it was very educational.
July 2012
We had an excellent time and it was nice
to have our tickets in hand when we arrived. Thanks for your help!
June 2012
Adler Planetarium is excellent and we all enjoyed it. The Sky show in 3D was the highlight.
August 2011
Very helpful staff. Excellent show, worth the money.
August 2015
Planetarium is awesome, recommend it for all, have GREAT areas for kids to interact also, great shows
October 2012
I was looking forward to this visit and it did not disappoint. Need to plan your visit in order to balance the shows and view the exibits. Give yourself plenty of time because there is a lot to see.
When wew were here in October the Cafe closed at 14:30 so we were unable to get lunch as we had been at a show for the previous hour.
August 2011
Children's play area is excellent
Sesame Street Movie and Whoope wonderful
Food very nice, well prepared and priced
Sphere was well done!
Advertisement
Advertisement