Explore the outer reaches of the universe with this admission ticket to Chicago's Adler Planetarium, the first planetarium in the United States. Learn about space at the most advanced and oldest planetarium in existence today, with a plethora of shows and exhibits to delight visitors of all ages. Discover must-see shows like Cosmic Wonder, Destination Solar System and Skywatch Live and exhibits like Mission Moon, Our Solar System and the Universe: A Walk Through Space and Time. Admission includes choice of two Sky Shows and tour of historic Atwood Sphere.
Highlights
Admission to Adler Planetarium, Unlimited Sky Shows and Historic Atwood Sphere Experience

Explore and learn about space at the most advanced and oldest planetarium in existence today
Visit a variety of exhibits including Clark Family Welcome Gallery, Planet Explorers, The Universe: A Walk Through Space and Time, and shows

See a Sky Show in the Grainger Space Theater, Definit Space Theater and the Johnson Family Star Theater

What You Can Expect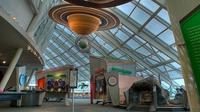 Chicago's Adler Planetarium is America's first planetarium and a premiere resource for inspiring the next generation of space explorers with its many must-see live shows, exhibits and events.
With this full-day admission ticket, enjoy the benefits an Anytime All-Access Pass provides at the world's most advanced planetarium. Discover all the live shows, including Cosmic Wonder, a journey to the deepest reaches of space, from the birth of stars to the mystery of dark matter; Destination Solar System, a breathtaking tour of the sun, moon and planets in the year 2096; Skywatch Live, the premiere planetarium experience that navigates the abundance of objects that make up our universe and many more.
Also, see all the exhibitions. At Mission Moon, find out how the United States became the first nation to put a man on the Moon, what it's really like to be an astronaut and why it takes an entire team to explore uncharted worlds. In Our Solar System, touch a piece of the Moon, the planet Mars or a distant asteroid. And at the Universe: A Walk Through Space and Time, travel to the distant corners of the cosmos and witness how the universe evolved more than 13.7 billion years ago, from the Big Bang to this morning's sunrise.
Additionally, enjoy access to the historic Atwood Sphere — to experience the night sky over Chicago as it appeared in 1913 — and select two Sky Shows upon arrival.
Hungry? Visit Café Galileo's by Food For Thought for a relaxing lunch of soups, sandwiches, salads, flatbreads, beverages and desserts — and the best view of the beautiful Chicago skyline. On the way out, stop by the Adler Store for educational toys and games, space books and videos, official Adler gear and much more.
August 2015
Great tour of Adler with all shows included. Highly recommend this to visitors and residents of Chicago area.
August 2014
July 2014
February 2013
It was very nice. If you didn't know anything about the stars, it was very educational.
July 2012
We had an excellent time and it was nice
to have our tickets in hand when we arrived. Thanks for your help!
Dipannita B India
June 2012
Adler Planetarium is excellent and we all enjoyed it. The Sky show in 3D was the highlight.
David M United Kingdom
August 2011
Very helpful staff. Excellent show, worth the money.
August 2015
Planetarium is awesome, recommend it for all, have GREAT areas for kids to interact also, great shows
Phil Ireland
October 2012
I was looking forward to this visit and it did not disappoint. Need to plan your visit in order to balance the shows and view the exibits. Give yourself plenty of time because there is a lot to see.
When wew were here in October the Cafe closed at 14:30 so we were unable to get lunch as we had been at a show for the previous hour.
August 2011
Children's play area is excellent
Sesame Street Movie and Whoope wonderful
Food very nice, well prepared and priced
Sphere was well done!
Advertisement
Advertisement