Explore the Art Institute, Chicago's world-class art museum and the second-largest in the United States, with this admission pass. Situated in Grant Park, the museum's incredible range of impressionist, post-impressionist, modern and contemporary works is near the top of the list of Chicago's must-see sights. Among the artists on display are works by Pollack, van Gogh, Renoir, Monet and Picasso plus, plus a striking new Modern Wing and cutting edge graphic and industrial design.
Highlights
Admission to the Art Institute of Chicago, located in Grant Park
Browse an extraordinary collection of Impressionist and modern art
Admire masterpieces by artists such as Monet, Renoir, Seurat, van Gogh, Chagall and Pollock
Complimentary tour available daily at noon; guests under 14 years of age receive free admission!
What You Can Expect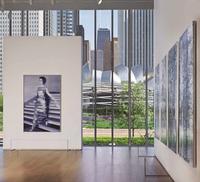 Step into the halls of one of America's most famous art museums as you explore the world-class collections at the Art Institute of Chicago. Art and culture-lovers are sure to enjoy this admission ticket, allowing a chance to wander the museum's halls of priceless art by masters like Picasso and Monet at your own pace.
Start your visit any time during the museum's regular hours of operation. Once inside, explore the Art Institute's unsurpassed collection of impressionist and post-impressionist masterpieces, covering such luminaries as Claude Monet, Georges Seurat and Vincent van Gogh, Pierre-Auguste Renoir.
Then head over to the museum's celebrated Modern Wing, a quick stroll across an eye-catching bridge from the main building. Inside you'll have the chance to admire one of the world's premier collections of modern and contemporary art, including celebrated creators like Pablo Picasso, Henri Matisse, Jackson Pollock, Marc Chagall and Gerhard Richter.
Continue your visit with a look at the museum's range of European and American decorative art items, Asian art and a collection of architectural, graphic and industrial design. Families should also be sure to take part in the museum's selection kid-friendly art activities.
December 2015
So many exhibits. Great times!
November 2015
Absolutely amazing! Thoroughly enjoyed the museum, including the bookstore.

November 2015
WOW! One of the most interesting Art Museums I have toured. Plan on spending hours there.
Carlos United States of ...
September 2015
Lovely museum. Great collections!
August 2015
It was really great. I spend more than 3 hours exploring, but it was not enough. I will surely spend more time during my next visit to Chicago. It was just enlightening seeing paintings I've studied while in undergrad at the Savannah College of Art and Design SCAD.
Nicholas M United States of ...
July 2015
Great art and cultural experience
June 2015
This trip was amazing! Thank you,
June 2015
Tremendous museum. One cannot do it justice in a day or two. They got into the spirit of the Blackhawks celebrations. Hockey helmets on the lions.
June 2015
A must see if you are in Chicago and love art.
May 2015
A must see! Great museum!
Advertisement
Advertisement