Special Offer
Travel by September 5, 2016 and save 21% off our previously offered price!
Enjoy a performance of the legendary Blue Man Group, one of Chicago's longest-running shows, at the Briar Street Theater. This worldwide performance troupe, whose hilarious and quirky show has earned them raves in cities around the world, has recently updated their performance with new technology. Experience the group's gigantic tablet, the "GiPad," as you enjoy the laugh-inducing antics, stunning visuals and high-tech stage show of this ever-changing, family friendly show. Your ticket purchase also includes a choice of seating options and show times.
Highlights
Tickets to the Blue Man Group at Chicago's Briar Street Theatre
Family-friendly show appeals to all ages
Choice of several show times
Experience new and innovative technology
Recent Photos of This Tour
What You Can Expect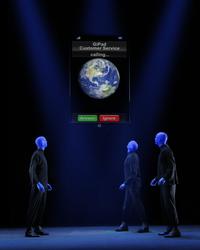 Check out the totally updated stage show of the world-famous Blue Man Group during this performance at Chicago's Briar Street Theater. One of the city's longest-running theater shows is totally updated with a fresh take on today's technological age, featuring the same knee-slapping skits refreshed with 21st century technology.
The current performance focuses on the Blue Man Group's new "GiPad," a not-so-subtle reference to a famous computer company. The GiPad's unique mix of colors and lights are to sure to grab the attention of kids, while adults are sure to love the show's ever-savvy mix of social commentary and comedy.
You're also sure to enjoy the show's blockbuster finale, culminating in a body-moving original score that's sure to have you dancing in the aisles.
Please note: although Blue Man Group is known for its family-friendly appeal, the show is not recommended for kids younger than five. The theater's box office or front-of-house manager will make decisions about admission for kids under the age of three. All kids, regardless of age, need a ticket and should sit in their own seat.
June 2016
The show was very entertaining. Well worth the price. Very unique.
June 2016
Excellent, engaging show! Everyone loved it there were seven of us: adults and children. One of the highlights of our Chicago time.
March 2016
we laughed a lot.. my 9,10, and 12 year olds thought it was a riot.
January 2016
Husband and I booked our tickets to see Blue Man Group with Viator. We were very happy with our seating arrangement at the Briar Street Theater, even though at the time we bought our tickets we had no idea where our seats were. We loved the show and it was highly entertaining.
Defiantly worth the cost of what we paid!!
December 2015
It was an amazing show!!!
November 2015
My wife booked the tour, and I went it to the show without knowing much about BMG other than the drumming thing. I was very pleasantly surprised by how much fun I had. Never expected to laugh as much as I did, and we both left with big smiles on our faces.
AEaddy United States of ...
October 2015
Awesome! I love Blue Man!
September 2015
Everything went very well from booking to attending a great performance.
September 2015
We took our kids 14 and 11 to Chicago last weekend and the Blue Man Group was one of the things on the agenda. This show is absolutely worth the money! All of us were thoroughly entertained and laughed the entire time. Such talent, humor and fun combined into 100 minutes. My daughter said it was her favorite thing we did!
August 2015
Excellent group performance... enjoyable and visually entertaining!
Special Offer
$69.00 Save $15.00
Advertisement
Advertisement