Taste Chicago's best chocolate during this 2-hour walking tour. Follow your guide along the Magnificent Mile, a dynamic stretch of Michigan Avenue, to visit some of the city's best chocolatiers. See some of Chicago's most important landmarks, such as the Chicago Water Tower and the John Hancock Building. Indulge in chocolate-infused samples like donuts, cupcakes and truffles at 7 different tasting stops.
Highlights
2-hour chocolate walking tour of Chicago
Follow your friendly local guide on an easy walk along Magnificent Mile
Visit several popular and off-the-beaten path chocolatiers to sample seven chocolate treats
Indulge in chocolate truffles, chocolate drinks, cupcakes, donuts and more
See iconic Chicago sights along the way including the John Hancock Building and Chicago Water Tower
Why Our Insiders Chose This Tour
Once you've had Chicago's famous deep-dish pizza, why not enjoy a little dessert? This chocolate tour takes the guess-work out of finding your favorite sweets by treating you to an array of chocolate selections and confections. It's a tasty and fun way to enjoy Chicago's famous Magnificent Mile!
Recent Photos of This Tour
What You Can Expect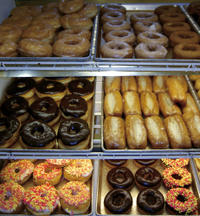 Make your way to the historic Wrigley Building, one of Chicago's most famous landmarks, to meet your group and tour guide. Set off walking up the Magnificent Mile, a stretch of Michigan Avenue chock full of restaurants and boutiques, in search of sweet treats.
At Glazed & Infused, indulge in a fresh, warm chocolate donut and enjoy Chicago's finest cupcakes at More Cupcakes. Explore the Goddess and Grocer, a food lover's paradise run by Chicago-based foodies.
Head to Leonidas Chocolate Café, a chocolatier that has been in business since 1913. Enjoy their signature specialty, Belgian pralines, and contin
ue to
Godiva Chocolatier for
more Belgian sweets. Munch on some chocolate treats in signature shell-modeled designs at this famous chocolate shop.
Visit Teavana, a specialty tea shop, to try an original Aztec chocolate drink. At Vosges, Chicago's own designer chocolatier, spice things up with truffles spiced with an array of exotic flavors ranging from hemp seed to wasabi.

Along the way, y
our guide will point out famous Chicago landmarks such as the John Hancock Building and the Chicago Water Tower.
You'll finish your 2-hour tour with a taste of both Chicago's sweets and its history.
February 2016
Seth was a awesome tour guide. This tour took us to a few places that we never knew existed. Great info about Chicago and humor which made it more enjoyable. I would recommend this tour to everyone and make sure you have Seth as your guide. I live 2 hours south of Chicago and have been to this area multiple times, seriously of our 7 stops...5 I never new existed. And did I mention that Glazed and Infused that is on the trip is AMAZING. Thanks again Seth you made our Saturday afternoon FUN! We were stuffed after so its a good thing we were walking to burn off some of the calories we consumed!
February 2015
Seth was fantastic! He made the tour so fun and informative. We would definitely do another one if Seth was our guide!
July 2014
This trip wa great, our tour guide Seth was really helpful and gave us loads of information about the city which made our stay in Chicago that much more enjoyable because he told us all the best places to visit. Would definitely go again and recommend the experience to friends + family. 10 out of 10

September 2014
Good eats. Some vendors were not ready for us when we arrived which made for a lot of standing around waiting although our guide tried to call ahead. Each location was local so don't think you are going to Hershey's of Giardelli's. You will be pleasantly surprised by the treats from donuts, to gelato to cupcakes to candies and truffles. The walk is not long and very accessible for everyone. Would recommend this tour.
July 2014
Guide was knowledgeable, but didn't seem to see many places. I have attended Chocolate walking tours in several urban cities and they made more stops and had more tastings. The chocolate treats we did try were all delicious. The value for the dollar was less than expected. Maybe adding more stops to the list??
June 2016
I would not use the company - the tour guide never showed up and no one answered the phone number given to us. Graciously another company Best Tours or something very similar allowed us to ride on its coattails. Very upsetting!
June 2016
We arrived 11:45 no guide. A guide did show up for people with best tour. We tried calling no person to talk to there were 12 of us stranded. The other guide took us with him. It was very unorganized and a chocolate tour should be all about chocolate not rice crispy treats. Not worth the money and would not use viator again.
March 2016
Guide Jeffrey tried to cancel when we arrived. We went to 5 places not 7 - as a result, he waisted a lot more time walking us in circles well of the route than actually keeping to the shops. At one point, we went to girhadelli but it was closed, then tried h Hershey store but it was too crowded. Total waist of money and time - highly NOT recommended!!!
December 2013
We found the tour somewhat disappointing. The impression we went in with was that it would be something more than stopping at six different places and sampling one piece of candy or muffin. The candy was good but we thought there might be some explanation/demonstration of the process. Perhaps a visit to an actual candy factory. In essence we got a sample and a 20% discount if we wanted to purchase. Not really worth it for the cost of the tour.
Advertisement
Advertisement