Take a 3-hour gourmet dinner cruise on a high-end luxury yacht with the stunning skyline of Chicago as your backdrop. Climb aboard your recently renovated vessel, featuring a sumptuously-appointed rooftop lounge and stylish interior design, for your cruise along Lake Michigan. Then sit down for a 3-course dinner, informed by some of the world's top celebrity chefs and composed of fresh ingredients cooked right on-board. After dinner, enjoy coffee and tea, captivating views of Chicago landmarks like the Willis (formerly Sears) Tower and John Hancock building, plus musical entertainment provided by the on-board DJ.
Highlights
3-hour Chicago dinner cruise

Enjoy freshly prepared, distinctive 3-course dinner

Dance to the on board DJ entertainment

Cruise Lake Michigan aboard a newly renovated luxury vessel

Admire spectacular Chicago skyline views from the rooftop lounge

View the Chicago Lakefront for iconic landmarks including Willis Tower (formerly Sears Tower), John Hancock Building, Shedd Aquarium and more
Recent Photos of This Tour
What You Can Expect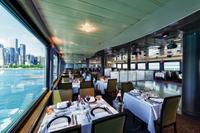 Spend an exceptional evening cruising the shoreline of Chicago on board a luxury yacht, admiring the city's striking architecture as you enjoy a gourmet 3-course dinner. It's the perfect way to spend a festive evening living it up with friends, family or that special someone during your time in Chicago.
Make your way to Navy Pier on the evening of your cruise, making sure to dress to impress for this festive evening. As you make your way through this famous entertainment complex, enjoy the bustling mix of pedestrians, street performers and lakeshore views found at this famous pier.
Then step on board your yacht to begin your unforgettable evening. Receive a personal welcome from the captain and crew as you climb aboard. You'll also have your picture taken by the ship photographer to help capture the moment. Then follow your host as you're whisked to your private table for your meal. The servers will introduce themselves and offer you the chance to decide how you'd like them to pace your meal.
Your evening's menu consists of a collection of seasonally-selected hors d'oeuvres, entrées, side dishes and desserts, each of which is freshly created on board the ship each day. See the Itinerary below for full details. Accompany your dinner with a drink from the full-service bar, offering a variety of craft beers, unique cocktails and totally updated wine list (at your own expense). Musical entertainment is provided by the on-board DJ, who will keep things lively with a mix that covers everything from classic jazz to more contemporary hits.
When you have a few moments, make sure to explore the ship's luxurious design and amenities. Ranging from the temperature-controlled dining area to the Observation deck, you're sure to notice the vessel's attention to detail and unique art deco interior accents, most of which pay homage to the classic ocean liners of yesteryear. Make sure to also stop by the Captain's bridge, an area that's open to all guests for the majority of the cruise.
Chicago Fireworks Dinner Cruise In the summer months, upgrade your Chicago Dinner Cruise experience to include a spectacular fireworks display on Wednesdays, Saturdays and select Thursday's and Fridays. You will observe the show from the decks of the ship and see the magnificent sky lit up at night.
Itinerary
Sample Menu (subject to change)
Tasting Trio
Shrimp & Watermelon - English Cucumbers | Pickled Shallots | Extra Virgin Olive Oil
Roasted Summer Vegetable Salad - Yellow Corn | Zucchini | Caramelized Onions | Heirloom Tomato
Arugula | Herb Vinaigrette
Whipped Goat Cheese - Candied Pecan Herb Crust | Balsamic Strawberries | Crostini
Entrées
Jumbo Lump Crab Cakes - Sweet Corn, Red Bell Pepper & Thyme Succotash | Cajun Cream Sauce
Oven Baked Atlantic Salmon Filet - Lemon Orzo with Red Onions & Sun-Dried Tomatoes | Citrus Dill Sauce
Maple & Mustard Glazed Chicken Breast - Fingerling Potatoes & Chives | Haricot Verts | Dijon Mustard Cream Sauce
Braised Beef Short Rib - Idaho Potato & Horseradish Mash | Baby Carrots | Pearl Onions | English Peas
Cabernet Sauvignon Sauce
Greek Zucchini Fritters - Lemon Orzo with Red Onions & Sun Dried Tomatoes | Spring Onion & Cucumber Tzatziki
Desserts
Duo of Sorbet - Seasonal Sorbet | Fresh Fruit
Granny Smith Apple Parfait - Cinnamon Spiced Apples | Almond & Oat Crumble | Candied Chili Bacon
Salted Caramel Cake - Dark Chocolate Ganache | Raspberry Sauce
Odyssey Signature Warm Butter Cake - Vanilla Bean Ice Cream | Blackberry Sauce
*Menu subject to change. Please inform your server if anyone in your party has a food allergy.
November 2015
Excellent waiter, good time
October 2015
My wife and I had a great time. The waitress made our anniversary even more special by bringing us a special dessert and getting the DJ to play a special song for us.
October 2015
Food is great, filling and they offer other upgrades to your meal. Chicago night skyline is AMAZING! DJ could use some work but overall I had a great time w/my husband. The ship is small and the winds were blowing hard. This cruise is NOT recommended for people who suffer from the mildest of motion-sickness. Overall I would do it again and double my dose of anti-motion sickness patches
August 2015
Our last night in Chicago and what a wonderful ending. The staff on board were great as was both the food and wine. As we went on a Wednesday we had the Navy Pier fireworks display to enjoy before disembarking.
June 2015
The river cruise was stupendous in eery respect! Service, food, attentiveness, entertainment, all were more than we wxpected. Do it again in a minute! FIVE STARS PLUS!
June 2015
Absolutely excellent from start to finish
October 2014
We really enjoyed this dinner cruise. The staff was very attentive and the food was excellent. The views from the observation deck were great too. We would recommend this cruise.
September 2014
excellent cruise and good food.- the sunny weather obviously helped a lot too.
August 2014
first we got transferred to the dinner cruise from the lunch cruise. was easy to do and very friendly. tickets and seats ready when we arrived. fantastic. service started right away. put a glass down, staff filled it right away. wow. because the table next to the window was empty, they moved us there. Great Move. Excellent customer relationship. Service made me feel as if I were a president. they always checked if we needed something, removed dishes once we finished that course. always smiling and friendly. now about the food.
hated it, i mean i hated to stop eating it. The best meal I have EVER had. My friends find I am a food expert. It was heavenly. the crew on my cruise should be given pats on the back. although they would more than likely want a raise instead.:) Thank you very much. dave and edith jones
July 2014
Tour was fabulous. I recommend it for anyone
Advertisement
Advertisement