Discover a lesser-known side of the Windy City on this Chicago Pedway tour, a 1.5-hour walking excursion through the many heated passageways, tunnels and corridors that link some of the town's most iconic buildings. Follow your humorous guide on an insider's exploration of these relatively unknown walkways, learning about the area's architecture and history as you go. It's a great way to explore a different side of Chicago unknown to most visitors.
Highlights
Guided comedic walking tour through Chicago's Pedway
Admire the architectural aspects of the 'Windy City'
Walkways, tunnels and bridges are enclosed and heated
See the famed Picasso sculpture and the location where the Dark Knight was filmed
Recent Photos of This Tour
What You Can Expect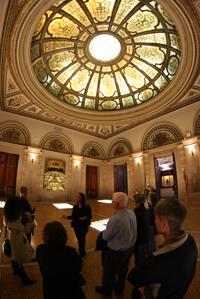 Explore a side of Chicago architecture and history unknown to most visitors during this 1.5-hour Pedway tour, traversing a collection of corridors, tunnels and underground walkways connecting many of the city's best-known buildings. It's a great way to discover some of Chicago's most famous sights and get away from the crowds
Begin your Pedway walking tour at 10:30am, departing from either the "Gallery of Shops" or the Block 37 Mall. Your departure location depends on the day of your tour, so confirm with your operator before you arrive. Join your informative and joke-cracking guide, who also works as a comedian, as you discover the intricate network of the Chicago Pedway, which was constructed around the time of WWII.
As you traverse this fascinating network of walkways, you'll hear about how the city's former mayor, Richard J. Daley, acquired the famed Picasso sculpture that now rests in Daley Plaza, and view the section of the Pedway where Christopher Nolan's Batman film The Dark Knight was filmed. Emerge back onto the streets of Chicago at the corner of Michigan and Randolph with a newfound appreciation for Chicago's unique architecture and history.
June 2016
Margaret was a wonderful guide and her city pride was contagious. I have lived in and around Chicago for 45 years and could not believe all that I learned on this tour. We were a small group, two Chicagoans and three visitors and she made everyone very comfortable. The Pedway is really another neighborhood with a history and culture of its own. Learned how to take the Blue Line and follow the Pedway to the Cultural Center without having to surface. I'm so ready for the winter concerts!
April 2016
Very interesting, didn't know places like that existed in Chicago.
Would recommend this.
April 2016
This tour was interesting and introduced me to a part of Chicago I knew nothing about. I learned a lot of fun facts from our fabulous tour guide.
March 2016
We had been to Chicago on 3 previous occasions and wasn't aware of the pedway, we came across the pedway tour while looking for things to do. It was really enjoyable and we would highly recommend it.
November 2015
Great tour - highly recommend it!
June 2015
March 2015
Margaret was very knowledgeable and extremely entertaining! Would definitely recommend to others.
January 2015
Margaret is a fabulous ambassador for the city of Chicago!
This was both fun and informative... and a good activity for a pretty cold day.
October 2014
Experience always enjoyable. We even made a return trip bringing friends along to share in the fun and history. Well done!
August 2014
We are Chicagoans, and we really enjoyed getting to know about the Pedway. Margaret was a great guide.
Advertisement
Advertisement