Taste some of Chicago's finest deep-dish pizzas during a 2-hour walking tour to three top pizzerias. Start at the restaurant that created the famous pie, Pizzeria Uno, then continue on the tour to taste the best slices recommended by your guide. You'll also get an earful on the history, lore and owners behind the joints you visit.
Highlights
2-hour walking tour of Chicago's top deep dish pizza restaurants
Learn the history of this famous Chicago dish from a knowledgeable pizza-loving guide

Hear insider stories about the pizzerias and how they create their dishes
Visit Pizzeria Uno where the deep-dish pizza was invented
Compare the cheese, crust and sauce and choose your favorite combo among three of Chicago's top pizzerias

What You Can Expect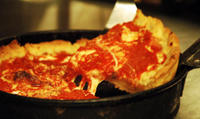 Your mission should you choose to accept it: compare and contrast samples of Chicago's world-famous, deep-dish pizza on a walking tour in the Windy City. A dream excursion for pizza aficionados, this walking tour takes you behind the scenes of Chicago's famous doughy pie. You get to be the judge at three of the city's favorite pizzerias!

Meet your guide at Pizzeria Uno, established in 1943 and credited with creating the this style of thick, layered pizza that resembles a pie. Pizzeria Uno boasts the most famous deep-dish pizza in Chicago. Hear the story of its founders and staff, who have contributed to Chicago's cultural heritage with this famous dish.

Continue on to either Giordano's, Quartino Ristorante or Pizzeria Ora. Each locale shares a different twist on the deep-dish pizza. Your enthusiastic and experienced guide explains the approach that each pizzeria takes with its pie, then you taste the goods and decide what you like best!

Expect to walk about 1 mile during the 2-hour tour, with stops at three renowned pizzerias. Munch on generous samples of pizza, enough to make a satisfying meal without slowing you down too much! At one of the locations you eat inside, at the other two you snack outside. It is recommended that you bring a bottle of water to sip, but you also have the option to purchase drinks at the restaurants.

After learning the history of Chicago's most famous dish and sampling the goods at three pizzerias, your tour ends when you return to Giordano's. Extra large with pepperoni to go, anyone?
August 2015
Great guide very informative
July 2015
August 2014
Fun tour, great tour guide and lots of pizza ! Highly recommend to history lovers as well as pizza lovers.
March 2015
Enjoyed the walking tour and trying three different kinds of pizza at three different establishments.
August 2014
Fun tour knowledgeable and appealing guide, and great pizza. Definitely worth doing. Even my teenage boys enjoyed it.
Advertisement
Advertisement